Laila Sabreen on her ground-breaking debut YA novel, You Truly Assumed
"I didn't have any books by Black Muslim authors that featured Black Muslim characters to read and that motivated me to write by own."
Following three Black Muslim teen girls who create an online space in order to shatter assumptions and stereotypes and share their truths in the aftermath of a terrorist attack which has caused an onslaught of anti-Islamic sentiment, Laila Sabreen's debut YA novel, You Truly Assumed, is an empowering story of friendship, strength, community and the power of using your voice. To celebrate its release, we chatted with Laila all about her powerful debut, the need for Black Muslim representation upcoming projects and more.
---
Hi Laila, we're so excited to have you on the site today to chat about your sensational debut YA novel, You Truly Assumed! How would you describe it to potential readers in just five words?
Hi, thanks so much for having me today! I would describe You Truly Assumed as in five words as uplifting, thoughtful, compelling, heartwarming, and vibrant.
For countless reasons, You Truly Assumed is a powerful and much needed story. Can you tell us a little about your inspiration and writing process behind it?
I started writing You Truly Assumed during my junior year of high school, which was around the time when the Muslim Ban was in the news and anti-Muslim hate was really being discussed because of how it was being used in politics. I was also growing up right outside of DC and so writing You Truly Assumed gave me a way to process the results of the 2016 election and what that meant for me as a young Black Muslim woman.
In terms of the writing process You Truly Assumed, I started off by writing a first draft in which I was telling myself the story and getting to know each of the characters. In subsequent drafts, and through edits, I worked to make sure that each POV character's individual arc worked well with the others and came together cohesively. Part of this meant getting rid of a fourth POV character that I had originally included in the first draft and rearranging to plot of the story as a result. But it also meant paying attention to each character's hometowns, hobbies, and dialogue, which leads right into the next question!
View this post on Instagram
Sabriya, Zakat and Farah all have equally unique and strong voices/narratives. Did you find writing from three different perspectives challenging at all and is there one girl you see yourself in most?
As a writer, I love writing stories that feature different perspectives because I find it really fun to take one event and show how it can cause so many similar or differing reactions depending on the character. So I really enjoyed finding ways to make Sabriya, Zakat, Farah stand out from one another. One way that I did this was by making sure they all separate hometowns and connections to those hometowns, as well as a distinct cast of surrounding characters and different hobbies.
I don't think there's one girl that I see myself in the most because there are little parts of myself embedded in each character. For example, I used to do ballet and Sabriya's passion is ballet. I've always been interested in art, so I got to explore that interest through Zakat's character. Back in high school, I used to run a book blog, so I knew that I wanted Farah to be familiar with website design and coding. We're also both big Lakers fans!
From supportive texts, Zoom movie nights and games of 20 Questions, I adored following Sabriya, Zakat and Farah's budding and uplifting friendship. If you were to be invited to one of their Zoom movie nights, which movie would you choose and how do you think they'd react to it?
I really love this question! I think I would choose Love & Basketball because there's an aspect that would appeal to each character. Sabriya would enjoy the romantic drama component, Zakat would enjoy figuring out which features of the film have turned it into a classic, and Farah would enjoy the role that basketball plays in the movie and how the movie tackles gender inequality in sports.
You Truly Assumed highlights the voices of three young Black Muslim women voices, which have historically rarely been heard in YA (and fiction/life in general). It must feel pretty amazing knowing your book might be the first time a Black Muslim teen sees herself represented in a positive light on page?
It definitely is an amazing feeling! As was mentioned, I think that Black Muslims are often overlooked within the Muslim community, and that problem is seen in YA as well. That's slowly starting to change and I'm starting to see more Black Muslim YA authors, which is really great. But when I first started writing You Truly Assumed, I didn't have any books by Black Muslim authors that featured Black Muslim characters to read and that motivated me to write by own. Doing so was really important because growing up, I grappled with feeling like my Blackness minimized me being Muslim or that other people thought that. So writing You Truly Assumed helped me to embrace all intersections of my identity. It was really affirming for me to write, and I hope that it is able to affirm Black Muslim teens who read it.
At the same time, being in such a position has also presented a challenge. Sometimes I struggle with navigating the feeling that I have to represent all Black Muslims in You Truly Assumed since there is still so little representation. But I've come to realize that this is an unnecessary pressure to put on myself because it's not really possible for one book to be representative of an entire group, or subgroup, of people. That's why I hope that You Truly Assumed opens up the space for more stories about Black Muslims to be told!
View this post on Instagram
As well as being a published author, you're also a college student. Do you have any advice for aspiring authors trying to balance life/studying/work etc. with writing?
I'm still trying to find a balance between life/studying/work with writing honestly! I've found that scheduling time to write is just as important as giving myself days off from writing. I'm also a huge fan of the app, Forest, in which you set a timer where you plant digital a tree or flower and if you swipe out of the app to say, check Twitter, the digital tree or flower will die. I get distracted by my phone easily when writing, and I also work better in small chunks of time, so I've found the app super helpful. Lastly, I try to adopt the mantra that all progress is progress. Whether I write one sentence or over a thousand words on any given day, that's more than I had the day prior and that's a win in my book.
Alongside your own, 2022 has an incredibly exciting line up of YA debut releases. Are there any you're particularly eager to get your hands on or see in the hands of readers?
Yes, there are so many 2022 YA debut releases that I'm so excited for! Two that immediately come to mind are Required Reading for the Disenfranchised Freshman by Kristen R. Lee and Love Times Infinity by Lane Clarke. I'm also looking forward to reading Seoulmates by Susan Lee, Ophelia After All by Racquel Marie, and The Love Match by Priyanka Taslim.
Finally, do you currently have any projects in the works and if so, can you give us any hints as to what we might expect to see/read from you in the future?
Yes! The next project that is in the works for me is an anthology that I'm a part of called Study Break. It's a YA anthology which releases with Feiwel & Friends/Macmillan in Winter 2023 and it features short stories written by Gen Z contributors for Gen Z readers. The line-up of writers is incredible and each of the short stories is centered around the same fictional college campus, which I think is really neat!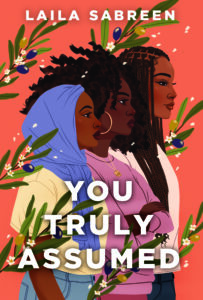 Get your copy of You Truly Assumed by Laila Sabreen here.