This post is sponsored by Hachette Children's.
With five novels and a movie adaptation under her belt, winner of the Carnegie Medal and number one New Your Times bestselling author, Ruta Sepetys, is one of the most prolific and exciting voices in YA historical fiction and for good reason. Through the eyes of aspiring writer, Seventeen-year-old Cristian Florescu, Ruta's newest release, I Must Betray You, is a chilling glimpse into communist Romania and its ruinous citizen spy network and here are just five of the many reasons why it deserves a place at the top of your to-read pile.
---
Whilst I Must Betray You is a work of fiction, a large percent of the events throughout the book are heavily based on a very real period of Romanian history, sourced from interviews with Romanian historians, experts and civilians who both lived in and escaped communist Romania before, during and after its 1989 revolution.
The relationship dynamics
The complexities of the relationships throughout this novel further highlight the tumultuous and fearful atmosphere in Romania during this time. There's a sense of distrust running through each word, sentence and chapter. With threads of suspicion creeping into Christians interactions with his friends, parents, sister, neighbours and strangers, Ruta Sepetys brilliantly portrays the ramifications Romania's citizen spy network had on everyday relationships.
View this post on Instagram
Instantly addictive (aka the perfect reading slump antidote)
With its short, punchy chapters and Ruta Sepetys' ability to create a constantly rising atmosphere of suspense and tension, I Must Betray You will draw you in and keep you hooked from its first page until its last, making it not only incredibly readable but also the perfect reading slump antidote.
It's an emotional read from start to finish
If you're looking for a read that will tug on each and every one of your heartstrings, I Must Betray You will not let you down. While portraying the pain, horror and betrayal of a society under communist Romania's rule, I Must Betray You also highlights the strength and resilience of a nation and the power of hope and community.
Further reading inspiration
Every reader is all too familiar with the feeling of finishing an incredible read, only to be left with a sinking feeling of not being able to decide what to read next. You find yourself wanting to know more or asking yourself what could possibly match up to such a great read and the fear of an impending reading slump sinks in. Whilst I Must Betray You will 100% leave you with all those questions and feelings, it also comes with a few solutions. Firstly, you'll undoubtedly want to know more about Romania's communist regime, revolution and the individuals who lived through it and Ruta Sepetys doesn't skimp out on some further reading recommendations in the Sources provided at the end of the book. Secondly, if you haven't checked out Ruta Sepetys backlist, well…. you're in for a treat.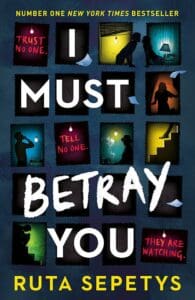 Get your copy of I Must Betray You by Ruta Sepetys here.