5 ways to educate yourself on History in an accessible way
This post is sponsored by Hachette Children's Group.
In the authors note of her stunning new YA historical fiction novel, I Must Betray You, Ruta Sepetys highlights the importance of further educating yourself on the realities of the historical events behind your favourite historical fiction novels. As exciting a prospect of learning more about the past is, it can also be a daunting one and knowing where to start isn't always easy, which is why we're sharing five accessible, affordable and engaging ways to start giving yourself your very own history education.
---
Fiction
Fiction is one of the best ways to educate yourself on a historical event or period of time for so many reasons, the first being that it's an enjoyable experience and one that engages a whole spectrum of emotions. Losing yourself in a story and finding yourself invested in its characters and events is an amazing way to absorb information and find yourself searching for more. Whilst the lives, conversations, relationships and actions of specific characters may be fictional, the surrounding events, situations and facts are more often than not heavily researched and accurately portrayed. For example, bestselling author Ruta Sepetys, spent years researching and educating herself on Romanian history for her haunting new YA novel, I Must Betray You. Research which included interviewing Romanian historians, experts and people who both lived in and escaped communist Romania and its eventual revolution.
Non-fiction
Often chunky and statistic full, it's not surprising that non-fiction books can at times feel somewhat overwhelming, especially when first setting out to educate yourself but they're also an invaluable wealth of knowledge that can be just as accessible as fiction. Autobiographies and memoirs in particular are a superb way to immerse yourself fully into a specific moment or event in time and truly see them unfurl through the eyes of those who lived through them.
View this post on Instagram
Documentaries
Thanks to the wonder of streaming services, there are countless incredible history documentaries available to watch anytime of the day. With countless snappy fact filled shorts, docuseries and feature length documentary films to choose from, you're bound to find something covering the topic you're interested in. There's also something extra satisfying about learning something whilst cuddled under a blanket in your pyjamas with a bowl of popcorn.
YouTube/Tik-Tok/Social Media
Social media is a goldmine of free education. From Tik-Tok's breaking down the facts of a historical event in three minutes, to Twitter threads written by history experts to fact filled YouTube videos from creators who's entire channel's are based on giving free, accessible and easy to understand history lessons.
Talking
It can sometimes feel a little intimidating to admit you don't know something about a major historical event or moment in time  but more often than not, admitting it out loud will lead to one of two things:
The person you're talking to knows all about said history topic, which leads to a conversation where you can ask your questions and get some answers.
The person you're talking to also knows nothing about aforementioned history topic (because let's be honest, not all education systems or memories are created equally) and you feel 10x better for realising you're not 'the only one' who doesn't know and you're able to go away and educate yourself further without feeling guilty for not having a history textbook for a brain.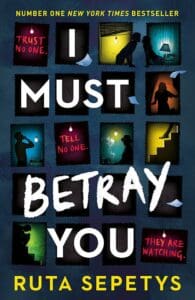 Get your copy of I Must Betray You by Ruta Sepetys here.