This article was written by Ruta Sepetys, author of I Must Betray You and is sponsored by Hachette Children's.
They were listening. Always listening.
Who was listening? I asked.
The blue-eyed boys.
That's how the conversation began. I was attending a lunch with my Romanian publisher in Bucharest while on tour for my debut novel, Between Shades of Gray. When the topic of Romanian history came up, I was shocked not only to learn of what more than twenty million Romanians had endured—but shocked that much of the world knew nothing of it. Myself included.
Imagine a world of controlled darkness. A world where your career is assigned, housing is assigned, electricity and nourishment are controlled—even women's fertility is controlled. And to ensure that you conform, secret police known as "the blue-eyed boys" are watching you, tracking you, even spying on you through hidden surveillance devices nested in the walls, phones, and light fixtures. This is a world where you might be chosen as an informant, a world where you are denied the most powerful, fundamental human right: choice.
View this post on Instagram
The descriptions above not only sound terrifying, they sound fictional and dystopian. But they're not. This was the maniacal dynasty of dictator Nicolae Ceaușescu, a regime that millions of Romanians were forced to endure for decades while fenced off from the rest of the world.
I spent seven years researching, working with true witnesses in Romania who shared their stories of the dictatorship and the many years they spent speaking in whispers leading up to the revolution. Their testimonies unfolded like a thriller so that's the approach I took when writing the book.
I Must Betray You is the haunting story of one brave student who risks everything to search for truth. To search for change. And freedom.
I hope readers will feel compelled to share the history and story of the brave Romanians who fought to overthrow tyranny. When adversity is drawn out of the shadows and recognized, we ensure that human beings living under oppression—past and present—know they are not forgotten. Together, readers can give them a voice. That is the power of books!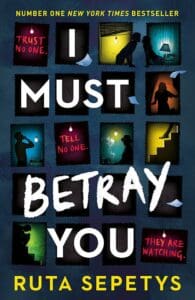 Get your copy of I Must Betray You by Ruta Sepetys here.