Alice Oseman on Aro-Ace representation and her new YA novel, Loveless
"I really hope that Loveless can help some ace and aro readers feel seen!"
If you know YA, you probably know, or at least have heard of, author and illustrator, Alice Oseman.
And for good reason.
Having written four novels, three graphic novels, a webseries and a number of novellas, Alice has truly touched the hearts and souls of readers across the globe. In celebration of the release of her newest title, we sat down with Alice to chat about the importance of aro-ace representation, future projects and her heartwarming new YA novel, Loveless.
---
For readers not already familiar with the premise of Loveless, how would you describe it?


Loveless is the story of Georgia Warr. She's eighteen years old and romance-obsessed, but she's never even had a crush, so when she travels across the country to start her first year at university, she makes a plan to fall in love and finally experience her perfect teenage dream romance. But things don't quite work out, and soon Georgia starts to question whether she might be on the aromantic and asexual spectrums, and what that means for her future.
Georgia's experience coming to terms with her aro/ace identity is undoubtedly going to be an incredible comfort for countless readers, especially since aromantic and asexual identities are hugely underrepresented in both YA and the media in general. How does it feel knowing Loveless might be the first time readers see that part of their identity positively represented on page?


I really hope that Loveless can help some ace and aro readers feel seen! Loveless is definitely not the first YA novel with ace or aro representation, but if anyone happens to pick up the book and feel seen, for the first time or not, then I'll feel like I've done a good job.
View this post on Instagram
All your books feature such wonderful casts of characters but is there a particular crew you had the most fun creating?
What a tricky question! I love all my characters so dearly, it's very hard to choose a favourite 'squad'. I did really enjoy writing the Loveless squad because there's a lot of silly banter between them, and I hadn't written a book with so many funny moments in it before. So maybe, of all my books, I had the most fun with them!
You've been wonderfully open about Loveless being an #OwnVoices novel in terms of the aro-ace representation. Is there any advice you wish you'd been given on your journey to discovering your aro-ace identity that you'd like to pass along? 

It's okay to take your time in figuring yourself out. There's no need to rush to claim a label or try to find the specific word that fits – you can take as much time as you need to consider your feelings, do some research, talk it out with others if you'd like to, or whatever you need to do. Don't pressure yourself!
Which characters from your past books do you think Georgia would best click with and do you think there are any she wouldn't get on with?


I think she'd definitely get along with the Heartstopper gang – she's got quite a calm temperament, like them, and I can imagine them welcoming her into the squad! But I can imagine Georgia really not getting along with my more intense characters, like Lister from I Was Born for This or Michael from Solitaire. They would intimidate her!
As well as your YA novels, you also write and illustrate Heartstopper, your super successful (and utterly squee worthy) graphic novel series. What have you found to be the biggest difference between writing novels and graphic novels? 

The biggest difference (for me, anyway!) is the level of depth I can go into certain characters and themes. In novels, you have much, much more space to get into detail with your themes and character development. In comics and graphic novels, you have to be incredibly precise with your storytelling if you want to tell a complex story, because there's really not a lot of space to do it!
View this post on Instagram
The friendships in Loveless were utterly superb in the way they portrayed the importance and power of platonic love. Do you have any recommendations for Loveless fans wanting to read more YA books exploring friendship?


For a story about 'found family', I have to recommend Six of Crows by Leigh Bardugo. It's a very different book to Loveless but it has such an excellent squad of misfits at its heart, and I absolutely loved it!
What do you hope for in terms of aro-ace representation and acceptance in the future?
In terms of representation, I would love to see a high-profile celebrity come out as aro and/or ace – I think it would do amazing things for aro/ace visibility. I'd also love to see aro/ace characters and stories more present in TV and film. In terms of acceptance, I'd love for aromanticism and asexuality to be simply more known about! I'd love for it to be part of LGBTQ+ education in schools, for example.
Are you currently working on anything new and if so, can you give us any hints as to what that might be?
I'm currently working hard on certain exciting things for the paperback release of my novella This Winter, which is out in October. I'm also working on the fourth volume of Heartstopper, which will be out in 2021!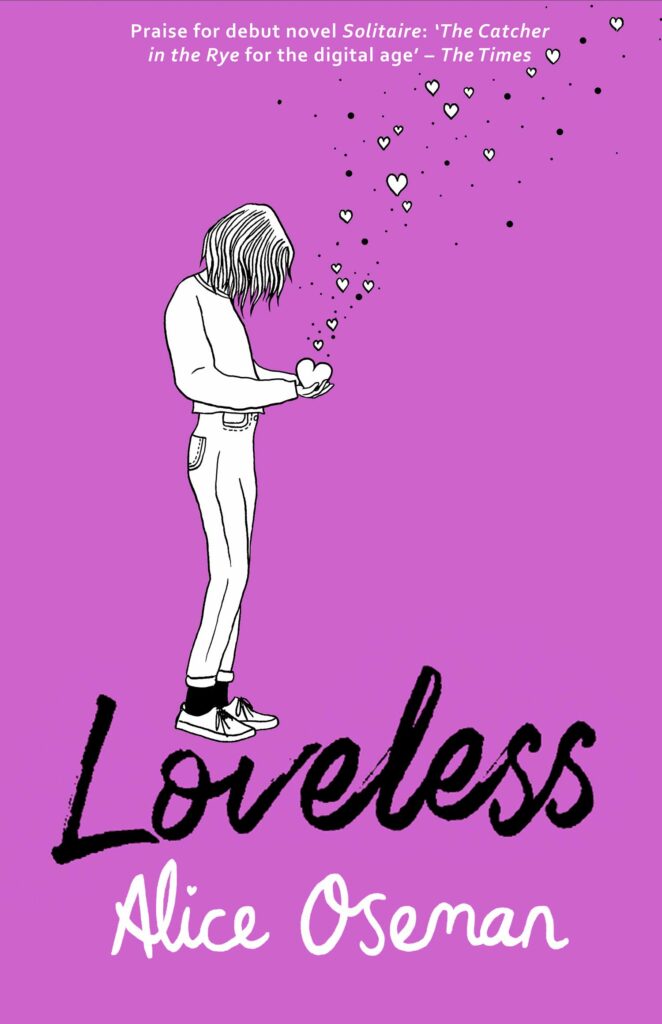 Get your copy of Loveless by Alice Oseman here.