15 must read YA horror books for Halloween 2023
The season of spooky reading has arrived...
From haunted houses and slasher movies to vengeful monsters and serial killers, these 15 2023 YA horror releases are must reads if you're looking for creepy reads that cover everything from eerie atmospheres to 'hide under the covers and prepare to not sleep for three weeks' terrifying.
---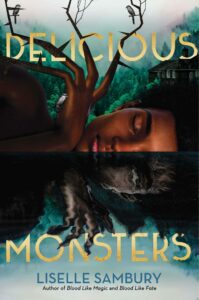 Delicious Monsters by Liselle Sambury
Daisy sees dead people—something impossible to forget in bustling, ghost-packed Toronto. She usually manages to deal with her unwanted ability, but she's completely unprepared to be dumped by her boyfriend. So when her mother inherits a secluded mansion in northern Ontario where she spent her childhood summers, Daisy jumps at the chance to escape. But the house is nothing like Daisy expects, and she begins to realize that her experience with the supernatural might be no match for her mother's secrets, nor what lurks within these walls…
A decade later, Brittney is desperate to get out from under the thumb of her abusive mother, a bestselling author who claims her stay at "Miracle Mansion" allowed her to see the error of her ways. But Brittney knows that's nothing but a sham. She decides the new season of her popular Haunted web series will uncover what happened to a young Black girl in the mansion ten years prior and finally expose her mother's lies. But as she gets more wrapped up in the investigation, she'll have to decide: if she can only bring one story to light, which one matters most—Daisy's or her own?
As Brittney investigates the mansion in the present, Daisy's story runs parallel in the past, both timelines propelling the girls to face the most dangerous monsters of all: those that hide in plain sight.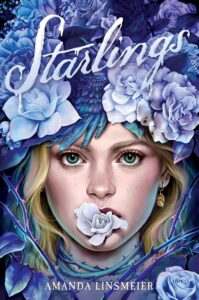 Starlings by Amanda Linsmeier
Kit's father always told her he had no family, but his sudden death revealed the truth. Now Kit has a grandmother she never knew she had–Agatha Starling–and an invitation to visit her father's hometown, Rosemont.
And Rosemont is picture perfect: the famed eternal roses bloom all year, downtown is straight out of the 1950s . . . there's even a cute guy to show Kit around.
The longer Kit's there, though, the stranger it all feels. The Starling family is revered, but there's something off about how the Starling women seem to be at the center of the all the town's important history. And as welcoming as the locals are, Kit can't shake the feeling that they're hiding something from her.
Agatha is so happy to finally meet her only granddaughter, and the town is truly charming, but Kit can't help wondering, if everything is so great in Rosemont, why did her father leave? And why does it seem like he never wanted her to find it?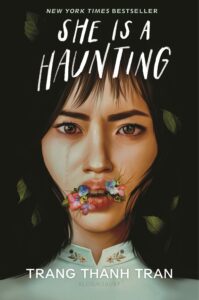 She is a Haunting by Trang Thanh Tran
Jade Nguyen has always lied to fit in. She's straight enough, Vietnamese enough, American enough – at least for this summer with her estranged father in Vietnam. Just five weeks of ignoring the quietly decaying French colonial house he's fixing up, then college and freedom are hers.
But soon Jade begins waking up every morning certain that something has clawed down her throat. . . from the inside. Then the ghost of a beautiful bride visits her with a cryptic warning: DON'T EAT.
When her father and little sister don't believe her, Jade decides to scare them into leaving by staging some haunting events of her own. She recruits Florence, the daughter of her dad's business associate (and more of a distraction than Jade bargained for) to help.
But the house has other plans. It's hungry. A home, after all, is only as powerful as those who breathe new life into its bones. And this one is determined never to be abandoned again .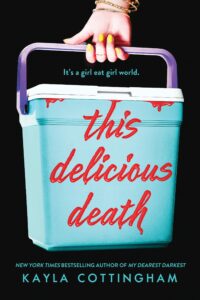 This Delicious Death by Kayla Cottingham
Five years ago, the melting of arctic permafrost released a pathogen of unknown origin into the atmosphere, causing a small percentage of people to undergo a transformation that became known as the Hollowing. Those impacted slowly became intolerant to normal food and were only able to gain sustenance by consuming the flesh of other human beings. Those who went without flesh quickly became feral, turning on their friends and family. However, scientists were able to create a synthetic version of human meat that would satisfy the hunger of those impacted by the Hollowing. As a result, humanity slowly began to return to normal, albeit with lasting fear and distrust for the people they'd pejoratively dubbed ghouls.
Zoey, Celeste, Valeria, and Jasmine are all ghouls living in Southern California. As a last hurrah before their graduation they decided to attend a musical festival in the desert. They have a cooler filled with hard seltzers and syn-flesh and are ready to party.
But on the first night of the festival Val goes feral, and ends up killing and eating a boy. As other festival guests start disappearing around them the girls soon discover someone is drugging ghouls and making them feral. And if they can't figure out how to stop it, and soon, no one at the festival is safe.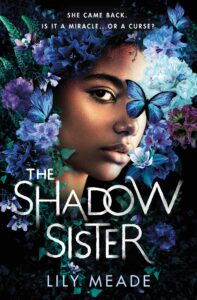 The Shadow Sister by Lily Meade
Sutton going missing is the worst thing to happen to Casey, to their family. She's trying to help find her sister, but Casey is furious. She knows Sutton is manipulative, meanwhile everyone paints a picture of her perfection. People don't look for missing Black girls–or half-Black girls–without believing there is an angel to be saved.
When Sutton reappears, Casey knows she should be relieved. Except Sutton isn't the same. She remembers nothing about while she was gone-or anything from her old life, including how she made Casey miserable. There's something unsettling about the way she wants to spend time with Casey and watch her goldfish swim for hours.
What happened to Sutton? The more Casey starts uncovering her sister's secrets, the more questions she has. Did she really know her sister? Why is no one talking about the other girls who have gone missing in their area? And what will it take to uncover the truth?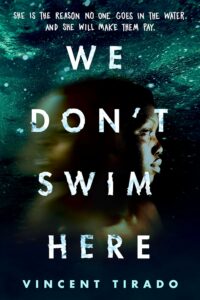 We Don't Swim Here by Vincent Tirado
Bronwyn is only supposed to be in rural Hillwoods for a year. Her grandmother is in hospice, and her father needs to get her affairs in order. And they're all meant to make some final memories together.
Except Bronwyn is miserable. Her grandmother is dying, everyone is standoffish, and she can't even go swimming. All she hears are warnings about going in the water, despite a gorgeous lake. And a pool at the abandoned rec center. And another in the high school basement.
Anais tries her hardest to protect Bronwyn from the shadows of Hillwoods. She follows her own rituals to avoid any unnecessary attention-and if she can just get Bronwyn to stop asking questions, she can protect her too. The less Bronwyn pays attention to Hillwoods, the less Hillwoods will pay attention to Bronwyn. She doesn't get that the lore is, well, truth. History. Pain. The living aren't the only ones who seek retribution when they're wronged. But when Bronwyn does more exploring than she should, they are both in for danger they couldn't expect.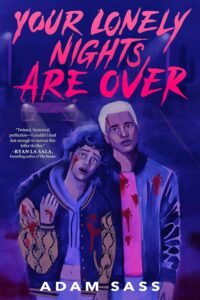 Your Lonely Nights are Over by Adam Sass
Dearie and Cole are inseparable, unlikeable, and (in bad luck for them) totally unbelievable.
From the day they met, Dearie and Cole have been two against the world. But whenever something bad happens at Stone Grove High School, they get blamed. Why? They're beautiful, flirtatious, dangerously clever queen bees, and they're always ready to call out their fellow students. But they've never faced a bigger threat than surviving senior year, when Mr. Sandman, a famous, never-caught serial killer emerges from a long retirement—and his hunting ground is their school Queer Club.
As evidence and bodies begin piling up and suspicion points at Dearie and Cole, they will need to do whatever it takes to unmask the real killer before they and the rest of Queer Club are taken down. But they're not getting away from the killer without a fight.
Along the way, they must confront dark truths hidden beneath the surface of their small desert community. When the world is stacked against them and every flop they know is a suspect, can Dearie and Cole stop Mr. Sandman's rampage? Or will their lonely nights soon be over . . .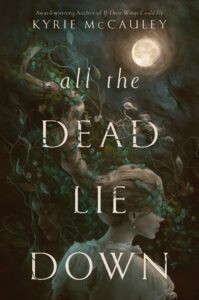 All the Dead Lie Down by Kyrie McCauley
Days after a tragedy leaves Marin Blythe alone in the world, she receives a surprising invitation from Alice Lovelace, an acclaimed horror writer and childhood friend of Marin's mother. Alice offers her a nanny position at Lovelace House, the family's coastal Maine estate.
Marin accepts and soon finds herself minding Alice's pecular girls. Thea buries her dolls one by one, hosting a series of funerals, while Wren does everything in her power to drive Marin away. Then Alice's eldest daughter returns home unexpectedly. Evie Hallowell is every bit as strange as her younger sisters, and yet Marin is quickly drawn in by Evie's compelling behaviour and ethereal grace.
But as Marin settles in, she can't escape the anxiety that shadows her. Dead birds appear in Marin's room. The children's pranks escalate. Something dangerous lurks in the woods.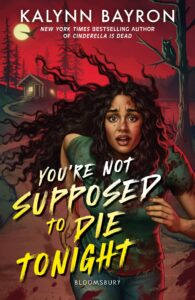 You're Not Supposed to Die Tonight by Kalynn Bayron
Charity Curtis has the summer job of her dreams, playing the "final girl" at Camp Mirror Lake. Guests pay to be scared in this full-contact terror game, as Charity and her summer crew recreate scenes from a classic slasher film, Curse of Camp Mirror Lake. The more realistic the fear, the better for business.
But in the last weekend of the season, Charity's co-workers begin disappearing. And when one ends up dead, Charity's role as the final girl suddenly becomes all too real. If Charity and her girlfriend Bezi hope to survive the night, they'll need to figure out what this killer is after. Is there more to the story of Mirror Lake and its dangerous past than Charity ever suspected?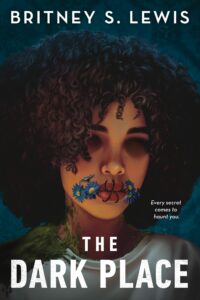 The Dark Place by Britney S. Lewis
Seventeen-year-old Hylee Williams didn't ask to disappear. But she did disappear, and not only that, but when she vanished from our world, she materialized in a dark, twisted version of the night that changed her life forever: the night her older brother went missing.
Just as Hylee realizes this moment could be the key to unraveling the truth about her brother, she's yanked away from the dark place back to our world. Craving a sense of normalcy, she goes to a party with her best friend–where she meets Eilam Roads. Tall, handsome, and undeniably, inexplicably familiar, Hylee can't help the pull she feels towards him. It's a classic teen girl-meets-boy situation, until it happens again. She disappears, right in front of him.
Together, Hylee and Eilam investigate the truth about time, space, and reality, with Hylee increasingly convinced her time travel holds the key to saving her brother. But the more they learn, the more Hylee begins to see darkness lurking in her world–and in herself.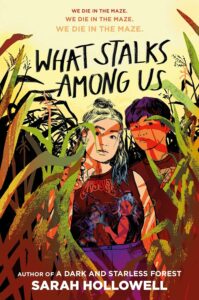 What Stalks Among Us by Sarah Hollowell
Best friends and high school seniors Sadie and Logan make their first mistake when they ditch their end-of-year field trip to the amusement park in favor of exploring some old, forgotten backroads. The last thing they expect to come across is a giant, abandoned corn maze.
But with a whole day of playing hooking unspooling before them, they make their second mistake. Or perhaps their third? Maybe even their fourth. Because Sadie and Logan have definitely entered this maze before. And again before that.
When they stumble on the corpses in the maze, identical to them in every way (if you can ignore the stab and gunshot wounds)–from their clothes to their hidden scars to their dyed hair, to that one missing tooth–they quickly realize they've not only entered this maze before, they've died in it too. A lot. And no matter what they try, they can't figure out what–or who–is hunting them.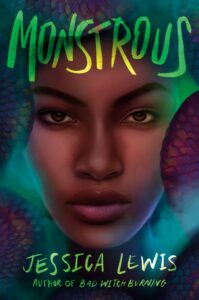 Monstrous by Jessica Lewis
Don't go outside past dark. Come straight home after church. And above all–never, ever, go into Red Wood.
These are the rules Latavia's aunt gives her when Latavia arrives in Sanctum, Alabama for the summer. Though, weird as they are, living in Sanctum does have its pros. Mainly, the cute girl who works at the local ice cream shop.
But Sanctum is turning out to be as strange as the rules–and the longer Latavia's in town, the more suspicious she is that the people there are hiding something. And the more clear it is that she's an outsider. Everyone's nice enough, but they seem determined to prove everything is normal.
But it's not. Because there's something in Red Wood that the towns' people are hiding. And if Latavia doesn't follow her aunt's rules, she might not be able to leave Sanctum. Ever…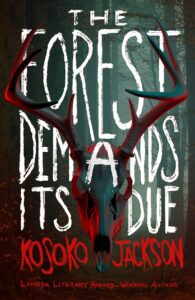 The Forest Demands Its Due by Kosoko Jackson
Regent Academy has a long and storied history in Winslow, Vermont, as does the forest that surrounds it. The school is known for molding teens into leaders, but its history is far more nefarious.
Seventeen-year-old Douglas Jones wants nothing to do with Regent's king-making; he's just trying to survive. But then a student is murdered and, for some reason, by the next day no one remembers him having ever existed, except for Douglas and the groundskeeper's son, Everett Everley. In his determination to uncover the truth, Douglas awakens a horror hidden within the forest, unearthing secrets that have been buried for centuries. A vengeful creature wants blood as payment for a debt more than 300 years in the making―or it will swallow all of Winslow in darkness.
And for the first time in his life, Douglas might have a chance to grasp the one thing he's always felt was missing: power But if he's not careful, he will find out that power has a tendency to corrupt absolutely everything.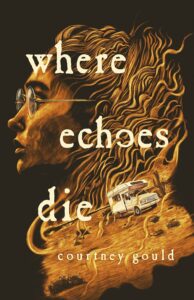 Where Echoes Die by Courtney Gould
Beck Birsching has been adrift since the death of her mother, a brilliant but troubled investigative reporter. She finds herself unable to stop herself from slipping into memories of happier days, clamoring for a time when things were normal. So when a mysterious letter in her mother's handwriting arrives in the mail with the words Come and find me, pointing to a town called Backravel, Beck hopes that it may hold the answers.
But when Beck and her sister Riley arrive in Backravel, Arizona it's clear that there's something off about the town. There are no cars, no cemeteries, no churches. The town is a mix of dilapidated military structures and new, shiny buildings, all overseen by the town's gleaming treatment center high on a plateau. No one seems to remember when they got there, and the only people who seem to know more than they're letting on is the town's enigmatic leader and his daughter, Avery.
As the sisters search for answers about their mother, Beck and Avery become more drawn together, and their unexpected connection brings up emotions Beck has buried since her mother's death. Beck is desperate to hold onto the way things used to be, and when she starts losing herself in Backravel and its connection to her mother, will there be a way for Beck to pull herself out?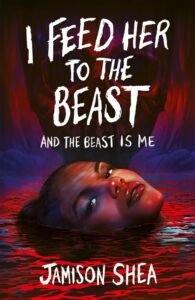 I Feed the Beast and the Beast is Me by Jamison Shea
Laure Mesny is determined to make it in the cut-throat world of ballet, and she will do anything to prove that this Black girl can take centre stage. Anything . . . Even if it means entering into a bargain with a primordial power in the Catacombs beneath Paris.
Laure is promised influence and adoration – and she gets it. But that alone is not enough, not for the cruel and privileged people who surround her. Her climb to stardom leaves broken bodies in her wake, some of which aren't her doing. As she finds herself deep within this monstrous world, she is faced with the ultimate choice: will she retreat or succumb to the darkness forever?