Kayla Cottingham on her debut YA sapphic horror novel, My Dearest Darkest
"This book was my first attempt at writing a Sapphic love story after I came out in college, and I put a lot of my own feelings and experiences into both Finch and Selena's coming out stories."
To celebrate the release of her fabulously creepy debut YA sapphic horror, My Dearest Darkest, we had the pleasure of chatting with author, Kayla Cottingham, all about YA horror, writing inspirations, book recommendations and more.
---
Hi Kayla, we're so happy to get to chat to you today about your debut YA novel, My Dearest Darkest. For readers just hearing about it, how would you describe it to them?
Thank you so much for having me! My Dearest Darkest is a YA Sapphic horror novel about a group of girls who accidentally summon a mysterious creature under their boarding school, Ulalume Academy. The narration is split between Finch, a shy piano prodigy who feels drawn to Ulalume after surviving a tragic accident that killed her parents, and Selena St. Clair, the queen bee of Ulalume's popular crowd. The two of them must work together to save their town after they realize the creature they've summoned is not as benevolent as she first appears.
Can you tell us a little about what inspired you to write My Dearest Darkest?
It was an interesting mix of things! I originally came up with the characters when I was fifteen (that book had a version of Selena who was a cheerleader who got turned into a werewolf, haha) and the plot wound up coming together when I was in college. I was really interested in cosmic horror as a genre, specifically how a lot of BIPOC and/or queer authors had taken parts of it and made it their own. Since cosmic horror did technically start with Lovecraft— who was infamously racist in addition to misogynistic and homophobic and pretty much every other form of bigoted -ist you can imagine—I wanted to take the cosmic horror narrative of the unknown and the unknowable and rework it through a queer lens. That, and I've always been a sucker for campy teen horror movies, so I wanted to put a bit of that flavor in as well.
View this post on Instagram
Horror isn't usually the first genre you think of in connection to YA (which, I would more than happily see change please and thank you) but what was it about the genre you found so enticing?
I actually didn't set out to write a horror novel when I started My Dearest Darkest. Like you said, horror isn't a huge part of YA (although I'd argue that's definitely starting to change!). So when I queried Darkest, I actually pitched it as "dark contemporary fantasy" to try and convince more agents to take a chance on it. As soon as I signed with my agent, she pointed out that I should lean into the horror elements and just go for it. I'm grateful I did, because horror is such a fun genre to write—you can really go hog-wild with the gross, weird imagery and constant tension in a way that you can't with most genres. There's a lot of freedom to be creative and unique with horror.
With an A+ sapphic romance, boarding school setting, brilliantly dark and magic plot and so much more, My Dearest Darkest gives readers so much to love but did you have a favourite aspect to explore whilst writing?
Ooh that's tough! I think my two favorite things to write about in general are monsters and kissing, which I think is fairly evident in Darkest. For this book specifically, though, the romance between Finch and Selena was really personal to me. This book was my first attempt at writing a Sapphic love story after I came out in college, and I put a lot of my own feelings and experiences into both Finch and Selena's coming out stories. It was really cathartic to get all of that on the page. Every time someone tags me in a review that mentions how they related to those elements, it genuinely makes my day.
Finch and Selena are both such strong and exciting characters to follow. When writing, did you find you saw yourself in one more so than the other?
I definitely put a lot of myself into both of them, but more so with Selena. She's a person who is very deliberate with how she presents herself to the world while keeping her true emotions and desires close to her chest. I'm really similar in that way—I always try to keep things light and funny and reserve the stuff underneath that for people I trust in the same way Selena does. That was part of the fun of writing her romance with Finch since Finch is so good at peeling those layers back just by being so open and honest herself.
View this post on Instagram
Do you have any must read recommendations readers desperate for more horror or sapphic (or, even better, both) reads after adoring My Dearest Darkest?
YES, oh man. I loved The Dead and the Dark by Courtney Gould, which is Sapphic horror. If you're interested in m/m queer horror with a trans protagonist, I got an ARC of Hell Followed With Us by Andrew Joseph White recently and also adored that! And if you're into graphic novels, I was also a big fan of Squad by Maggie Tokuda-Hall and Lisa Sterle, which has Sapphic werewolves.
Finally, do you currently have any projects in the pipeline and if so, is there anything you can share with us?
I do! I'm currently working on my second book with Sourcebooks Fire, which is another YA Sapphic horror novel about four best friends who are spending their final summer together before college and decide to attend a music festival in the Mojave desert. The catch is, they're all flesh-eating ghouls. And when one of them is drugged at a party, she goes feral and accidentally kills a member of a boy band. With the clock ticking, the girls have to figure out who drugged her before anyone discovers the truth about what they've done.
Thank you so much again for having me!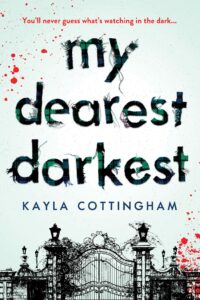 Get your copy of My Dearest Darkest by Kayla Cottingham here.