There is Stan Twitter and then there is K-Pop Stan Twitter.
It comes as no surprise that K-Pop has made its mark on Twitter, making the platform, K-Pop and its fans the ultimate dream team. Over the past 10 years, K-Pop has grown to become one of the biggest global conversations on Twitter. In 2020 the COVID outbreak changed the way we enjoy many forms of entertainment, music included, but K-Pop continued to prove itself as a worldwide cultural phenomenon. K-Pop artists and fans flocked to Twitter more than before to connect with each other and participate in conversations around the world, setting a new global record of 6.7 billion K-Pop related Tweets in 2020.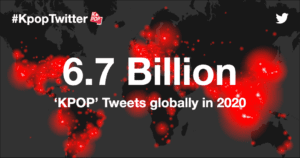 #KpopTwitter is truly a global community of passionate fans with non-stop conversations. The top 20 markets creating most of the talk about K-Pop show that the genre's popularity is constantly growing and entering new markets for the first time, like India and Spain. The genre's popularity also highlights a diverse range of markets proving its global nature and increasing mainstream appeal. Aside from Japan and the USA taking the lead, in 2020 K-Pop fandoms grew in other markets like Turkey, France and Saudi Arabia.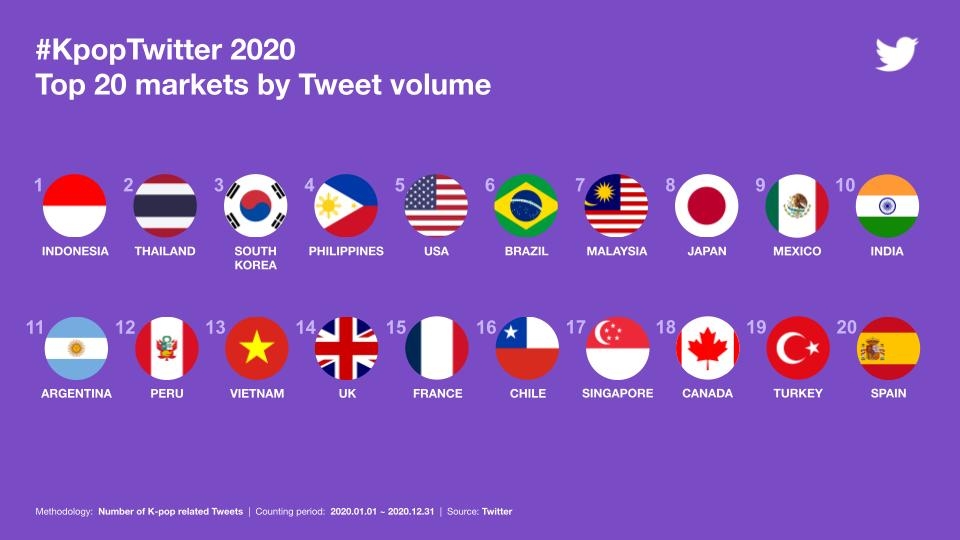 Twitter's 10 most-mentioned K-Pop artists continued to drive and lead the conversations with their fans on the platform in a year that saw a sharp cut in events like fan meetings and tours. The list includes BTS, NCT, EXO, BLACKPINK and GOT7. Despite all, 2020 was an exciting year for debuts, rookie groups and for K-Pop fans to start stanning new groups. The fastest-rising K-pop artists list sees at the top TREASURE, followed by TXT, ATEEZ, Stray Kids and brand new boy group ENHYPEN.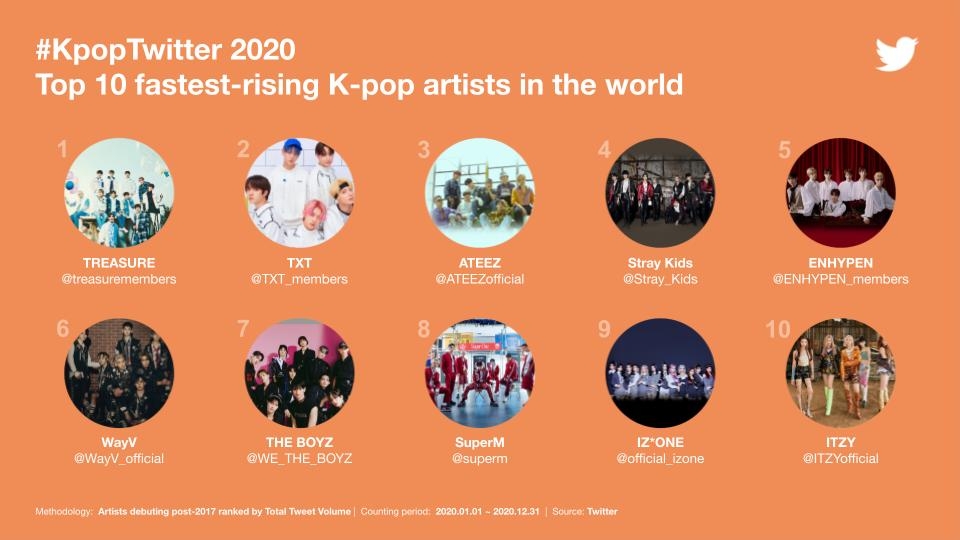 All these artists have helped their fans make through 2020 with Twitter Live, Q&A, Twitter Blue Room and, of course, new music. It doesn't surprise us that BTS are taking the lead in the most mentioned K-pop songs with four songs – Dynamite, ON, Black Swan and Life Goes On – while IGOT7 have generated enough buzz around the release "Breath" by GOT7, taking the fifth spot in the list.
In September 2020, to celebrate 10 years of #KPopTwitter, Twitter has partnered with K-Pop Radar to release K-Pop data across 20 markets to show how the passionate global K-Pop community shares their love and connects with their favourite artists around the world. Moreover, Twitter data revealed how since 2010 "Twitter continues to be the best way for music fans to see and talk about what's happening. That's especially true in the K-pop world, from legends like PSY, Big Bang, Super Junior, Wonder Girls, Girls Generation and 2NE1; to today's superstars such as BTS, EXO, GOT7, BLACKPINK, NCT 127, and MONSTA X; to the next-generation talent including Stray Kids, ATEEZ, TOMORROW X TOGETHER, IZONE, Super M and AB6IX." states Twitter.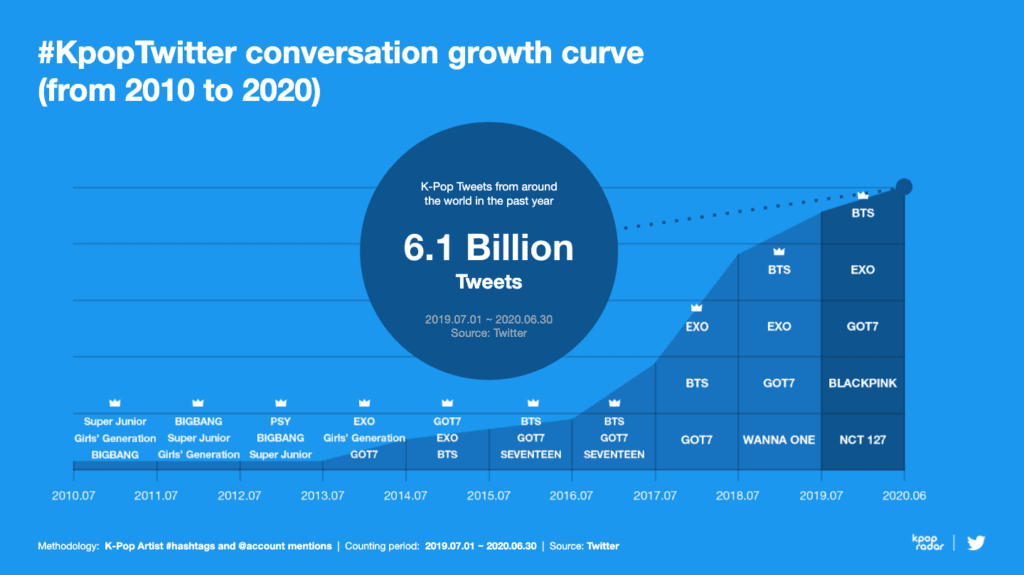 It's undeniable that in 2021, K-pop will come back bigger than ever and that Twitter will be the chosen platform by K-Pop artists for sharing content and stay connected with fans, and fans will join the #KpopTwitter conversation to talk about their favourite idols and stay updated with other fans around the world.