The highly-anticipated annual winter compilation album from SMTOWN has been released. The 2022 compilation titled 2022 Winter SMTOWN : SMCU PALACE features collaborations by SM Entertainment's artists including KANGTA, BoA, TVXQ!, SUPER JUNIOR, Girls' Generation, SHINee, EXO, Red Velvet, NCT, aespa and more.
The album has a total of 10 tracks, led by the title track 'The Cure'. Making the line-up for 'The Cure' are KANGTA, BoA, TVXQ!'s U-KNOW, SUPER JUNIOR's LEETEUK, Girls' Generation's TAEYEON, SHINee's ONEW, EXO's SUHO, Red Velvet's IRENE, NCT's TAEYONG, MARK, KUN and aespa's KARINA.
The single is an uplifting rhythmic pop song, backed by Afropop-inspired beats and a grandiose choir sound; the lyrics carry a message of solidarity and comfort in healing together from harm caused by various issues the modern society is facing daily.
A second cut released from the album is the most anticipated collaboration between KAI, SEULGI, JENO and KARINA's 'Hot & Cold (온도차)'.
The album also features the single 'Beautiful Christmas', a festive collaboration by Red Velvet and aespa, which recently topped Billboard's Hot Trending Songs Chart.
Other songs included in the album are the hip-hop dance number 'Jet' featuring HYOYEON, TAEYONG, JAEMIN, SUNGCHAN, WINTER and GISELLE, and 'Good To Be Alive', an anthemic EDM-pop track featuring HYOYEON, KEY, CHEN, JOHNNY, NINGNING and SM's resident DJs GINJO, Raiden, IMLAY and Mar Vista.
Following the release of the compilation, SM Entertainment will host the annual online global concert '2023 SMTOWN LIVE : SMCU PALACE@KWANGYA' on 1 January, with exciting performances of the new collaborations featured in the winter album.
Fans worldwide can stream the concert on SMTOWN's YouTube Channel and Beyond LIVE for free. The concert will also be available on TikTok, Instagram and more platforms worldwide.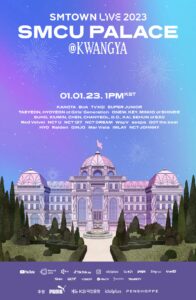 The concert will feature performances by artists including KANGTA, BoA, TVXQ!, SUPER JUNIOR, Girls' Generation's TAEYEON and HYOYEON, SHINee's ONEW, KEY, and MINHO, EXO's SUHO, XIUMIN, CHEN, CHANYEOL, D.O., KAI, and SEHUN, Red Velvet, NCT 127, NCT DREAM, WayV, aespa, GOT the beat, and more, along with exciting collaborations and DJ sets.
SM Entertainment has shown its high commitment to sustainability in the past couple of years and ahead of the online concert SM will hold the inaugural SM Sustainability Forum, which will discuss climate change issues faced by modern society and the role of K-Pop and Hallyu (Korean Wave) in the sustainable development of the world, speaking with experts in various fields including culture, environment, and society.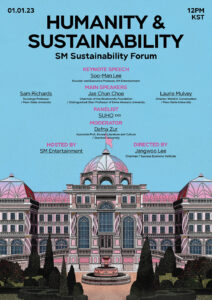 The forum is a first-of-its-kind event among Korean entertainment companies. It will feature SM's founder and Chief Producer Soo-Man Lee, Professor Jae Chun Choe, Sam Richards, Laurie Mulvey, Dafna Zur, and EXO's SUHO. SM will also share plans to host a "Tree-planting K-pop Festival" presented by Lee.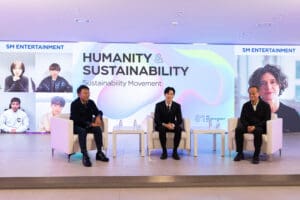 Meanwhile, SM formed an ESG (Environmental, Social, and Governance) working-level consultative body in May 2022, and is actively working on sustainability management by becoming the first Korean entertainment agency to join the U.N. Global Compact (UNGC) in June 2022, and publishing its first sustainability report in November 2022.
Listen to 2022 Winter SMTOWN : SMCU PALACE across all streaming platforms.
Watch '2023 SMTOWN LIVE : SMCU PALACE@KWANGYA' on January 1st on Beyond LIVE and YouTube.