Louis Tomlinson's debut solo album Walls is set to make an appearance on the UK charts yet again. Following a very successful repressing with HMV in honor of their 100th anniversary, 1500 copies of Walls on vinyl were quickly scooped up by fans — including 150 that Louis's team kept to give away.
https://twitter.com/LTHQOfficial/status/1419266364515274757
According to the midweek Official Albums Chart Update Top 100 this week — which is based on sales of CDs, downloads, vinyl, and other formats from Friday through Sunday — Walls is expected to break the Top 20 at No. 15.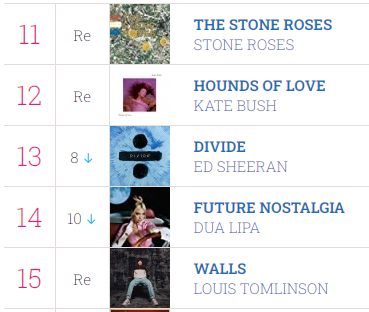 Walls wasn't the only album to see impressive numbers during HMV's birthday special. The Stone Roses' self-titled, Kate Bush's Hounds of Love, Alanis Morissette's Jagged Little Pill, Morrissey's Bona Drag, and The Prodigy's Fat of the Land all got a chart boost after their sales as well.
As Louies know, this isn't the first time we've seen Walls shoot up the charts since its release. In October 2020, it unexpectedly jumped to the No. 1 spot in more than a dozen countries on iTunes.
8 months after release. You're all amazing. pic.twitter.com/VE0G4MspAR

— Louis Tomlinson (@Louis_Tomlinson) October 1, 2020
What can we say? It's just what Louies do. The official charts will be released later this week, so keep streaming Walls and let's see if we can't get it even higher than No. 15!