Oops, Louies did it again! Louis Tomlinson's debut album Walls hit No. 1 on iTunes in the US, in the UK and other 16 countries so far (it keeps changing as I am writing so who knows). Legend behavior if you ask me.
It's no news that his fans are some of the most dedicated and loyal ever, Louis has said so himself on multiple occasions, but today they managed to blow everyone's mind once again.
It all started few hours ago when Louis' album re-entered the Top 100 on US iTunes, climbing already more than 900 spots in 24 hours. While questioning what was happening, Louis' fans and update accounts started to promote the record and trend "BUY WALLS ON ITUNES" on Twitter (it hit No. 1 worldwide as well).
The ascent became even faster: the album went No. 67 on the iTunes US chart and No. 16 on iTunes US pop albums chart in half an hour; then, respectively, No. 34 and No. 5.
A couple of hours were enough for Walls to enter the Top 10 iTunes US Top Albums and the Top 3 iTunes US Pop Albums charts.
Twitter looked frantic; no one knew exactly what was going on, but we all knew Louis ALWAYS deserves all the recognition in the world, so everyone kept pushing until it finally went No. 1 on both charts.
In the wake of the newfound enthusiasm, Louies from all over the world decided to join — and that's how it's now No. 1 in 18 countries (and in the Top 15 in many more). Eight months after its release and without a new single out or any kind of promo.
This is all on Louis' incredible talent and his amazing fans. Even his label, Arista, congratulated us on Instagram.
Arista Records via Instagram stories! pic.twitter.com/NZEl8RVr6M

— Team Louis News (@TeamLouisNews) October 1, 2020
And, of course, Louis didn't miss the chance to come online just to thank us and tell us how impressed he was and how happy we made him. You can tell how moved he was from the amount of tweets and replies he blessed us with tonight.
8 months after release. You're all amazing. pic.twitter.com/VE0G4MspAR

— Louis Tomlinson (@Louis_Tomlinson) October 1, 2020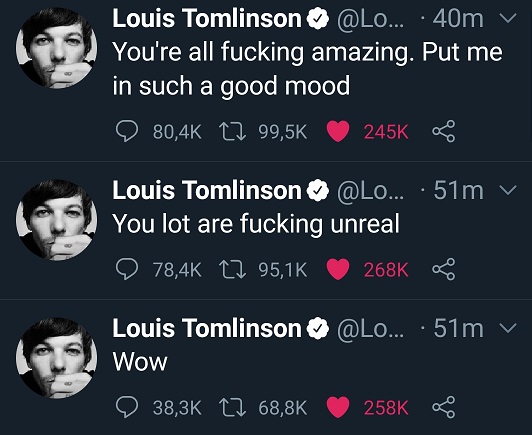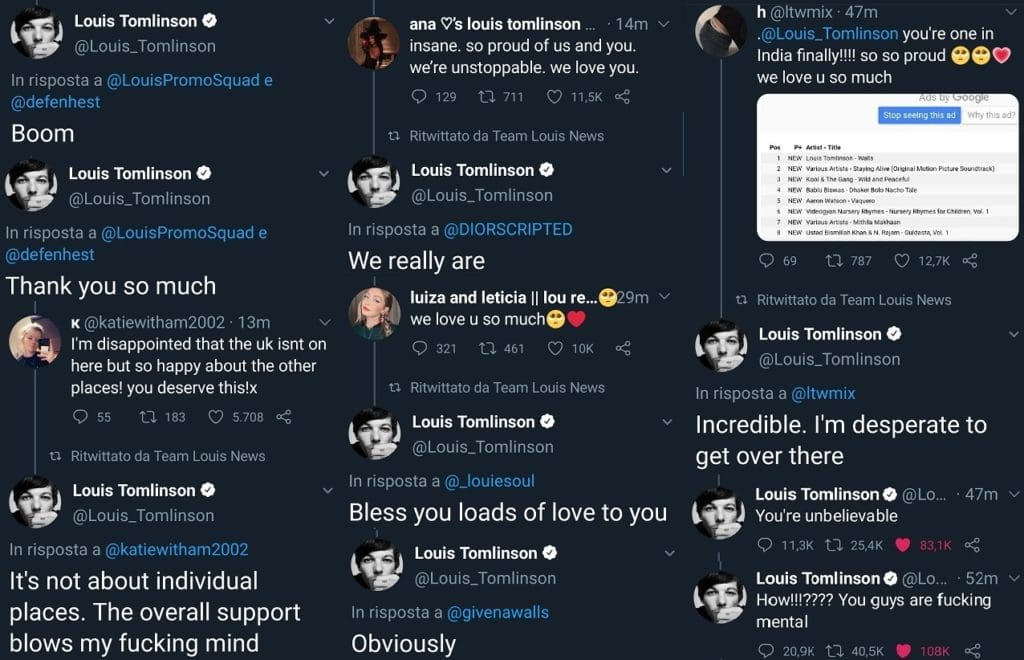 He's also given us some music recommendations fanboyed over Oasis (because why not), teased and sassed around, said how much he can't wait to be on the road again (same Lou, same!), and — most importantly — he confirmed he is WORKING ON NEW MUSIC!
Wrote 4 songs in 4 days. It's cooking

— Louis Tomlinson (@Louis_Tomlinson) October 1, 2020
Banger after banger

— Louis Tomlinson (@Louis_Tomlinson) October 1, 2020
He refused to tweet any lyrics because it's "far too soon for that s###" but he was kind enough to warn us that he is probably gonna end us all in 2021.
We are not ready but we can't wait!
Today was definitely "a busy week for us", as it felt like 31 January 2020 all over again. But it was so so worth it, if only because we were able to make Louis smile. So, let's keep appreciating Walls ( buy and stream!), bow down to our King and witness LOUIS TOMLINSON WORLD DOMINATION
louis entering the charts today pic.twitter.com/qjzQC9vD7a

— mars ˚ . ✦ (@signofthelou) October 1, 2020