It may only be November, but we're already in the festive spirit as Little Mix have released their first ever Christmas song. 'One I've Been Missing' is an ode to spending time with those you love and has us feeling all warm and fuzzy inside.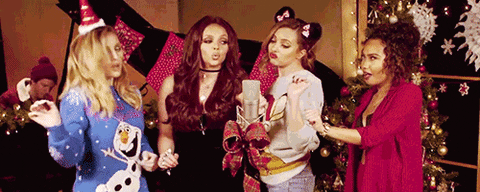 The tune has been tipped for this year's Christmas number one and we're 100% behind it. Here's just a few reasons why we think it deserves that coveted top spot.
1. It was co-written by Leigh-Anne
In a world full of cover versions, it's rare to see a group as successful as Little Mix attempt to release an original Christmas song –  let alone write it themselves. The lyrics are sweet, sentimental and completely sum up the true meaning of Christmas.
2. It could easily be a classic
Despite being a modern original, the song still manages to retain that traditional vibe. The 1950s inspired ballad is steeped in sleigh-bells and is just as good, if not better, than the classics we all know and love.
3. The vocals are on point
The girls are giving Mariah Carey a run for her money with their heavenly vocals, smooth ad-libs and luscious harmonies. Our ears have been blessed and Twitter agrees.
https://twitter.com/Shivy115/status/1197680885996367873
leigh anne wrote a fab christmas single. jesy and jade vocals suit the song really well and perrie did her thing. #OneIveBeenMissing could do well maybe even hit number one with the right support & this is coming from someone who hates christmas songs. I like it little mix!

— ً (@jungkookwasabi) November 21, 2019
4. It will make history
It'll be the first time a girl group has gotten a Christmas number one since 2002 when Girls Aloud achieved the feat with 'Sound of the Underground'. It'll also be Little Mix's first ever as they narrowly missed out on the spot with their X-Factor winning single 'Cannonball'  in 2011.
5. They really deserve it
It's been an incredible year for the girls and this song is just the cherry on top. From releasing their first single with their new record label, kicking off their massive LM5 arena tour, launching their own clothing line (and not to mention winning a number of awards) – they've worked hard and we hope they get the recognition they deserve.
It's such a beautiful song about when you miss that someone special at Christmas time. All the girls sound like angels and it really shows off their vocals. It would be amazing to break history so make sure to stream it and buy the song on iTunes! – @mixermanagement
I think we can all relate to the song at some point because we all have moments of really missing someone. I also feel like this song has brought us even closer to the girls because we can hear how they really feel sometimes… and I loved it! You can tell how much they love touring, but being away from their loved ones is so hard for them. – @LM_Community
You can help Little Mix in the race to Christmas number 1 by streaming and buying the song as much as possible here. Join in streaming parties at 6pm on Friday 22nd November and Sunday 24th November – check @LM_Community for more details.