Here's everything you need to know about Little Mix's beauty routine
You'll be twinning with the girls in no time.
It seems that every time we see Little Mix, they're absolutely slaying it. The girls are at the top of their game not only in the music world but also in the beauty sphere. If you're anything like us, you're always trying to replicate their looks and have totally spent hours wondering which products they use.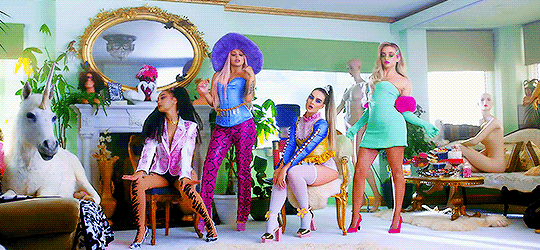 Thankfully, our prayers have finally been answered as the girls spilled all their beauty secrets in a recent interview. Here's a round-up of everything we learnt:
Their top beauty tip
Perrie: Always take your makeup off, even if you've had a long night and you just wanna crawl into bed.
Favourite products
Leigh-Anne: I can't live without eyebrow gel 'cause I've got curly brows. Trust me, it's so annoying!
Jade: You need a bit of lip balm I think. Lip balm goes a long way.
Perrie: Tinted moisturiser. I love it – I just love anything just light on my face, especially on holiday.
On coping with negativity
Perrie: Everybody's so hard on themselves all the time, like we are the worst for it. And we can't sit here and be like "we're so positive and we big ourselves up every day 'cause we do have days and moments when we just think 'ugh'.
Leigh-Anne: We always say, for us, compliment each other. Making each other feel good and boosting each other.
On keeping positive
Leigh-Anne: Getting involved with this campaign for Simple and Ditch The Label. It's all about choosing kindness – it just goes a long way really, doesn't it? 'Cause we're together 24/7, we're always saying nice things to each other. We've always got each other's backs.
On barefaced confidence
Jade: If you asked us that question like seven years ago, it would've been a very different answer.
Leigh-Anne: Do you remember when we went to Asda all together and I wouldn't get out the car?
Perrie: My mam drove us there – she was like "come on then girls," and you went "mm I'm not gonna get out the car." And we were like "why?" and wasn't it 'cause you had no makeup on? As if anyone cares.
Leigh-Anne: I can't believe I ever thought like that 'cause now I literally way prefer my face bare.
Perrie: Yeah I think we do now, but I think that comes with age and confidence. We love to experiment with makeup, like what girl doesn't?
Their favourite music look
Jesy, Perrie & Leigh-Anne: 'No More Sad Songs'!
Perrie: What a look.
Jesy: We all had some kind of deep red smoky eye.
Leigh-Anne: But also, the lighting in that video was banging.
Jade: I liked 'Power' 'cause I had a million crystals on my eye.
Makeup over the years
Perrie: We went from being really young fresh girls not really wearing a lot of makeup – maybe a bit of foundation on the lip when it was in – to then being really heavy and we looked way older. We looked way beyond our years.
Jesy: We looked very cheap and tacky.
Perrie: We just felt more secure with lots and lots of makeup on and I do honestly think we've just kind of got better in knowing what we suit and what we need. We don't feel the need to pile it on anymore.
Red lip or nude lip?
All: Nude
Pencil or liquid eyeliner?
Perrie & Leigh-Anne: Liquid
Jesy: Pencil. I like it smokier.
Statement eyes or statement lips?
Jesy & Perrie: Statement eyes
Leigh-Anne: Maybe a lip
Blusher or bronzer?
Leigh-Anne: Bronzer
Jesy & Perrie: Blusher
False lashes or natural?
Leigh-Anne & Perrie: Natural
Jesy: False
Bath or shower?
Leigh-Anne: Shower
Perrie: Bath
Jesy: Neither
Matte or dewy skin?
All: Dewy!
Bare face or full-face?
Leigh-Anne & Perrie: Bare face
Jesy: Full-face
Blonde or brunette?
Perrie: Blonde
Jesy & Leigh-Anne: Brunette
Eyebrows – skinny or full?
All: full!