Spinning off from what seemed to be a very successful (and by successful, I mean hilarious) Modest! Golf cake baking contest, a group of wholly dedicated Niall stans on Twitter came up with an idea to promote Niall's latest single 'Black and White' and incorporate everyone's new favorite quarantine pastime, baking!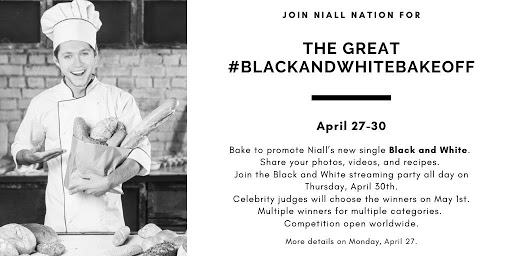 The contest which is set to kick off on April 27, gives fans a week to bake something fun related to Black and White (or Heartbreak Weather in general) and submit their entries to be judged by a panel of "celebrity" judges. While not all the judges have been announced just yet (in an effort to keep them impartial) radio talent, Zakk on Air, has confirmed that he is, in fact, one of the judges and couldn't be more excited!
So there's a #blackandwhite bake-off happening next week to celebrate #NiallHoran's new #HeartbreakWeather single.

All I know is I'm going to be a judge and I can't wait to tell you more – as soon as I know 😘

I'm the meantime: watch #BlackAndWhiteMusicVideo by @NiallOfficial pic.twitter.com/fr69iSxQ6I

— ZakkOnAir (@ZakkOnAir) April 25, 2020
The time to enter the contest ends on Thursday, April 30th with a fandom wide streaming party and then the judges will choose the winners on Friday, May 1st.
This is just another way that Niall fans continue to show their creativity in helping to promote his music during this time when he was supposed to be on tour with BFF's Lewis Capaldi and Fletcher. Making lemonade out of lemons all while staying home and staying safe, pretty safe to say Niall would be proud! So, while you're coming up with your best creation check out the video for Black and White!