If there's one thing we desperately need right now, it's incredible pop music — and The 1975 have delivered once again.
After teasing fans with live performances of "If You're Too Shy (Let Me Know)" on their 2020 UK tour (pre-COVID-19), the band finally released the studio version, proving why the song has been so highly anticipated amongst the fandom.
"If You're Too Shy" is euphoric and impossible not to dance to. The song is equal parts smooth and sophisticated, joyful and bubbly. Frontman Matty Healy sings of an online romance, detailing how enthralled he is through cheeky lyrics and a layering of sounds that soar as the song builds.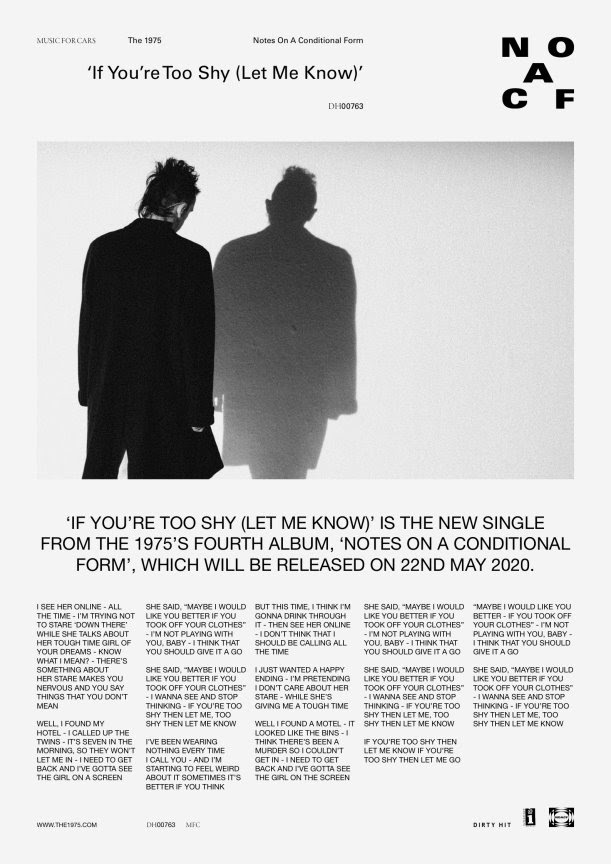 As fans of The 1975, we've had the live version of the song on repeat while (impatiently) waiting for the official release. To our amazement, the studio version packs a punch and feels just as energetic as the song sounded on stage. The production on "If You're Too Shy" had us captivated from start to end; it's perfection. The song takes the best of the 80's, the heart and soul, and makes it relevant in 2020. There's synth, there's a sax solo and that combination alone proves it's The 1975 at their best and the fans agree.
https://twitter.com/trumanchaIamet/status/1253397925369085953
literally me the second if youre too shy comes out on 23rd pic.twitter.com/271zMVcWAk

— manu (@frlstateofmind) April 16, 2020
nobody:
me all day everyday after april 23rd:

The 1975 – If You're Too Shy(Let Me Know)
2:44 ───○── 4:18
↻ ⊲ Ⅱ ⊳ ↺
Volume: ▁▂▃▄▅▆▇ 200%

— sophie // (@noacfsophie) April 15, 2020
the 1975 releasing if you're too shy (let me know) in the middle of a global pandemic pic.twitter.com/IwbEd1NMc5

— dean ☭ (@deanstwrt) April 15, 2020
the amount of serotonin i got from listening to the 1975's if youre too shy is insane

— v (@JH4NNA) April 22, 2020
https://twitter.com/ughholl/status/1232085177729536005
What feels most special about "If You're Too Shy" is the songs ability to evoke intense emotion, transporting you to the moment you last saw The 1975 perform. When you see The 1975 live, you feel free. You feel present. The only overwhelming sensation is that of pure joy and happiness. Whether you're smiling and dancing, swaying and sobbing ("Somebody Else" still feels like a punch in the gut after all these years) you feel safe and understood, celebrating a unique sense of belonging with fans around you.
"If You're Too Shy" reminded us of the power of The 1975 and how desperately we miss being in a crowd at one of their shows. Despite the world feeling dark and uncertain, given the current circumstances, we're holding onto hope, imagining the next time we'll be dancing with Matty, screaming every word to "If You're Too Shy" in an arena illuminated by neon lights and filled with passionate fans.
God bless The 1975.
that's hot pic.twitter.com/iGjjkbNBxz

— amy ▯ (@_itsnotliving) February 15, 2020
The 1975's upcoming album, Notes on a Conditional Form, will be released May 22nd.
Which single release have you loved the most so far? Let us know over on Twitter @unitedbypop