Harries have been talking about Harry Styles going on tour again ever since Harry ended his HS1 tour on July 14th, 2018 at the Forum in Inglewood, California. Touring is always a special time and it's hard to not get completely hooked after seeing just one of his shows. For months, Harries got to guess which suit he was going to wear each night and wonder which fans he would interact with and hear the new phrases and jokes that would become an integral part of the fandom. Lifelong friendships and memories were made and it's always difficult when that time comes to an end. Harry himself didn't want it to be over; playing 'Kiwi' three times in a row at the last show and staying at the venue well after he was supposed to, just to take it all in one last time.
However, Harry is soon going to be back on the road and fans were ecstatic when the news was released. Nobody, though, expected for the twist of saying  'Love on Tour' instead of Live on Tour as per the norm. Many were excited at the idea. After all, Harry is all about love and treating others with kindness. It sounded cute and fit just right.
The inspiration for it, though, might go a bit deeper than that. So many fans took to social media after the HS1 shows to say how safe and loved they felt. Harry opened every single show by saying to "feel free to be whoever you want to be in this room tonight," even if only for a couple of hours. Many took that to heart by bringing flags that represented them as well as dressing in a way that made them feel comfortable, even if that meant glitter and sparkles and lots of rainbows. Harry told the audience to feel free to sing and dance to the songs they loved and that offer was gladly taken up.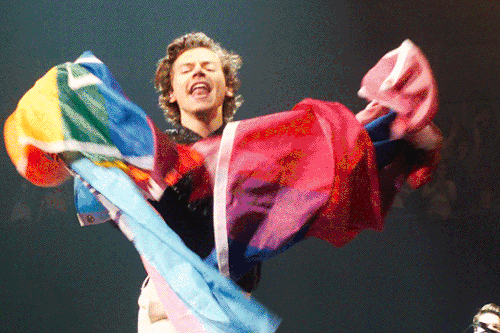 Not only did Harry shower his fans with love throughout the entire tour, he made sure the rest of the world got shown some as well. Harry had hair ties for sale at merch stands across the tour where 100% of the profits were donated to charity as well as a portion of ticket sales. The merch itself was covered in his "Treat People With Kindness" logo that could be worn by Harries to send out his positive message wherever they went.
As for this tour? We can only expect much of the same. During a recent interview with The Project when Harry was asked how much love does a Love on Tour ticket get a concert goer, he said about "two hours of love…from me."