Every day Harry Styles wakes up and knows that he is gonna break yet another record; every day Harry Styles wakes up and knows that to do that he gotta outsell himself once again because he is the only man to beat.
Today Harry Styles woke up and knew he became the first male solo artist periodt to have all songs on his discography hit at least 100M streams each on Spotify!
.@Harry_Styles becomes the FIRST male artist in history to have all his tracks over 100 million streams on Spotify. pic.twitter.com/lFG2vrAcd5

— Harry Styles Charts (@StatsHarry) October 28, 2021
All his 23 songs, from both his super successful albums Harry Styles and Fine Line plus his iconic cover of Girl Crush, without any collaboration or remix, now count over 100M streams each; it is the first time a male solo artist reaches this milestone and Fine Line is the fastest male album to reach it.
And Harry has only been a solo artist for 4 years…who is doing it like him?
SPOILER: No one.
Love On Tour. New York City, NY. pic.twitter.com/BLlhn3GqT9

— Harry Styles. (@Harry_Styles) October 18, 2021
During the past year Styles, who was one of the first artists to come back on stage after the pandemic and is currently busy with the US leg of his Love On Tour *cries in European*, also won his first Grammy for Best Pop Solo Performance, other than becoming the first solo male cover star of Vogue magazine and the first artist since 1994 – yeah, sounds fake but I swear it isn't – to be able to get a Madison Square Garden Gold Ticket Award for selling out five shows there.
I am not lying to you all when I tell you this is Harry Styles' world and he is just treating us with kindness letting us live in it as well.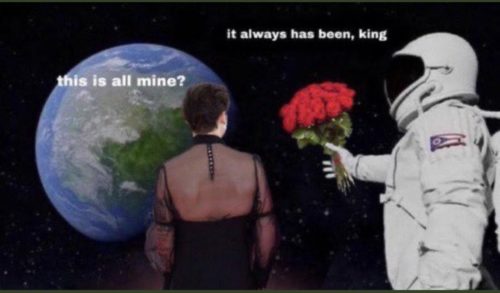 Featured Image Source