©Jackie Kolgraf
Last night, as I made my way from the parking lot to the arena through Mohegan Sun's hallways of stores, restaurants, and casinos, I knew I was heading in the right direction: The floors were covered in stray multicolored feathers from Harry Styles fans' boas. The ticket checker couldn't believe the resurgence of bell-bottom pants. Harry's influence could be felt everywhere.
The last time I saw Harry perform was during Live On Tour in 2017 and 2018. This current show, part of Love On Tour, had originally been scheduled for 2020 and, like so many others, was bumped to 2021. The concert kicked off Mohegan Sun's 25th-anniversary celebrations and was especially intimate; the arena only holds 10,000 fans versus an average of twice that at his other venues.
Harry's instantly recognizable voice boomed through the arena ahead of the show to thank fans for being vaccinated and encourage them to keep their masks on throughout so the tour could continue safely. And, for the most part, everyone did comply. I think that after 18 months of no live music (and very little engagement from Harry in general, who stays off social media for the most part), fans were willing to do whatever it took to spend a safe night in his presence and continue spreading his message of treating people with kindness.
This tour included a few familiar faces, like guitarist Mitch Rowland and drummer Sarah Jones, but it had also expanded to include musicians such as pianist Niji Adeleye and scene-stealing percussionist Pauli Lovejoy. To see the stage — which was uniquely set in the center with catwalks extending out either side — filled with not only men but women and people of color, too, was important and on-brand for Harry. The added instruments brought a new sound to his music, a solo discography that only includes two albums and 22 songs.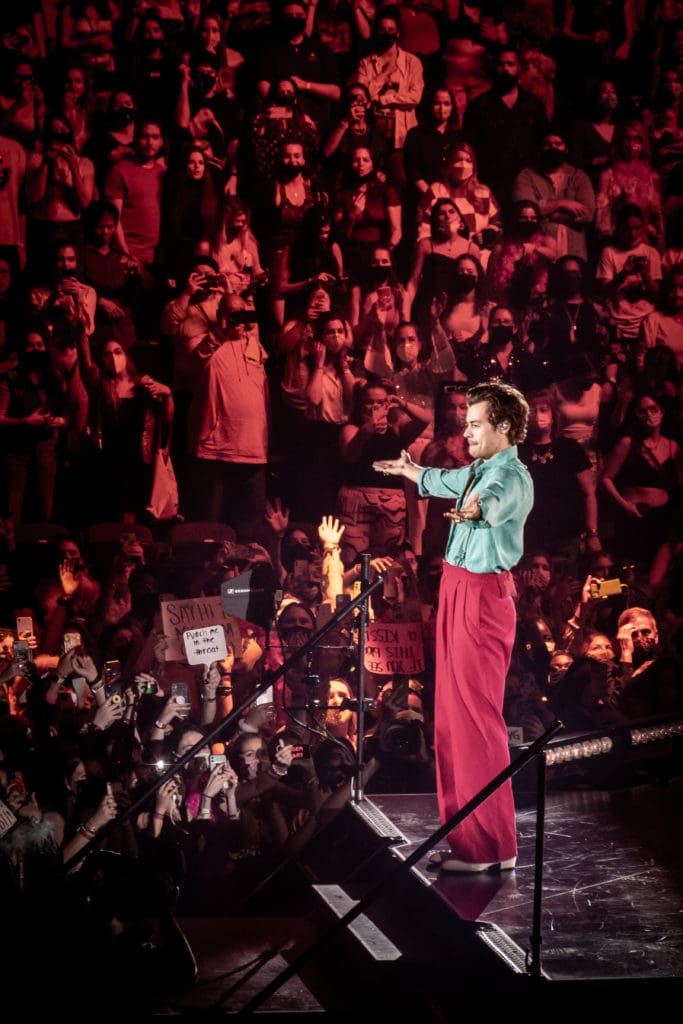 What was missing, however, was a rafter-shaking cover song like Fleetwood Mac's "The Chain," which Harry performed on the previous tour. And while his cover (and I use that word loosely) of One Direction's "What Makes You Beautiful" is always a good time, it felt a bit uninspired after having seen it performed so many times already. Live On Tour had also included two unreleased songs, "Anna" and "Medicine," whereas Love On Tour had nothing comparable. After having waited so long for this tour, the setlist came across as stale.
On the other hand, Harry only had one 10-track album to pull from during Live On Tour. Love On Tour included never-before-performed songs from Fine Line, his 2019 sophomore album. Sung live, "Treat People With Kindness" transformed into an unexpected dance-along. Having felt the iconic "floor wobble" of Madison Square Garden in 2018 during "Kiwi," I wondered for a split second if Mohegan Sun Arena's bleacher seats could stand up to the power of that song.
a year ago today, one of the best live shows I've ever seen. I've been seeing music in Madison Square Garden since the 80s, & this was the first time the floor was wobbling. the only other time was Night 2. https://t.co/XGX1K4b8KP

— rob sheffield (@robsheff) June 21, 2019
During a special moment, Harry took the time to lead a "Happy Birthday" singalong in honor of his mom, Anne, who was home in England. He also slowed down the pace of the show for ballads like "Falling" and "Cherry," performed at either end of the catwalk. I even teared up a little (okay, I openly sobbed and gave thanks for the mask hiding half my face) when he chanted the line "we'll be alright, we'll be alright" in "Fine Line," an especially poignant lyric that had kept me going throughout the pandemic.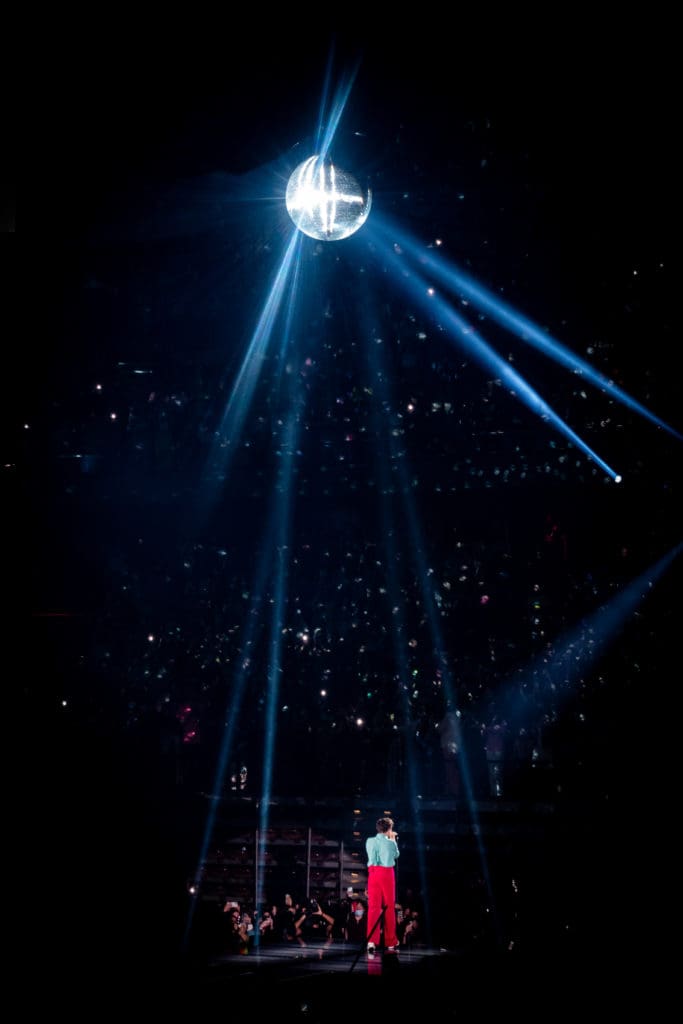 Having followed One Direction, whose schedule went album-tour-album-tour-album-tour for years with barely a break, the length of time between the release of Fine Line and the start of this tour (which was obviously created by the pandemic and out of anyone's control) could really be felt.
However, it also created a palpable sense of pent-up demand. The audience would've eaten up anything Harry gave them, but despite a lackluster setlist, he still didn't mail it in. Every song was performed with the highest energy, including actual leaps, twirls, and kicks despite him being hilariously tethered by a corded mic. He started the show by challenging the crowd to have as good a time as he was about to — and I think we all can say we did.