The Jonas Brothers' wives: Introducing the Jonas Sisters
The wives of the Jonas Brothers are adored by the bands' fans, and here is why they're famous in their own right.
Nick, Kevin and Joe Jonas, also known as the Jonas Brothers, emerged on the music scene in 2008 after forming in 2005. They gained popularity on the Disney Channel from Original Movies, and then even went on to bag their own show.
Fast forward to over a decade later and the Jonas Brothers are one of the most successful boy bands of the 21st century. Now, all three brothers are married, with Kevin being a dad of two and Joe a dad-to-be.
The wives of the brothers are known by their fandom as the Jonas Sisters, and are each famous in their own right and not just because of their other half.
Kevin was the first brother to get married to his long-term girlfriend Danielle Deleasa. The pair met in 2007 when both of their families were on holiday in the Bahamas and Danielle was still working as a hairdresser, and they immediately hit it off. They were married in a traditional Christian ceremony in 2009 at Oheka Castle.
Danielle and Kevin had their own hit reality TV series on E! in 2012 which was called Married to Jonas, and it ran for two seasons. The first season of the show was primarily focused on Kevin and Danielle, but also on the comeback of the Jonas Brothers after their solo ventures. Through the show, viewers witnessed Danielle come up with business ideas and eventually open up her own business in New Jersey.
The couple went on to have their two daughters, Alena and Valentina, who are now aged 6 and 4. Danielle owns a self-titled jewelry company which can be found online here. The store sells bracelets that are named after her two daughters, necklaces, anklets, rings, and earrings.
https://www.instagram.com/p/B5i5BuUnKqV/
The next out of the brothers to get married was the youngest of the three, Nick. Nick has had his fair share of high profile relationships in the past, from Miley Cyrus to Selena Gomez. This was also the case when it was rumoured he was dating Bollywood actress, Priyanka Chopra, in 2018.
Priyanka had already made a name for herself in India by becoming a huge Bollywood actress, before taking a step and auditioning for American films that shot her to fame in the Western world, such as the new Baywatch movie. It was not long before the couple got engaged in Greece, a day after Priyanka's birthday in July 2018. Since Priyanka is a practicing Hindu, they got properly engaged in a traditional ceremony known as a Punjabi Roka ceremony in Mumbai.
The couple first exchanged vows in a Christian ceremony on 1st December, then in a Hindu ceremony on 2nd December. This was to respect both of their religions and both ceremonies took place in India. Their wedding famously went on for a few days as traditional Hindu weddings usually do.
Priyanka has since been named by Time as one of the '100 Most Influential People in the World' and by Forbes as one of the 'World's 100 Most Powerful Women'.
The last of the trio to get married was Joe, who has also had highly publicised relationships in the past. (Let's not mention the Taylor Swift breakup.) Joe and Sophie Turner met in 2016 but didn't confirm their relationship for a while. They met up in a bar in Camden, London, and the rest, as they say, is history.
Sophie is an English actress who starred as Sansa Stark on Game Of Thrones for a lengthy eight years. For her role on the popular show, she was nominated for a Primetime Emmy Award for Outstanding Supporting Actress in a Drama Series.
Joe and Sophie are known for being a comedy couple, so it came as no surprise that the couple got married in Las Vegas last May and gave each other Ring Pop sweets rather than actual rings. They then repeated their vows in a traditional ceremony in France with all of their family and friends present and had actual rings to exchange this time.
It was recently revealed that the couple are expecting their first baby together, although neither of them have officially confirmed the news.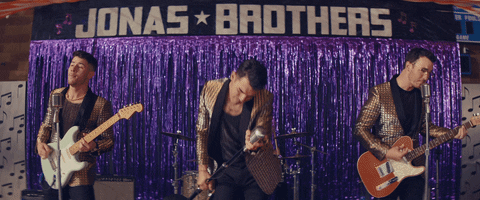 The Jonas Sisters may be three of the luckiest women in the world, not only for their husbands and for being able to star in their music videos, but mainly because of all of their incredible independent achievements. These three beautiful women are just as talented as their husbands, in their own right. So go and support them as well as the Jonas Brothers! You can follow Danielle's Instagram here, Priyanka's here and also Sophie's here.