Marissa Meyer on her new YA romance anthology, Serendipity
"I really love how the collection turned out and am so happy to now be sharing it with readers."
This post is sponsored by Faber Children's.
To celebrate the release of Serendipity, a new YA anthology edited by Marissa Meyer and featuring stories from Elise Bryant, Elizabeth Eulberg, Leah Johnson, Anna-Marie McLemore, Sandhya Menon, Julie Murphy, Caleb Roehrig, Sarah Winifred Searle, and Abigail Hing Wen, we chatted with Marissa all about the process of creating an anthology, rom-coms and more.
---
Hi Marissa, we're so excited to have you on the site today in celebration of the release of Serendipity, the new YA romance anthology of which you were both an contributor and editor! Can you tell us a little about how this fabulous collection of stories came about?
I'd been thinking for years that it would be a lot of fun to pull together an anthology—something that was joyful and uplifting and romantic, all the things that I love as a reader! I love talking to and working with other authors, and the idea of getting to curate my own list of contributors and help shape their stories seemed like it would be an incredibly fun process. When I first pitched the idea to my editor, my plan had been to do a collection of contemporary Valentine's Day-themed stories, but the team at my publisher worried that would be too limiting for sales. So after some brainstorming we landed on the idea of basing the collection around beloved romantic tropes instead, which I loved even more!
Whilst exciting, I can imagine the there's a lot that goes into putting together an anthology, especially one featuring so many incredible authors? Could you share with us what that process was like for you?
Selecting the authors was probably my favorite part of the process, and also the most difficult! I of course started out with my initial "wish list"—which came to be, oh, about 100 of my all-time favorites. It was so difficult to narrow it down to just 9! I spent a lot of time thinking about different authors voices, strengths, and perspectives to try to create a list that would be varied and interesting, but still super fun and romantic.
Once the tropes had all been decided on, I kind of just got to sit back and wait for their brilliant stories to come in! I took a fairly minimal approach to the actual editing, largely because the stories that came in needed such little work to begin with. Every time one of the stories landed in my inbox was cause for celebration—I absolutely loved seeing what these talented writers came up with.
From 'there's only one bed' to 'fake relationship', Serendipity features a whole host of our favourite romance tropes. How on earth did you decide which author would write which trope?
I started by brainstorming a long list of romantic tropes, using some romance blogs for guidance. I ended up with a list of maybe 25-30 trope ideas. After our authors were finalized, I shared the list with them so everyone could sign up for the trope that most inspired them.
View this post on Instagram
What were some of biggest challenges and rewards you came across whilst both editing and contributing to Serendipity?
The only big challenges were incorporating it into my normal writing schedule and trying to keep everyone on track with deadlines and promotions. We are all busy writers with our own novels being published, too, so there was some juggling of projects going on. But everyone was so professional and wonderful to work with, which was probably the best part of the whole experience for me. Working with authors who are just so good at what they do—seeing their stories for the first time and being filled with a giddy pride as the collection started to come together. I really love how the collection turned out and am so happy to now be sharing it with readers.
Is there a romance trope you have yet to feature in your work that you're desperate to explore?
One of my all-time favorite tropes is the Fake Relationship, which Julie Murphy tackled in this collection, and I love what she did with it. I haven't written a Fake Relationship story but it's definitely one that I would love to take on someday. I am also going to be taking on the "Careful what you wish for" trope in an upcoming book, which is another fav!
Serendipity features stories from some of YA's most talented authors; were there any who surprised you (in a good way) with what they chose to write?
Probably the biggest surprise was Caleb Roehrig—I've been a fan of his since his first book, WHITE RABBIT, came out years ago, and I've always loved how he tackles romance in the midst of very intense thriller plots. I was so curious to see what he would with a more lighthearted rom-com, and he ended up writing this incredibly sweet interpretation of the Best Friend Love Epiphany trope that I just adore.
YA rom-coms are always at the top of our TBR's, so are there any upcoming titles you think we should be excited for or any you're dying to read?
I am so excited to dive into Elise Bryant's newest—ONE TRUE LOVES—which I've been hearing amazing things about! I also can't wait to get my hands on FLIRTING WITH FATE by J.C. Cervantes, a rom-com with a magical element that sounds incredible.
Finally, if you had to choose, which three rom-com's would you name your favourites?
Gasp! What a cruel question! Argh. All right, I'm not going to say any of the books by our fabulous contributors because I love all of them and want everyone to read all their books!! So for my other top three, I'll go with… The Sun is Also a Star by Nicola Yoon, Tokyo Ever After by Emiko Jean, and To All the Boys I've Loved Before by Jenny Han. (But oh man, that was tough!!)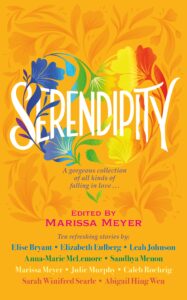 Get your copy of Serendipity edited by Marissa Meyer here.