Lauren James talks her new YA novel, The Reckless Afterlife of Harriet Stoker
"I really wanted to write about a villainous girl."
If you can't get enough of books with ghosts, found family, anti-heroines, and 'edge of your seat' plot twists, say hello toThe Reckless Afterlife of Harriet Stoker,  the gripping new paranormal YA release from UKYA superstar, Lauren James (aka, your new favourite read.)
---
For those who may not be familiar with your newest (and fabulous) YA title, The Reckless Afterlife of Harriet Stoker, how would you sell it to them in one sentence?
A building of ghosts are trapped together for all eternity, and trying to destroy each other – what could go wrong?
What inspired you to write The Reckless Afterlife of Harriet Stoker? How and when did you come up with the idea?
I really wanted to write about a villainous girl. One of the big things that surprised me when I was first published was how unforgiving reviewers were of female characters – people didn't like it when they did anything wrong! They were seen as very unlikeable and mean if they made mistakes, which isn't something we see for male characters. Once I started reading about different ghost myths from around the world, I thought it would be a fun setting to use for my anti-hero, as she explores the world of the afterlife and gets herself into trouble of various kinds.
The Reckless Afterlife of Harriet Stoker is your first paranormal fantasy novel. Did you find the writing process differed from that of your sci-fi novels?
Writing a paranormal fantasy with magic is very different to writing a book based on real life science. The plot possibilities seemed endless and overwhelming at first – where do you stop when you can do literally anything? Everything clicked into place when I realised the importance of a magic system with rules and limitations. When your characters have powers – each of the ghosts can do something unique, like hypnotism, shapeshifting or clairvoyance – it's very important that the magic has restrictions. Otherwise, what are the consequences of their actions? What is stopping them from becoming impossibly powerful? That gave my plot a structure that made the novel a lot easier to work with.
View this post on Instagram
Do you have any YA paranormal recommendations for readers wanting more after finishing and loving The Reckless Afterlife of Harriet Stoker?
Harrow Lake by Kat Ellis was recently released and is great – a creepy tribute to the horror genre. The Raven Boys by Maggie Stiefvater is deceptively creepy, with a great ghost character. A Skinful of Shadows by Frances Hardinge also has a terrifying take on ghosts – not one I would want to experience myself! And Lockwood & Co Jonathan Stroud is slightly younger YA, but definitely not any less creepy for that – these ghost hunters are very scary.
With six novels now under your belt and plenty of wonderful characters, which characters from your previous books do you think Harriet Stoker would best get on with and which do you think she'd clash with?
Ooh, great question! I think Harriet would like Romy from The Loneliest Girls in the Universe (who could hate Romy?) because she has never had any friends, and Romy is in a similar position after growing up in space. They could be each other's first friends. She definitely wouldn't like Kate from The Next Together very much – she'd probably find her very annoying and chatty! I think she'd be quite intimidated by Lowrie in The Quiet at the End of the World, who is very independent and capable.
Okay, so The Reckless Afterlife of Harriet Stoker would make the best movie. If that were to happen, who would your dream casting be for Harriet, Felix, Leah, Rima and Kasper?
I have so many thoughts on this! The novel was inspired by my favourite TV comedies, like Spaced, Misfits, Being Human and What We Do n the Shadows. Right from the beginning, it's been a very visual story for me – I can picture the scenes in my head, in a way I can't always do with my novels. So I know exactly what they look like. Harriet is Daisy Ridley (Star Wars), Rima is Maitreyi Ramakrishnan (Never Have I Ever), Leah is Sofia Boutella (Kingsmen), Felix is Keiynan Lonsdale (Love, Simon) and Kasper is Froy Gutierrez (Teen Wolf). You can see my character bios with pictures on my website here.
View this post on Instagram
There were so many brilliant twists and turns throughout the book. Were these all planned or did they come to you as you wrote? Could you tell us a little about your writing process?
Some of the smaller twists were planned from the beginning, but my editor really pushed me to add more twists during the editing process. That really pushed me to take risks and stretch the narrative in ways I wouldn't have been brave enough to do otherwise (particularly in regard to the characters' backstories). I added in the 'narrator' very late on in the editing process too, which is one of my favourite parts about the novel now.
While writing, I tend to think about my novels in several strands:
1) what the reader knows about what's happening
2) what the characters know about what's happening (but aren't necessarily saying)
3) what is really happening
I then pace out reveals about the truth alongside character development. Ideally, readers will guess twists about 10 pages before the characters realise the truth – I try to give enough clues that it's possible to work it out if you're a close reader. I don't think it's fair, otherwise. If anyone wants a clue for HARRIET: keep an eye on the knitting.
From the unpredictable plot to the complex characters to the queer pining, the process of writing The Reckless Afterlife of Harriet Stoker must have been a lot of fun but was there a specific scene or element you enjoyed creating the most?
My favourite scenes are the ones where the gang are just hanging out, being silly. They're a true 'found family' – they've been stuck in this building together since 1994, so they've really refined their banter in the decades of playful hanging out. It was a real joy to write about an established, loving friendship group. I could have written a lot more scenes where they just spent time together, but obviously that's not very exciting for the plot!
Do you have any writing projects in the works and if so, can you tell us anything about that?
I'm currently working on a novel about climate change – about nature, geoengineering and teenagers taking action through civil disobedience, in the face of overwhelming corporate negligence. It's something I've wanted to write about for years, but never felt good enough at writing to tackle, as it's such an enormous topic. I'm finding it tough, and there's a lot research to do, but it's such an important discussion to have.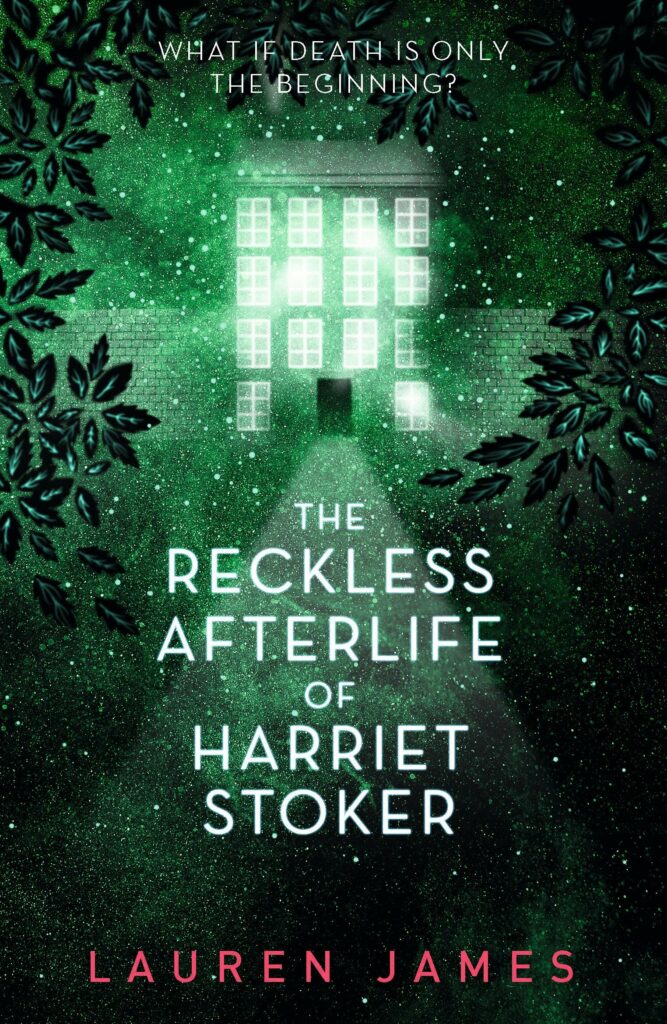 Get your copy of The Reckless Afterlife of Harriet Stoker by Lauren James here.