Aden Polydoros on his new queer YA historical fantasy, The City Beautiful
"more than once, I found the drafting process to be emotionally sapping"
Set in 1893 Chicago, following a young Jewish teen thrown into a hunt for a serial killer,  The City Beautiful  by Aden Polydoros, is a must read for anyone after a thrilling historical fantasy this autumn. Having highly anticipated its release, we're so excited to have had the opportunity to ask Aden a few questions all about his newest YA novel.
---
Hi Aden, it's so great to get to talk to you today to celebrate the release of your new YA novel, The City Beautiful. For readers just hearing about the book, how would you sell it to them using just five words?
Ah, this is such a hard one! I could spend hours talking about my book. But five words? It would have to be: Dark, Gothic, and Ghostly—Chicago, 1893.
Could you share with us the inspirations behind the story of The City Beautiful?
My main inspiration would have to be an article I read about the real-life serial killer, H.H. Holmes, who was active during the Chicago World's Fair. I didn't want to write a story about Holmes' murders, although I think it would be an interesting concept to explore in a sequel. However, reading about his killings got me thinking about the World's Fair in general, and just the entire social and political atmosphere of Chicago at the time. I'd been wanting to write a story with a Jewish protagonist for a while, and so, slowly I began piecing a plot together. I was also inspired by an old burial society I visited in Prague, and what I learned there about traditional Jewish customs concerning the preparation and burial of the dead.
With its fantastic 1893, Chicago backdrop, you must have done quite a lot of research whilst writing? Are there any facts you learnt that surprised you about the city during this time?
I think the most surprising information I learned was about the slaughterhouse industry active in Chicago at the time. I hadn't realized it was so extensive until I began doing research. As I learned more about the industry, I realized that there was something so viscerally gothic about the entire atmosphere of the Stockyards, and I knew I had to fit it in the book.
Another interesting fact I learned was the activeness of anarchist organizations in Chicago at the time. In The City Beautiful, one of the main characters works at a German-language workers paper called the Arbeiter-Zeitung, which had a significant and controversial role in Chicago's anarchist movement at the time. It had never really occurred to me that anarchism was an actual movement, and very much alive during the Victorian era—before my research, I had simply thought of anarchism as a modern concept. It was interesting to research anarchism, especially when I began learning about Jewish anarchist organizations, and the role of the anarchist movement and the labor movement in furthering workers' rights and ending child labor.
View this post on Instagram
The City Beautiful, whilst brilliant, is also incredibly hard hitting. I can imagine it must have been quite emotional to write at times?
Yes, there were definitely a few scenes that were very difficult to write, and more than once, I found the drafting process to be emotionally sapping. However, I do think it's important to confront dark themes in fiction, in part because it provides a teenage audience with the means of unpacking and exploring these issues at a safe distance.
Although there are still far too few, the past year or so has seen more Jewish representation featured in YA. How do you feel knowing The City Beautiful is adding to that growing pool and do you have any must read YA books featuring Jewish representation/by Jewish authors?
I am absolutely thrilled by the rise in Jewish YA. Many of these books, I wish I had as a teen, and I'm glad that current teens will be able to see themselves represented. A few must read YA books I've read recently with Jewish rep/by Jewish authors were:
Cool for the Summer by Dahlia Adler
The Ghosts of Rose Hill by R.M. Romero (coming 2023)
A Far Wilder Magic by Allison Saft (coming 2023)
From the fantasy elements to the historical setting to mystery, there are so many fantastic parts to The City Beautiful, but did you have a favourite aspect to write?
I really enjoyed writing the dybbuk possession and exploring the ways in which Yakov's dybbuk was taking over Alter's body. Since the plot of the book involves incidents that happened in the past, and it is in part a revenge story, it was interesting to show how Yakov's memories begin to merge with Alter's.
Are you currently working on anything new and if so, is there anything you can share with us about it?
I'm currently working on revising my 2022 YA gothic fantasy novel, Bone Weaver. The novel draws from Slavic folklore and is set in a world reminiscent of 1910s Russia. Although it doesn't have a queer protagonist, two of the main characters are queer, and the love interest is bi. It is currently up on Goodreads and can be found here.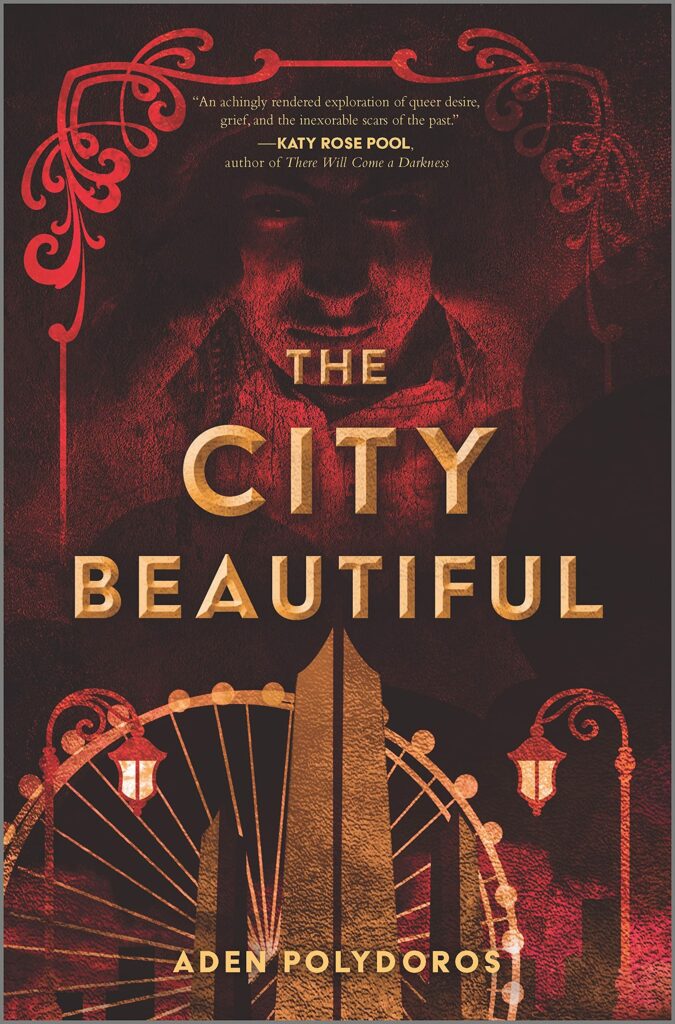 Get your copy of The City Beautiful by Aden Polydoros here.