Netflix
10 things we learnt from Taylor Swift's Miss Americana documentary
The Netflix documentary shows a side to the pop star that the world has never seen before.
It's been a wild decade for Taylor Swift. From country starlet to pop megastar, we've been following her journey for years – and now the entire world gets to see her like never before with the release of her insightful new Netflix documentary.
'Miss Americana' sees Taylor open up and show a real vulnerability as she discusses breaking her political silence, her mental health and having to deconstruct an entire belief system that comes with growing up as a woman in the music industry. As explained by director Lana Wilson, the title was chosen not only as a nod to the fan-favourite song from Lover, but aptly because it "looks at the flip side of being America's Sweetheart."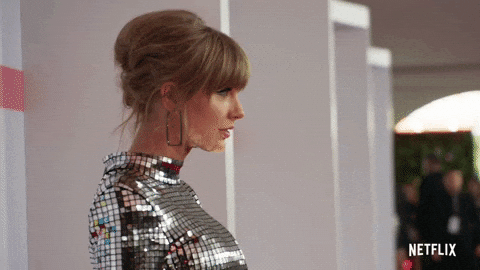 The documentary marks the first time that Taylor has let anybody record her songwriting sessions and even gives a behind-the-scenes look at when she took a step from the spotlight during the rep era. She's her charming self as always and her personality shines throughout, even during the few heartbreaking moments that occur. We laughed. We cried. But most importantly, we're so proud of Taylor.
We've rounded up the top ten things that we took away from the special:
1. She thought that her album 'reputation' wasn't good enough
It's Grammy nominations day and Taylor receives a call from her publicist telling her that 'reputation' wasn't nominated for any of the Big Four categories. Her reaction? "This is good. This is fine. No, I just need to make a better record." Her face tells us that she clearly isn't fine and it's one of the saddest moments of the film. Rep stans everywhere are outraged because that album deserved more recognition.
2. Taylor thought that the crowd were booing her when Kanye infamously interrupted her speech at the 2009 VMAs
"It was so echoey in there. At the time, I didn't know they were booing him doing that; I thought that they were booing me." Our hearts are breaking 💔
3. Her cat travels with her in a special backpack
Yep, it's the cutest thing ever and we need to know where we can get one.
3. She's always trying to one-up herself when it comes to music
"There's so much pressure going into putting new music out. If I don't beat everything I've done prior, it'll be deemed as, like, a colossal failure." That sounds like an almost impossible standard to set. While we love how Taylor's always growing as an artist, we never want her fear of complacency to turn into a spiral of never feeling good enough.
4. She's struggled with body image and an eating disorder
Taylor has been increasingly vocal about body positivity (or the term she prefers, body neutrality), but this is the first time she's ever opened up about her own experience with an eating disorder. Speaking candidly, she revealed that it's not good for her to see pictures of herself everyday as she gets triggered.
Whether it's a picture of me where I feel like I looked like my tummy
was too big or someone said that I looked pregnant or something, that'll trigger me to just starve a little bit, just stop eating.

I thought that I was supposed to feel like I was gonna pass out at the end of a show or in the middle of it. I thought that was how it was, and now I realise: no, if you eat food, have energy, get stronger, you can do all these shows and not feel it.
5. She paints her own nails
A scene near the end shows Taylor giving BFF Todrick a manicure backstage at the 2019 VMAs, where she explains that she learnt how to do her own after realising she "really likes having cute nails, but really can't go in public." The moment is kept light-hearted as she quips "Give me a good review on Yelp."
 6. She'd never eaten a burrito until a couple of years ago
Um, WHAT? "I just had never tried one," she explains. We'll let her off as the documentary shows her now happily eating them. Her pro tip? Add nachos for extra crunch.
7. Her mum having cancer really put everything into perspective
Taylor speaks about needing to prioritise what really matters to her. "Do you really care if the internet doesn't like you today if your mum's sick from her chemo?" The tour for her album Lover is being kept notably short this year, with only two US cities, as she needs to be able to go home at an instant. She's embarking on a string of festival dates across Europe, with BST Hyde Park being her only UK show aside from Glasto.
8. She had to really fight to break her political silence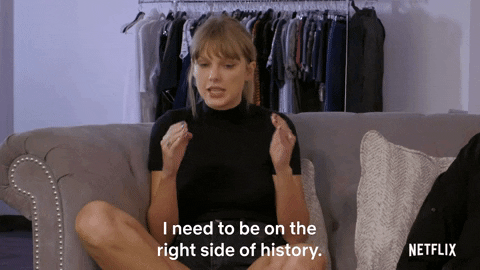 Perhaps the most emotional moment of the film is when Taylor argues with her dad about needing to speak out against anti-LGBT senator Marsha Blackburn in the 2018 midterm elections, despite her team's objection. She describes being "completely and unchangeably different" after her 2017 sexual assault trial and her tearful speech illustrates just how badly she's been wanting to finally stand up for what she believes in. "Dad, I just need you to forgive me for doing it, 'cause I'm doing it."
9. She worries about how much time she has left
I wish I didn't feel like there's a better version of me out there. I feel that way all the time. We do exist in this society where women in entertainment are discarded in an elephant graveyard by the time they're 35. Everyone's a shiny, new toy for, like, two years. The female artists that I know of have reinvented themselves 20 times more than the male artists. They have to… or else you're out of a job.
10. She's learning to be unapologetic
The final scene sees Taylor speak passionately about sexism and having to "deprogram the misogyny" inside her own brain, before accidentally apologising for being too "soap box.""Why did I say sorry?"We're like… 'Sorry, was I loud… in my own house that I bought with the songs that I wrote… about my own life?"
*mic-drop*