Taylor Swift's The Era's tour has been a long time coming and one of the hardest to score tickets to. Since the cancellation of her LoverFest tour which was scheduled to take place in 2020, we've received three new studio albums and two Taylor's Version re-recordings. The Era's tour is her chance to show fans and sceptics (if there are any left), she means business. I leapt at the opportunity to fly 3,000 miles across the world to witness her in action for her first night in Boston.
Taking to the stage for night one at Foxborough's Gillette Stadium Taylor glided through her 45-song, 10 Era long set. Lover was the first Era we were treated to, with a powerhouse rendition of 'Miss Americana and the Heartbreak Prince' before leading into 'Cruel Summer' where the 70,000 strong crowd repeated the bridge word-for-word.
Before Lover, Taylor explained that the memories made that night will now be about 'us', a nod to the relationship she has with her fans, who have been there for her since 2006.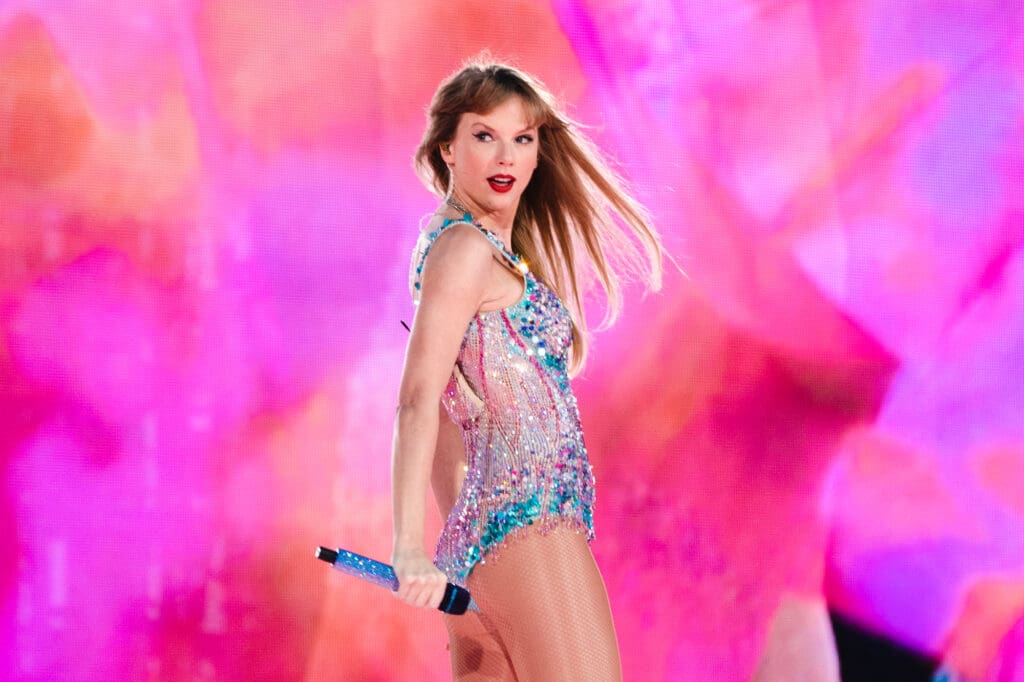 The Fearless Era followed, with a shorter but no less impressive three-song set including 'You Belong With Me', 'Love Story' and 'Fearless', giving new meaning to the phrase, 'I don't know how it gets better than this'. Taylor is a show-woman through and through, striking the perfect poses, interacting with every angle of the crowd and thinking about every tiny detail – there really is no bad view of The Era's tour. The huge screens packed with cryptic Easter-egg laden clues and LED catwalk which follows the performers seamlessly all combine into the perfect potion.
Moving on to some of her newer catalogue, Taylor took to the back of the stage to complete select songs from Evermore, an album she explains was part of a set that she wrote during the COVID-19 pandemic to 'stay connected'. An emotional performance of 'Marjorie' saw Taylor's late grandmother's voice fill the stadium and a sea of mobile phone torches illuminate the swathes of Swifties. A note-perfect performance of 'Champagne Problems' was a huge crowd pleaser with them erupting to some of the biggest screams of the night, followed by chants of her name.
After another costume change, we were met with the introduction of the iconic snake, this is the Reputation Era. 'Don't Blame Me' was the stand-out from this section, with the staging, lights and effects, it was like a spiritual awakening at the Church of Swift.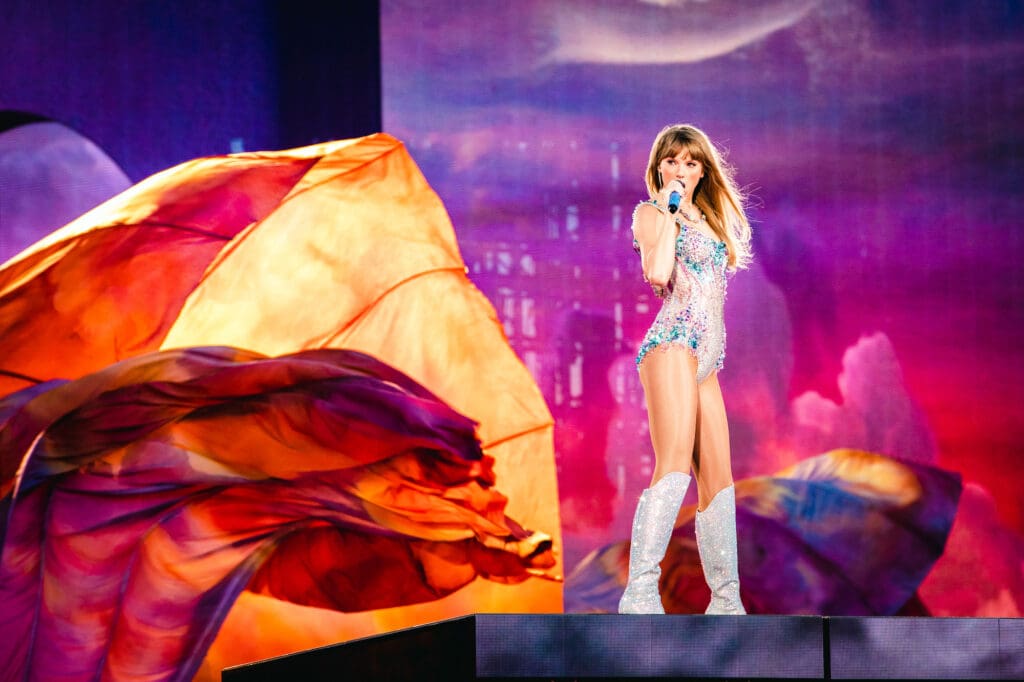 Showing no signs of slowing down or tiring, Swift moved on to the 6th Era of the evening, Red. Although Taylor isn't scared of bringing out a guest or two on previous tours, there have only been a few so far on the Era's tour. Phoebe Bridgers joined Taylor on stage for a song from the Red vault 'Nothing New', showing sheer joy that she gets to share the stage with one of her friends. After this came 'All Too Well (10 Minute Version)', if you thought people would lose interest in a 10-minute song, you're wrong. Fans screamed along to every single word, with special emphasis on 'fuck the patriarchy' of course.
Folklore saw Taylor transport to the back of the stage again to a cabin in the woods, which she explained was where she imagined herself while writing this album. While in New England, it was only right for Taylor to give a special mention to her song 'The Last Great American Dynasty' which she was inspired to write while at her home in Rhode Island.
Are we outta the woods? We are, but unfortunately no rendition of that song in the 1989 Era. Taylor treated fans to five songs in this section, which saw the entire stadium 'Shake It Off'. 'Bad Blood' saw the crowd taking Kendrick Lamar's part with them chanting, 'we forgive, we forget, but we never let it go!' to Taylor's amusement.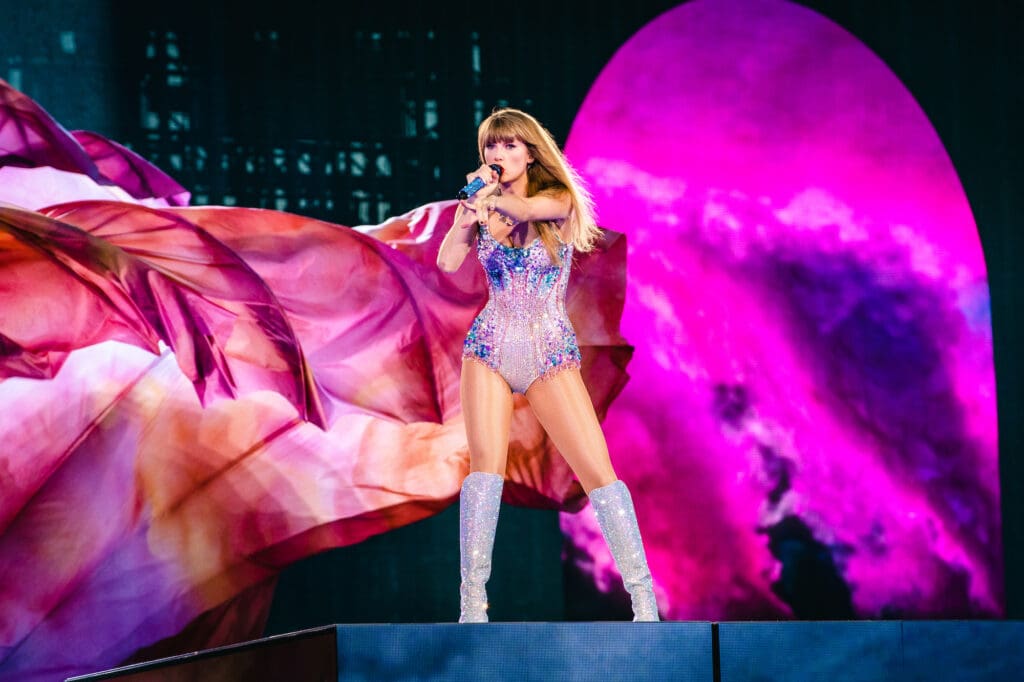 We've made it to the part in the night where we're treated to acoustic versions of songs and if I could pick two songs, these would be HIGH on the wish list. The first song of the night 'Should've Said No' followed by the song of the night which barely missed the setlist for Red so was given to Little Big Town, 'Better Man'.
The last Era of the evening was worth waiting for, this seven-song long section was full of zero skips. If you've got TikTok, you will most likely have already seen 'Vigilante Shit', but you need to witness this in person. Taylor finished her epic set with Karma, adorned in tinsel and glitter, surrounded by her dancers who had supported her the entire show.
Could we sum up the evening in one word? No, but the rumours are true. Taylor Swift is the music industry. For some a concert is just that, a concert; but a Taylor Swift show is more than that. It's making friendship bracelets before the show, an homage to a lyric in her song 'You're on Your Own, Kid', it's lighting up the stadium in unison, it's supporting someone you feel like you've known personally for sixteen years, it's one of the happiest places in the world.