A particularly emotional hometown show in his beloved Doncaster ended the European leg of Louis Tomlinson's sold-out first ever solo world tour – yes, Louis sorry to break it to you but the UK is still part of Europe – and once again proved that there's only one place our favourite Donny boy belongs to more than the aforementioned city: the stage.
Not that we needed any actual confirmation since we've been known this even before Louis himself started to believe it, to believe in his incredible artistic abilities and huge talent. Long gone are the 1D times when Louis used to think all the other band members had their distinctive trait "and then there was me": yes, and then there was – and still is – Louis Tomlinson, his genuine lyrics and his unique voice loved and supported by all the thousands and thousands of people who sold out every single one of his EU shows and wouldn't trade him for anyone else.
The setlist stayed pretty much the same as the US leg, with the only exception of 'Change(s)' – is it 'Change' as he once said? Or is it 'Changes' as the setlists fans got said? @Tomlinson we need answers – replacing 'Just Hold On' from time to time (London had them both but we're not gonna be bitter about it okay); 'We Made It' still deserved to be the opening song because come on, the iconic "'cause we made it" after waiting for so long simply couldn't be replaced!
European Louies of course kept screaming "you were my because" at him during 'Walls' – and I can't believe what I'm typing but I FINALLY DID THAT TOO 😭😭😭. I went to see him in Milan where he sold out a 12k+ venue and was welcomed with so much warmth and love that he kept screaming "f#cking yes, Milan"…making us scream even more!
The crowd looking INCREDIBLE during Only The Brave tonight! #LTWTMilan pic.twitter.com/0Osx9IMwMZ

— Team Louis News (@TeamLouisNews) April 10, 2022
He showed up wearing an England vintage tee – apparently from 30 years ago when they beat Italy because he doesn't hold grudges when it comes to football – and he picked 'We Are the Champions' as post-concert song because yes Louis WE are the champions, thank you for the reminder though ❤️
https://twitter.com/TeamLouisNews/status/1513321362286329863
I wish he didn't have to but he had to stop shows, sometimes even more than once, during this leg as well to make sure fans who weren't feeling well got the help they needed; he got even mad in some occasion because venues' security wasn't fast enough to intervene…yeah rumours are true, he is the best human being ever existed.
I also guess the bets with his bandmates kept going on because in Poland he suddenly showed up on stage wearing a sling – sending all his Louies in an overprotective mummy mode, which is still totally on especially since he got rid of it after like two days – because the night before he had apparently won a running race (and he stated that like 28 times, because he's not competitive at all) and a fractured elbow.
Louis explaining to the fans how he got hurt! #LTWT #LTWTPoznan
pic.twitter.com/ZpIsXxsHxY

— Team Louis News (@TeamLouisNews) April 14, 2022
After a three-week break – how will we survive the lack of content after getting used to get it daily? Yes, exactly, we won't – the South American leg is gonna kick off and since Latam Louies have never NEVER disappointed I honestly can't wait to see them showering him with all the love and support he deserves.
Still absolutely buzzing from last night. Hard to put into words how this tour has made me feel. Together we can do anything! Thank you again for making this all possible!

— Louis Tomlinson (@Louis_Tomlinson) April 23, 2022
Louis was giddy all the time, never stopped smiling while looking at all his Louies there for him, acknowledging their beautiful fan actions, interacting with so many fun signs, flipping them off which means he loves them very much and owning the stage and the performances whether he was able to move one or two arms.
If there's one thing that anyone can say about Louis Tomlinson is that he's – way too much – grateful for literally everything: he's never forgotten to thank his fans for buying tickets, his crew for making the show actually happen, his band members and his support acts: Only The Poets, an unsigned amazing band – check them out, they are very talented and also very lovely! – during the whole leg, together with Bilk, The Snuts and The Outcharms who joined them in the UK.
So the tour with @Louis_Tomlinson comes to an end. Thank you for giving us the most unbelievable opportunity to play in front of your phenomenal fan base. We will never ever forget this tour. The most humble and genuine person we've ever come across in music. See you soon bro ❤️ pic.twitter.com/LgzulnmOGu

— Only The Poets (@onlythepoetsuk) April 24, 2022
Every show is special to a singer in a different way, but the last two shows were definitely a bit more special to Tommo.
Selling out the OVO Wembley Arena on his own must have felt amazing to him, not only because it's an iconic 12,000 capacity venue in London (he initially was supposed to perform twice at the Roundhouse, which has a 2,000 capacity, and had to upgrade due to the very high demand), but mostly because it is where everything started for him: it's there that 12 years ago he was put in a band with other four kids, unaware that they would become one of the biggest boyband of all times in few months; it's there that he performed for the first time ever as a solo artist.
"There's been a lot of fucking special moments in here. This is where I did my ever first fucking solo performance. This is where we were fucking put together as a band. To play a venue like this on my first fucking tour, I'm mindblown. " – Louis to Wembley! ❤️#LTWT #LTWTLondon

— Team Louis News (@TeamLouisNews) April 22, 2022
On Saturday, the final show took place in Doncaster and you could tell how much it meant to Louis, who way before his tour was even a thing said that he wished he could end his tour there.
Obviously. Would be good to finish the tour there

— Louis Tomlinson (@Louis_Tomlinson) January 11, 2019
"Donny scream! I've only been waiting for 11 years to shout that!" but judging by how emotional Louis was, I'm sure the wait was worth it.
My lovely colleague Georgia was so lucky to be there and wanted to share her thoughts with us:
"I went to Louis' home show in Doncaster and obviously, it was absolutely insane! I loved every single moment of it and was so grateful to have been there for his first headline show in his hometown and to have been able to share that with his close friends and family that were also there. I hadn't seen Louis for two years so I was super excited to see him and of course, he didn't disappoint. His vocals were on point and the band smashed it, I thought they were brilliant and definitely added to the atmosphere of the show. The whole venue took part in a fan project in which each of us held up a sign, during 'Walls', that said "Welcome home, Louis!" and the view I had from the balcony was amazing. The Doncaster Dome looked beautiful with all of the signs up screaming "You were my because!" – definitely my favourite moment from the entire show!"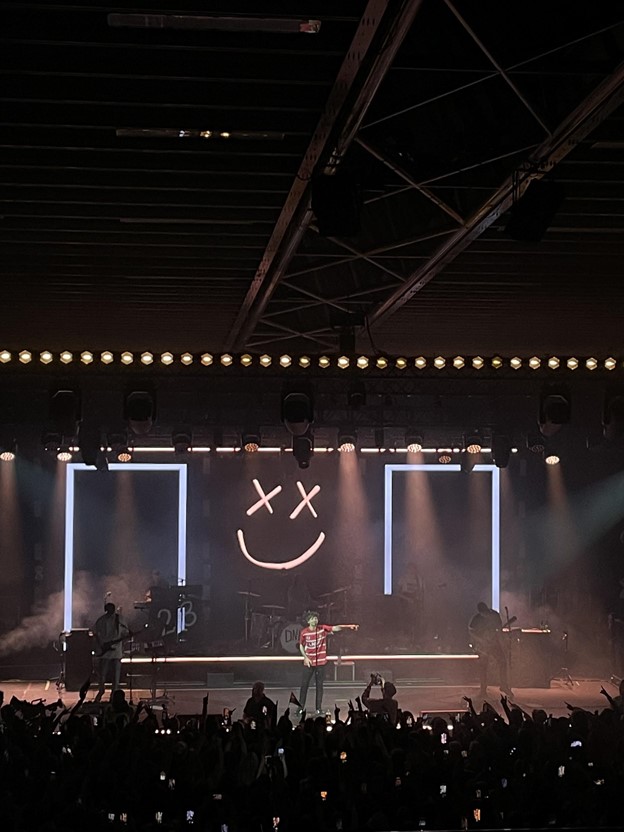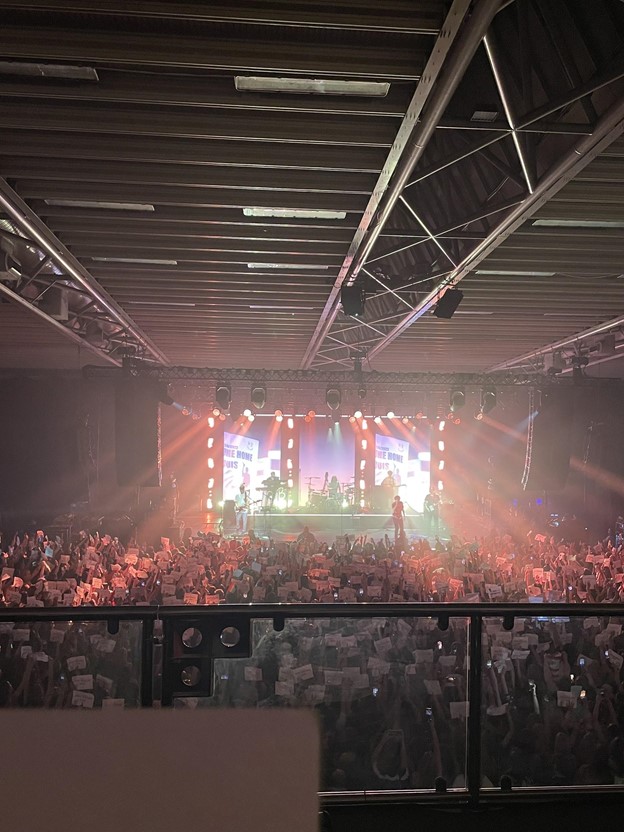 The post-concert song in Donny was 'Hey There Delilah', the song Louis sang at his The X-Factor audition and thanks to which his whole career started. He's such a sap you simply can't not love him to pieces.
Louis' speech for Doncaster tonight! ❤️#LTWT #LTWTDoncaster

— Team Louis News (@TeamLouisNews) April 23, 2022
https://twitter.com/TeamLouisNews/status/1517981828103221248
Find me another successful artist who's prouder to perform in a 2,000 capacity venue in Doncaster rather than a 12,000 arena in London just because that's where he is from I'll wait. No matter how big he's become, he will always stay true to himself and his origins, to the humble, determined and down to earth 18-year-old who left Donny to pursue a dream he managed to make true. And that tells you every single thing you need to know about Louis Tomlinson.
Featured image source