There are twelve tracks on Fine Line, and it's like the universe planned it because there are twelve artists who have already, or will soon, support Harry Styles on one of his world tours. We've paired up each artist with the track on Fine Line that we'd love them to cover to create a really excellent cover album.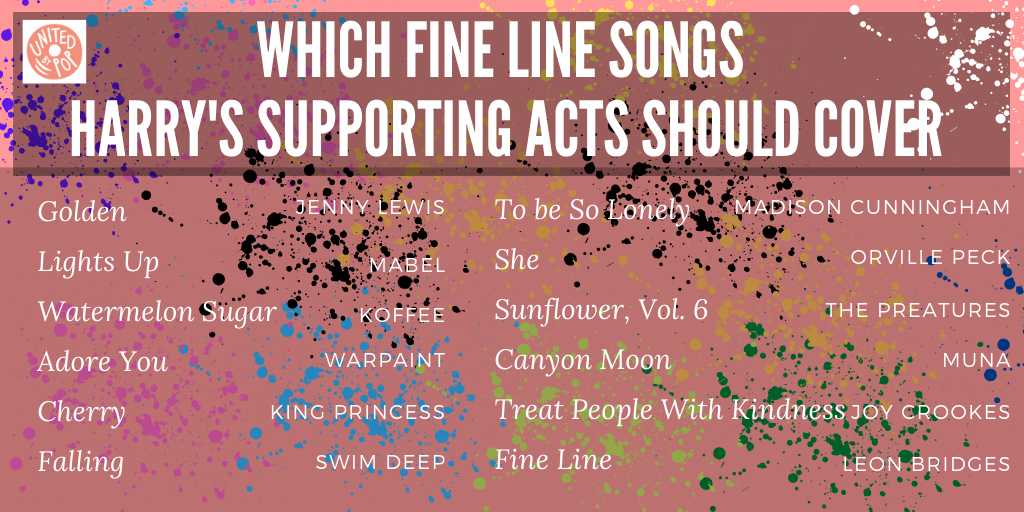 GOLDEN – Jenny Lewis
http://twitter.com/jennylewis/status/1194603921789972482?s=20
Jenny Lewis will be supporting Harry on the Northern American tour (which we presume will be rescheduled to next year in the next few weeks). Take a listen to Jenny's album On the Line and the pop-country hooks that thread through the album might give you an idea of why Golden would be the perfect challenge for Jenny.
WATERMELON SUGAR – KOFFEE
harry styles is listening to toast by koffee. https://t.co/Tr3hNoVWUq

— Harry's Playlist (@Harrys_Playlist) November 27, 2019
Koffee has been on Harry's radar for a while and she'll be taking on three of the Mexico shows on the Love on Tour trip. We think they'd have a really cool take on Harry's next single, Watermelon Sugar, bringing attitude and positive vibes to what's going to be the track of summer.
ADORE YOU – Warpaint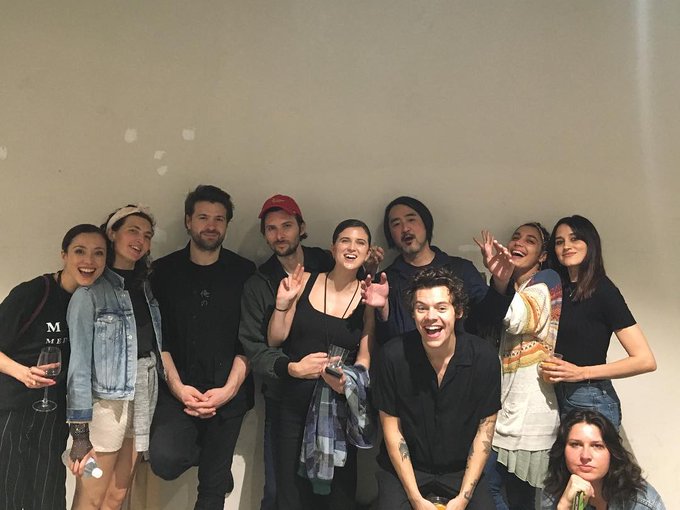 Warpaint only supported Harry at six shows on the Asian leg of his debut tour, so if you aren't familiar with them give them a listen and they might just become your new favourite thing. An indie-rock band with a bit of an edge, their vocals would rock Adore You.
LIGHTS UP – Mabel
Mabel was with Harry for his European leg of Live on Tour and she'll be back as a BRIT winner for October's Australian and New Zealand dates. With slick production and a killer voice, Mabel would bring the energy that Lights Up needs while nailing those vocals.
CHERRY – King Princess
I love it when we play 1950.

— Harry Styles. (@Harry_Styles) March 7, 2018
We've been looking forward to seeing King Princess support Harry since he tweeted her lyrics to 1950 a few years ago, and invited her to support him at MSG, but we'll have to wait until the 2021 European Tour to groove along in person. Cherry is a great fit for the singer-songwriter who has her own take on pop.
FALLING – SWIM DEEP
SWIM DEEP got this whole thing started by releasing their cover of Falling. They've made the song their own with the layered vocals and playing around with the melody. It deserves way more views than it has right now so if you like it, then check to see if you can get any tickets to the final night of the London leg at the O2 as they'll only be at the one show.
TO BE SO LONELY – Madison Cunningham
https://twitter.com/retcres/status/1235579579542142981?s=20
Madison Cunningham is another new name to add to your New Music Friday and can be found supporting Harry at the Harryween shows in October. Nominated for Best New Americana at the Grammy's last year, Madison would bring a real understanding of the songcraft of To Be So Lonely.
SHE – Orville Peck
https://www.instagram.com/p/B-cbhMagBt3/?utm_source=ig_web_copy_link
Orville Peck will also be found at the biggest Halloween event of the year, Harryween. His camp country style is going to be a lot of fun for the crowd and we are sure he'd bring the theatricality that She thrives in. Fringed lone ranger hat not optional.
SUNFLOWER, VOL. 6 – The Preatures
Hello Brisbane. Tonight we're in your wonderful city, playing our last show with harrystyles , at the Brisbane Entertainment Centre. The Preatures: 7.45pm – 8.30pm. Harry Styles: 9.00 – 10.30pm. Pic by Charlie Hardy pic.twitter.com/bZ2RXbQ3R5

— The Preatures (@ThePreatures) April 28, 2018
The Preatures were a big hit on Live on Tour Australia and the Sydney rockers would bring a bold blueprint to Sunflower, Vol. 6. It's clear they would make it their own, and bring a relatively underrated album track to popularity.
CANYON MOON – MUNA
MUNA were the first to support Harry on Tour at his early 2017 debut solo tour. Their fluidity is what they need to bring out the freedom in a track like Canyon Moon. Alternative, pop, punk whatever you want to suggest MUNA are, they'd have a lot of fun playing around with it.
TREAT PEOPLE WITH KINDNESS – Joy Crookes
LOVE ON TOUR 2020.

Additional UK Support from @joycrookes (April 19, 22, 25 & 26) and @SWIM_DEEP (April 23). pic.twitter.com/dVHHZz1Sbz

— HSHQ (@HSHQ) February 24, 2020
Joy is relatively new on the tour scene and will be supporting Harry, alongside King Princess at most of the London O2 dates next year. What better way to get introduced to Harry's work than to cover Treat People With Kindness, a song that has and needs absolutely everything thrown at it. Joy would bring soul and self-reliance to Treat People With Kindness.
FINE LINE – Leon Bridges
Leon's understated style is exactly what Fine Line needs. You only have to listen to his song River once to feel it seep into your soul and to put it onto your Emotional Times playlist for when you are sad. Leon joined Harry for Mexico's 2018 shows and then for the full South American leg. He knows exactly how to master the emotion of a song, and Fine Line deserves that.
We are pretty sure we got the mix right but if you want to make your own album of covers, use the blank template below and tweet it back to us!