It's no surprise to any Harry Styles fan that he is often described as charming. You can look at any picture, or watch any video of him and see it. You want to be in that aura and soak up the warmth and light. He radiates a positivity that can melt even the most frozen of hearts. A great example is the photo taken below in February 2019 in which one, normally stoic, Van Morrison was caught beaming up at Harry. The moment was so memorable that Harry talked to Rob Sheffield about his own disbelief in his Rolling Stone profile that was released in August 2019.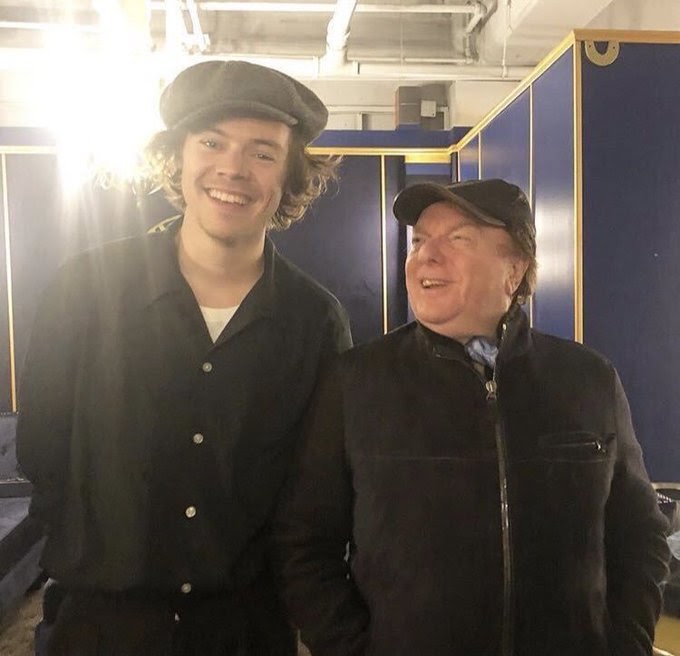 A more recent showing of Harry appreciation comes from YouTube comments and Tweets from non-fans praising Harry's cover of Peter Gabriel's "Sledgehammer" on the Howard Stern Show. After receiving the stamp of approval from Peter Gabriel himself on Twitter, the comments and replies came rolling in from those that seemed surprised at their own appreciation and respect for the performance. Liz Phair showed her love and surprise by replying to the video on Twitter with "Wait, what?? Day-um… 👌" One of my favorite comments is below:

Harry's performance of "Falling" at the 2020 BRIT Awards in February was another chance for him to show the general public his true star power. The reactions online ranged from emotional to pure comedic gold with the general consensus being that he nailed the performance and brought many of us to tears. Below is one of my favorite responses.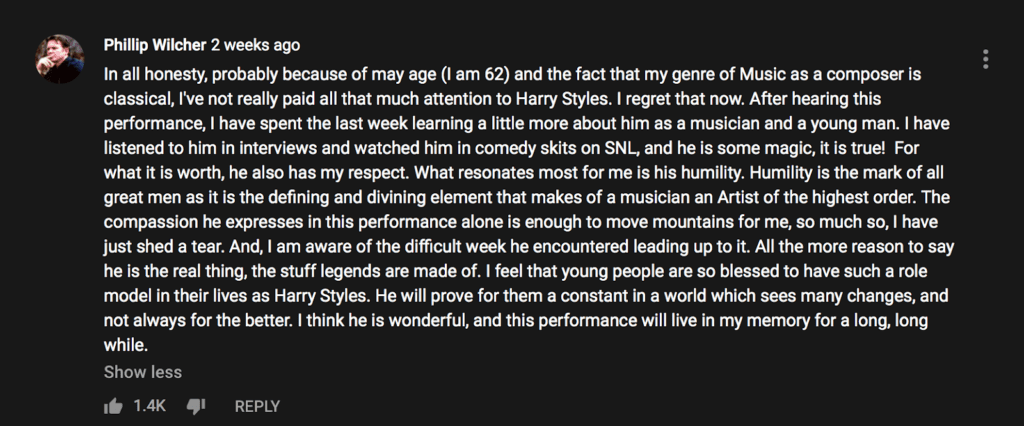 One of my favorite trends of late is the number of YouTubers reacting to Harry for the first time and falling in love with his music and style immediately. Many people have reacted to Harry in the past, but there has been an influx of new reactors and channels listening to and watching Harry videos since the Fine Line era began. Nothing makes me happier than more Harry content to absorb, so when new reaction videos go up on the internet you can bet that I am watching them. Some of my favorite new reactors are Steven Walker of "Steven In Stereo" (@positivesteven), Fabrizio Salerno (@_fabrizio13), Nicholas Light of "Nicholas Light TV" (@NicholasLightTV), and Vocal Coach Nina Schofield (@nina_schofield).
I could continue on indefinitely giving examples of appreciation and love for Harry because he would deserve it, but I'll stop there. If you don't believe me or any of the people in this article, I suggest checking Harry out for yourself. You might just surprise yourself with how easy it is to fall under his spell.
Featured Image Source