A few weeks ago, BBC Radio 1 announced that they were still planning on launching their biggest festival, the Big Weekend, but with an alternate twist: from home.
They announced the lineup with huge names such as Niall Horan, the Jonas Brothers, Little Mix, and Miley Cyrus taking to the main stage. Some of the performances would be replayed from previous years, and some of the artists were going to be performing from home. Luckily that meant we were going to be getting new Niall content.
If you're anything like us, then you haven't forgotten Niall Horan's incredible performance at the Big Weekend back in 2018 in Swansea. Who could forget that double denim outfit and his unique take on 'Drag Me Down'? 2018 was an absolute whirlwind for Mr. Horan, who is still going from strength to strength.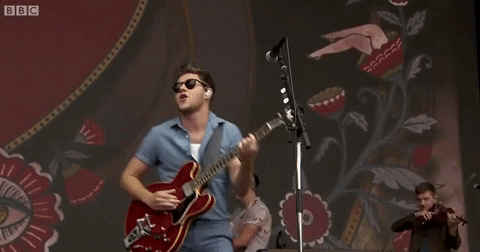 Niall graced the Main Stage at the festival two years ago and put on an amazing performance. The performance came when he was in the middle of his Flicker World Tour, and he still managed to put on an energetic show as always. When he sings live, he always sings with his band, which is something that former band member, Harry Styles, also does.
Niall and his band smashed out five original songs at the popular festival in 2018, alongside the One Direction cover that he also sang on his tour that year. Niall sang all of the fans' favourites from the Flicker era, including 'On The Loose', 'Too Much To Ask', 'This Town' and 'Drag Me Down'. Then he sang arguably his most popular song, 'Slow Hands', closely followed by the song he used as an encore on tour, 'On My Own'.
Two years later, BBC Radio 1 had to cancel the Big Weekend due to the pandemic. The festival was to go ahead in Glasgow this year, but instead, we were invited into the newly-announced artists' houses for their home performances during a live stream that could be watched on BBC iPlayer and YouTube.
Niall was slotted to headline the Main Stage, just like he did two years before, but with this time, there was a noticeable change. Niall was singing alone and acoustically, with no backing or band, and he was on his balcony in London rather than in the middle of a stage. Although the new scene was very picturesque, it was strange not to see him on a stage.
No surprise, his home performance was just as incredible as it always is. Niall flicked between his two albums and sang two songs from Heartbreak Weather and two songs from Flicker. He sang the song he made his comeback with, 'Nice To Meet Ya', which was a great way to start off the set as he set the scene for an insane show. He then sang his new single 'Black and White' that he has recently confessed to being one of his 'favourite' songs that he has ever written. Then he turned back to the songs that kick-started his career, 'This Town' and 'Slow Hands'.
In comparison, both of his performances were amazingly good. The 2018 performance, personally stands out because of the energy that comes from performing with a band in front of a live audience. In the 2020 performance, that same energy wasn't quite there. But, for performing alone and acoustically, he was absolutely unbelievable. You didn't even notice that his band was missing because he sounded so good just alone.
All that was missing in 2020 was the atmosphere from the crowd, but hopefully that will be back soon enough for whenever Niall decides to tour again. Niall's 2020 set can be watched here.