Credit: Dean Sherwood
The Vamps took to the stage at a sold-out Royal Albert Hall on 26th May to commemorate their tenth year together. The show sold out in just three hours of going on sale proving fans were already ecstatic about the upcoming gig. On the night of the show, the fans' excitement was proved even more since they helped the band break a record… The Vamps officially hold the record for the loudest ever crowd at the Royal Albert Hall!
Once you have let that statistic sink in, that means that The Vamps played the loudest show the Royal Albert Hall has ever seen in 152 years of its history. The venue has hosted several iconic artists over the years such as The Beatles, The Rolling Stones and One Direction. It also hosts comedians, sporting events, orchestra concerts and more. Yet The Vamps is the loudest crowd the venue has seen!
I was lucky enough to be at the gig and I can confirm that James, Brad, Tristan and Connor put on the most incredible show and the record is completely deserved. Personally, it was one of the best The Vamps concerts I've seen and I've seen plenty.
The Vamps kept the audience on the edge of their seats through the entire night by having multiple surprises. They sang some of their old songs that haven't been sung live in years, Brad made sure he interacted with the audience by literally walking around the arena and an orchestra was brought on stage for a few songs. It was an unbelievable performance that I wish I could relive.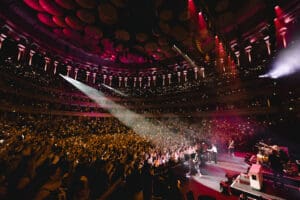 The Vamps have said of the record and the show: "We are absolutely blown away that our fans have done this… from our first live show just over ten years ago, our fans have been incredible and through our entire journey so far they have never let us down. Playing the Royal Albert Hall was a really special night for us. It's the stuff of dreams and an absolute milestone moment in our careers, and playing that show is something all four of us will never forget, BUT none of that would have been possible had it not been for our fans, so for them to sell the place out in hours and then to take the roof off it and take the accolade of loudest audience EVER is just mind blowing! We love you all – we are so proud of you, we are humbled by you every day and now you can all hold your heads high and know you are officially some of the loudest fans in the world!"
The Royal Albert Hall isn't the only show The Vamps have planned for this summer, they have a string of shows throughout the next few months. You can check their website here for tickets and further information.