'Sweetest Pie', Megan Thee Stallion's new song featuring Dua Lipa, just dropped and we can't stop screaming.
These two iconic baddies have teamed up to create a peak feel-good, hot girl, flirty summer bop. Megan has done it again and produced another instant banger while empowering women to embrace their sexuality and own it!
What makes Megan Thee Stallion's music so invigorating and captivating is her fearless approach to female sexuality and divinity. Making music that lifts women, making us all feel incredibly powerful, sexy, and like we are thee moment. This isn't cockiness. It's downright confidence and acceptance, and we're totally here for it.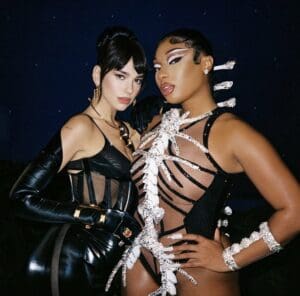 With a mix of Dua's '80s, pop-synth-inspired aesthetic and Megan's fast-paced, clever lyrics, 'Sweetest Pie' is a whimsical blend of both powerhouse's strongest suits. The perfect combination and the best of both worlds make us feel ready to conquer the world and look damn fine doing it.
We want to know… is it too soon to ask for another Megan x Dua collab?