Niall Horan left us nervous when he mentioned the #HeartbreakWeatherWatch was to start on February 28th.
New album Heartbreak Weather is out March 13th… but #HeartbreakWeatherWatch begins February 28th so get ready. pic.twitter.com/Rs4EE7t1nu

— Niall Horan (@NiallOfficial) February 20, 2020
As March 13th and his sophomore album release approached, it was time for him to let us know the album tracklist. He couldn't have possibly chosen a better way to do it than by giving us the weather prognostic in a burgundy suit and Will Ferrell Anchorman vibes.
Heartbreak Weather out March 13th ! Let's go!! https://t.co/zPZPkVSIFk pic.twitter.com/8O7yNpBk5a

— Niall Horan (@NiallOfficial) February 20, 2020
Now, there are good ways to announce a tracklist, and then there's the genius way that Niall did it. Not only did he tell us the song names, but he also lefts hints here and there as he mentioned a few cities like Ohio, Dublin, London, Berlin, San Francisco, LA, Paris, and the list goes on. Is that the Horan way to say there will be some listening parties? We're taking notes and trying not to miss anything.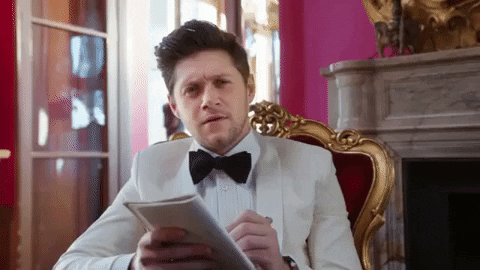 This announcement took all of us off guard, but surely the fans had a lot to say and honestly, we totally agree!
Me sleeping until February 28th.#HeartbreakWeatherWatch pic.twitter.com/yYqrNmBLpy

— daniela 77 ☔️ (@niallaar) February 20, 2020
Feels like counting the days until Christmas.
https://twitter.com/heartbreaknialI/status/1230954180011008000?s=20
Niall as Walter Nichols? Sign us up.
niall horan who ? move aside for niall storm and his #HeartbreakWeatherWatch pic.twitter.com/4Avik0Vdnh

— bianca NO JUDGEMENT (@ohnoflicker) February 20, 2020
Niall Storm, king of the Weather Channel.
funny how paddington bear has been quiet since this pic.twitter.com/GkzT9ubMNs

— gabby (@tinykissy) February 20, 2020
Forget about BDE, we are only focusing on Big Paddington Bear Energy.
We feel like there will be more than one storm coming ahead for us. This concept is truly something so fresh, yet so on brand with Niall. We can't wait for the tour visuals and everything else that this new era will bring for us.
So far, we claim "Arms of a Stranger" as our own, but tell us which track you claim? What was your favorite part of the announcement? Let us hear your opinions down below.