JLS have officially announced that they are back in the studio together and are recording new music after they got back together in February. The four-piece have been in the studio during lockdown (taking safety measures, of course).
UK newspaper, The Sun, exclusively revealed that Marvin, JB, Aston and Oritsé are working on new music for the first time in 8 years and are desperate for Simon Cowell to sign them. The band confirmed that Simon Cowell refused to sign them after they came second on The X Factor, which Marvin says, "I'm sure he regrets." Since not being signed by Simon, JLS then went on to have a chart-topping career and became one of the UK's most successful boybands.
View this post on Instagram
As well as working on new music, back in February, the boys announced their long awaited return by revealing their plans to do a tour which they named the 'Beat Again' tour after their debut single. The idea of the tour was so that the boys could mark ten years since their very first headline tour with their fans. Now, the tour has been pushed back to next summer due to the pandemic which gives them even more time to perfect their new sound.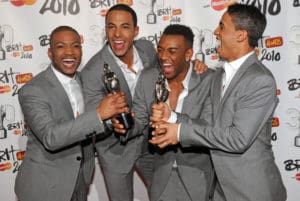 Speaking to The Sun, Oritsé said, "We're really excited about developing a new kind of JLS 2.0 sound. The world has changed so much since we last recorded. For us there's so many exciting possibilities of where we can take this new sound and this new era."
It was also revealed that they have been penning tracks with writers who have worked with the likes of Lewis Capaldi, One Direction and Little Mix. So the boys are definitely writing tracks with the right people! We can't for the JLS 2.0 music, hopefully we'll get to hear some of it sometime soon. You can read their full interview with The Sun here.