The Brit Awards 2023 took place at London's O2 Arena on Saturday 11th February and Harry Styles has proven – once again – to be the main character, taking four awards to Harry's House!
Close-up of Harry with his #BRITs awards in the press room tonight! pic.twitter.com/Hq0yCcDqfz

— HS Candids (@hstylescandid) February 11, 2023
Other than the fan-voted Best Pop/R&B Act, Styles won Album Of The Year for his critically acclaimed third solo studio record Harry's House, Song Of The Year for his record-breaking single 'As It Was' and Artist Of The Year for, well, himself.
And guess how many categories he was nominated for? Yeah, exactly. Four.
This reaction >#BRITs pic.twitter.com/CD4HIc0KkO

— BRIT Awards (@BRITs) February 11, 2023
He showed up on the red carpet in an all-black velvet Nina Ricci by Harris Reed suit: flared trousers giving '70s vibes, a peplum-styled blazer highlighting his – perfect – waist and a flower choker to top it all. Breath-taking.
These new @Harry_Styles pics are now my personally trait #BRITs pic.twitter.com/sGrBBNsyMo

— BRIT Awards (@BRITs) February 11, 2023
Harry then blessed the packed-out arena with a performance – without any technical difficulties – of the UK's biggest selling single of 2022, 'As It Was' on a block blue coloured set, in an unbuttoned red sequined cropped jacket. Stunning.
Styles later slipped into a navy suit and silk teal shirt, in which he accepted all his awards between a drink a shot on stage a cuddle with Gemma – he brought her with him again *cries* – or Stanley Tucci and a snog with Lewis Capaldi.
how does it feel seeing someone else live your dream x pic.twitter.com/kKN2X3nSOv

— Lewis Capaldi (@LewisCapaldi) February 13, 2023
During his and I can't stress this enough four speeches he emphasized how proud he is "to be a British artist out in the world" (isn't he cute when he remembers where he is from? ❤️) and thanked all the people he feels like helped him get there: his fans, as usual; his team; his family for being supportive and understanding; his mum for signing him up for The X-Factor without even telling him.
And. He also thanked all One Direction members, BY NAME.
"I wanna thank Niall, Louis, Liam and Zayn 'cause I wouldn't be here without you either" he said right in front of our tears seasoned salads!
Screaming crying throwing up 🥹 @Harry_Styles #BRITs pic.twitter.com/XCDdynyDo2

— BRIT Awards (@BRITs) February 11, 2023
In an apparent reference to the – absolutely uncalled for – online backlash to the comments he made at the Grammys, he acknowledged how "very aware of my privilege up here tonight" he was, dedicating his Artist Of The Year award to Rina Sawayama, Charli XCX, Mabel, Florence Welch and Becky Hill, all the female artists who were shut-out of the category this year.
🖤@Harry_Styles reflecting on his 4 BRIT Award wins is everything #BRITs pic.twitter.com/QaUPmcWv1v

— BRIT Awards (@BRITs) February 12, 2023
Other than becoming the most awarded artist of the night, Harry Styles became the first British male artist in history – and the first male artist in 37 years – to win Album Of The Year at both Grammys and Brits for the same album the same year.
I guess it was never undeserved, wasn't it?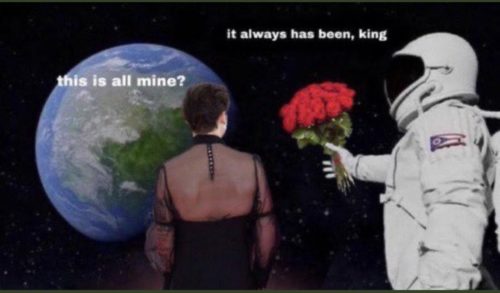 Featured image source