2022 was truly the year of Harry Styles!
Following the massive world tour, an amazing year of the charts, and the success of his third album, Harry's House, the British heartthrob took home two Grammys this year, for Best Pop Vocal Album and Album Of The Year! However, before he bagged the two awards, gravity took a hold of Styles while he performed his hit single that broke records, As It Was, when the stage moved the wrong way.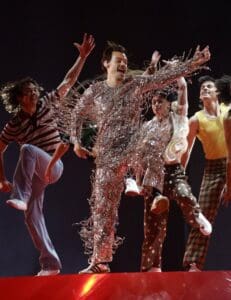 Styles' backup dancers and choreographers took to social media to address the technical difficulties during the performance the next day. In his Grammy performance, Styles sounded off-key and short of breath, which his fans (also non-fans) noticed immediately. A few hours later, a backup dancer named Brandon Mathis explained the *major* technical issues, where the stage rotated backward, and everyone, including Harry himself, had to improv the entire performance while being on live TV!
https://twitter.com/Ambee789/status/1622677702657589248?s=20&t=4TrRBORPselJwfj1ib8YBw
"To switch all those patterns around on the spot, having not even walked in that direction, it sounds easy. Since it's circular, it pulls you in different directions and is such a special type of balance," Mathis said. At the beginning of the performance, Styles was even seen signalling his team apparently about the turntables.
https://twitter.com/monacommish/status/1622705347101171718?s=20&t=4TrRBORPselJwfj1ib8YBw
Regardless of the entire stage going the wrong way and God knows the anxiety Styles must have felt while singing, everyone pulled through the entire choreography IN REVERSE!! Most of us would have just stood there in utter shock, so kudos to Harry and his backup dancers!
Now, this is not the reason Harry has been getting a lot of hate on social media though, it's him winning the Album Of The Year over Beyonce. Which sounds kind of absurd because Beyonce literally broke the record by winning THE MOST GRAMMYS in the history of Grammys! But it is what it is, apparently.
The Beyhive is actually angry at Styles winning the AOTY over Beyonce, claiming "his album did not leave much cultural impact", "a white man won over a black woman," and – the one that became a huge deal, to be honest – his acceptance speech, where he was heckled.
While Harry could not believe it himself, he started his speech with "Umm… sh*t-" and continued to talk about how he has been inspired by every artist in this category with him. He said, "I think on nights like tonight it's important for us to remember there is no such thing as 'best' in music. I don't think any of us sit in the studio making decisions on what is going to get us one of these."
What actually sparked the entire feud was the last line of his speech– "This doesn't happen to people like me very often and this is so, so nice," he said.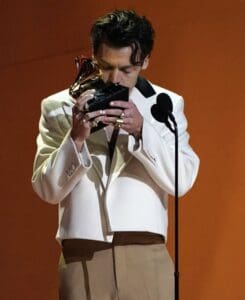 Now. The fans of all the other artists, especially Beyonce's, have a lot to say about that one line. People think that Harry Styles, "a white cisgender man who won over a black woman" happens all the time. While we are at it, we cannot agree with these statements.
"this doesn't happen to people like me very often" HARRY STYLES YOU ARE A WHITE STRAIGHT QUEERBAITING MAN pic.twitter.com/5TJeZhUHHk

— Nicole (@UndisputedUsos) February 6, 2023
Harry has expressed his sexuality many times in public, through his clothes, songs, and even in interviews. He has said, "I've been really open with it with my friends, but that's my personal experience; it's mine," and that sexuality is "about not having to label everything, not having to clarify what boxes you're checking."
These statements being out there for the public, it would be really offensive to label Harry as straight or cisgender. That being said, before he became The Mega Star Harry Styles, he was a little kid in a small village in England, working in a bakery. So for him to think that that 16-year-old Harry today grew up to win a Grammy for the album of the year does not happen to people like him might be right from his point of view.
In all of this chaos, we saw Taylor Swift who stood up for Harry as soon as one of the audience members shouted "Beyonce should've won!" Probably a deja vu, since Taylor has had a similar experience at the VMAs. But that's another story to talk about.
We are not dismissing Beyonce's loss, but ignoring her breaking the record of being the most-awarded artist in the history of the Grammys, and Lizzo being the first black woman to win the Record of The Year since Whitney Huston in 1992, just because Harry Styles won the Album Of The Year does not sit right with me. We should focus on celebrating the wins!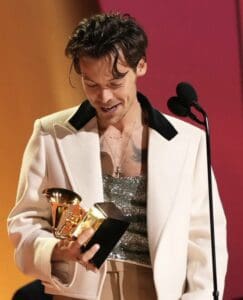 We are proud of every artist who was nominated and who won, regardless of their gender, race, sexuality, or nationality. The awards are meant to celebrate music, not to fight over it. Hopefully, we get to celebrate more and hate less in the future!