It's official. GOT7 will be making their comeback on April 20 at 6PM KST.
GOT7 keep dropping content on a daily basis to tease the concept of their new mini album "DYE" with "Not by The Moon" as title track.
On April 12 the boys shared teaser images for two units. Check them below.
During the past days, the group shared the first group teaser image, showing a mature and romantic concept. All the boys look stunning and elegant .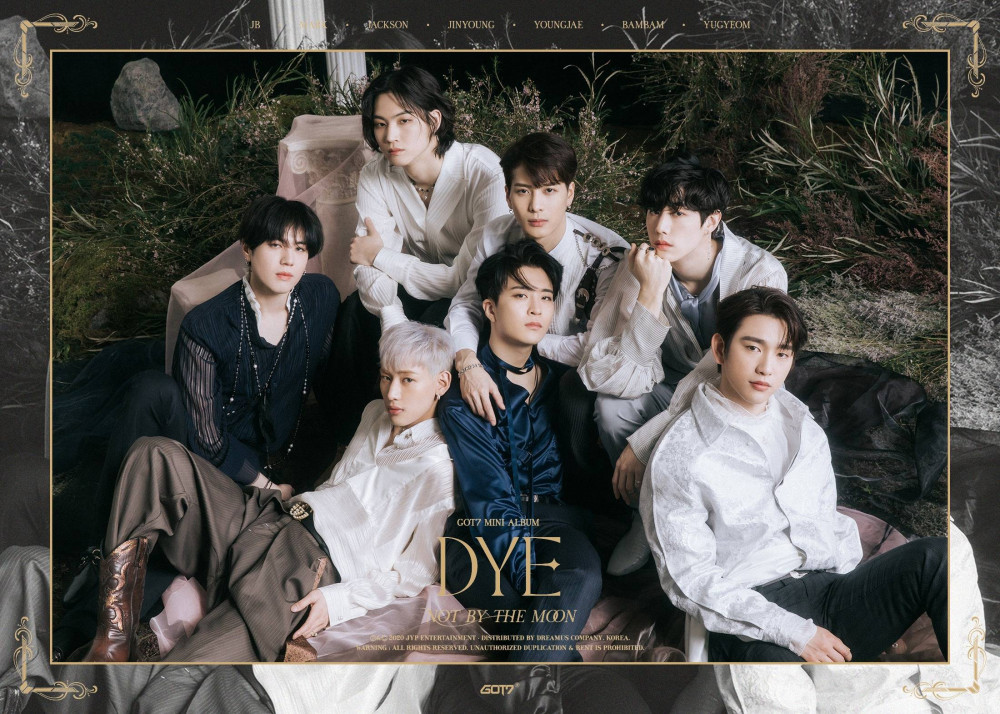 The fourth set of teaser images have been shared. These photos unveiled the prettiest details in the boys makeup, from JB having starts on his eyelid to glitter on Jackson's lips.
In this set, unveiled the pretties details in
On April 9 at midnight KST, GOT7 shared the third set of teaser images from the upcoming mini album "DYE".
The concept for this comeback is raising anticipations amongst Ahgases, who are also incredibly excited. In the teaser images GOT7 are extremely elegant, resembling a modern version of Romeo from Shakespeare's "Romeo & Juliet".
On their first set of teaser images shared on April 7, GOT7 made an intense and romantic eye contact with Ahgases, reminding that iconic scene from the film adaptation of "Romeo & Juliet".
For the second set of teaser images, the boys are taking fans to a masquerade ball. These images are proof of GOT7's unparalleled visuals and taking elegance and style to another level. In addition, the props are lookalike birds, popular symbol for the group and fans.
After the 7 members shared a cryptic teaser across their Instagram Stories with the caption "나빠,이더문" (
then revealed to be 나 = Not 빠이 = By 더 = The 문 = Moon), on April 6 at midnight KST GOT7 shared the cinema trailer and cinema script for their upcoming mini album titled "DYE" and title track "Not By The Moon".
The trailer and the scripts are both in English, with Korean subtitles for the trailer.
GOT7 <DYE> CINEMA SCRIPT

TITLE TRACK "NOT BY THE MOON"

2020.4.20 MON 6PM#GOT7 #갓세븐 @GOT7Official#IGOT7 #아가새#GOT7_DYE#GOT7_NOTBYTHEMOON pic.twitter.com/lCBEAtUTGo

— GOT7 (@GOT7Official) April 5, 2020
GOT7 <DYE> CINEMA SCRIPT

TITLE TRACK "NOT BY THE MOON"

2020.4.20 MON 6PM#GOT7 #갓세븐 @GOT7Official#IGOT7 #아가새#GOT7_DYE#GOT7_NOTBYTHEMOON pic.twitter.com/CYKd7NXydl

— GOT7 (@GOT7Official) April 5, 2020
GOT7 <DYE> CINEMA SCRIPT

TITLE TRACK "NOT BY THE MOON"

2020.4.20 MON 6PM#GOT7 #갓세븐 @GOT7Official#IGOT7 #아가새#GOT7_DYE#GOT7_NOTBYTHEMOON pic.twitter.com/NhGbv4xfdC

— GOT7 (@GOT7Official) April 5, 2020