New Hope Club have had to reschedule their UK 2020 tour amid the global pandemic, but that hasn't stopped their loyal fans in creating their own virtual concert. The 'Home Again' concert was organised by a group of their fans on Twitter, who encouraged others to join in with the concert to lift their spirits.
Hello! so reg gang decided we'd hop on the virtual concert&do one for @newhopeclub with @TheTyneBand supporting! all details are below.Any questions pls ask!the link for tickets is below-you can print of the photo!:) #NewHopeClubHomeAgain https://t.co/DY35NTjPYW pic.twitter.com/Vgn66D3cMV

— em; applying for tom moots (@worseholland) April 30, 2020
To 'attend' the concert, you had to follow a link on Eventbrite and you got a free virtual ticket. You could also get a Meet and Greet package which also gave you a virtual ticket. Getting a virtual ticket was a great idea as it gave it a proper concert feel and this is what the fans were trying to achieve.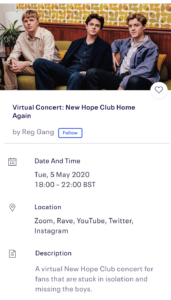 The concert was Tuesday 5th May and the fans all joined together at 6pm on a Zoom call. Zoom has proved to be a new and exciting way of connecting people in this crisis, and again, it proved itself to be amazing as fans watched the virtual show together all at the same time whilst on the same call. There was a YouTube playlist that one of the fans created for the show with live videos from New Hope Club's past performances off their last tour, and the fans all watched the playlist at the same time.
First, The Tyne were played as they were the support act for the 'Love Again' tour so it would only be right for them to open the 'Home Again' show too. It was almost like tradition. After The Tyne's short but memorable set then the New Hope Club performances began. The setlist was different from the one on their tour as the fans had adapted it in their own way, and added in the fan favourites that weren't necessarily played on tour. The playlist can be watched or listened to here.
Something similar to this happened with The Vamps last week too, and personally, I think that it is a great way of bringing fans together when none of us can go to concerts and most of us have had concerts cancelled or rescheduled. It's a fabulous way of bringing a bit of joy into people's lives when it's hard for people to see the light at the end of the tunnel right now. The fans who organised the show did a brilliant job of making everyone who turned up very welcome, and to top it all off, they made an incredible setlist for people to enjoy, even after the virtual concert. If there are anymore virtual concerts, I will be attending again!