As they say, time really flies; it seems like just yesterday we were blessed with Harry's first solo album, yet it's already been three years. How is that possible?
On this day in 2017, we finally got to know what Harry's music as a solo artist sounded like after One Direction went on hiatus. 'Sign Of The Times', the lead single Harry picked to introduce us to his new dimension, already got us all shocked, because it went beyond every expectation anyone had from him. The record just confirmed all its success and critical acclaim hadn't been just a coincidence.
Suffice it to say that it let the British singer go for over a year on a worldwide tour, consisting of two legs — the first of which went sold out even before the album was released (his fans trust his talent a lot I guess, but with good reason!).
Back then, our Harold said he wanted to make an album that represented himself as much as possible: "I didn't want to write 'stories', I wanted to write my stories, things that happened to me. The number-one thing was I wanted to be honest. I hadn't done that before."
Another fun fact maybe not everyone is aware of is that, wanting to go in a rock direction, he also originally settled on Pink as the album's title because, quoting the Clash's Paul Simonon, "Pink is the only true rock & roll colour."
Harry publicly thanked us on the first anniversary in 2018, sharing an unseen picture supposedly taken in Jamaica where the album was recorded, and on the second anniversary in 2019.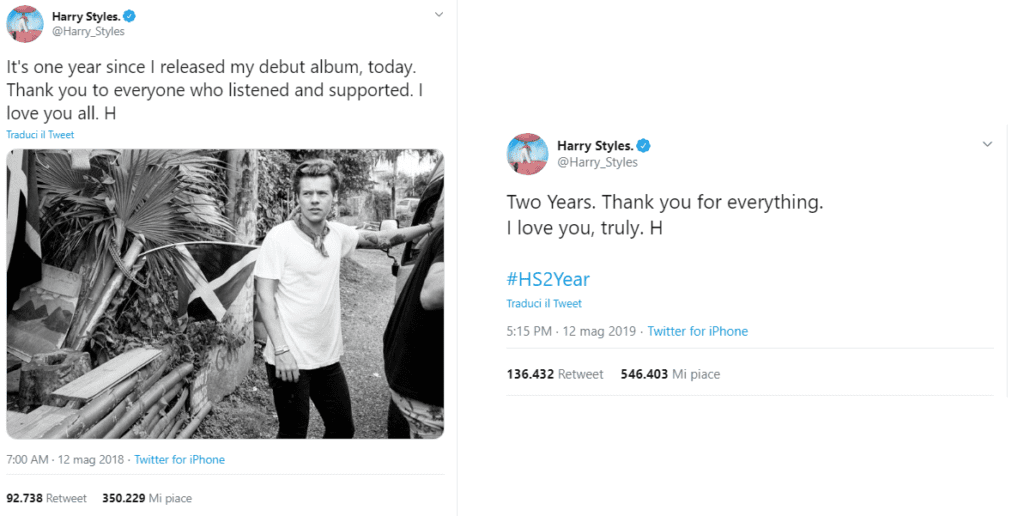 This year things are a bit different for everyone, and besides, Styles has distanced himself further from social media over time, but will he come online on the third anniversary as well? Let's wait and see!
Regardless of whether he will or will not, we know how proud H is of this album and how grateful he is for the incredible support his fans keep showing him; he never misses a chance to remind us and that just makes us all love him even more.
Many more years will pass, many more songs and albums will be released, but Harry Styles by Harry Styles will always have a special place in my heart (and I'm pretty sure the same goes for everyone who stans him) because it marked the start of a new era and that will be forever iconic.
Personally, I will celebrate this masterpiece that never gets old by streaming it for the rest of the day, what about you? Also, since it's its third anniversary, how about letting us know what is your top 3 tracks off the album?