This was definitely not one of the easiest or happiest years for anyone, but at least Louis Tomlinson — king that he is — saved 2020 not just once but twice. At the beginning, in January, he released his amazing debut album Walls, blessing us with 12 songs and almost 40 minutes of his angelic voice and deep lyrics only. At the end, in December, he performed for "Louis Tomlinson Live from London," a live-streamed show to raise money to support good causes.
As promised when he announced it a few weeks ago (sending us all into a frenzy because we had been asking him to do something like this for so long that we couldn't believe our wishes were coming true), it was a proper concert. The stage, the strobe lighting, the visuals, the setlist (released few hours before the show to torture us) — everything was studied in detail to give fans the full experience and make us feel like we were actually there cheering for Louis, even though sadly nobody could.
His full band was involved: Michael Blackwell and Isaac Anderson on guitars and backing vocals, Matt Dinnadge on the bass, Zak Craner on the keys, and Steve Durham on the drums. They were all incredible and a lot of Louies were so impressed that they started to look for more information, which led to the triplication of their numbers on social media… Not to be that person, but where have you been all this time??? Y'all late to the party. Better late than never, though, so welcome to the club!
After a customized countdown, Louis showed up on stage (15 minutes late, probably due to a football match setback) in a laidback Reebok tee looking extra-young with his new haircut. His hair was longer than what we were used to seeing but shorter than what we had seen in the pictures and videos Louis shared during rehearsals (rude, I know) and his soft fringe – paired with his shaved pretty face – reminded us so much of his fetus self that my heart was already about to give up even before the start.
He kicked off the show with a revised version of 'Just Hold On' – his first solo single in collaboration with American DJ Steve Aoki – that suits him and his sound more. In addition to the entirety of his record Walls, he sang three One Direction songs: 'Drag Me Down', absolutely smashing the high notes, 'Through The Dark', and 'Little Black Dress', which's become a sort of signature song for Tomlinson's shows, sounding every time more written for (other than by) him. He brilliantly covered, not for the first time, 'Beautiful War' by Kings of Leon.
Louis changed set to sing his probably most vulnerable and emotional song, 'Two of Us', dedicated to his mum Johannah, that hit even harder thanks to the string quartet accompanying the performance.
Worth mentioning 'Fearless', with a brand-new final instrumental solo of Tomlinson's band that left us all speechless. Title track 'Walls' was kind of bittersweet because I'm sure when Louis sang "for every question why" we all screamed back on top of our lungs "YOU WERE MY BECAUSE" wishing we could do that in person.
If that wasn't enough to destabilize us, as anticipated on Twitter, Louis also attacked us with his new tune 'Copy of A Copy of A Copy', a stunning hit we've been already begging him to release. But, of course, since we can't have nice things, Louis let us know that "It will remain in the set for the tour and live shows but not sure when/if it will be released yet". Let's just focus on the "when", ignore the "if" and wait. Fans also asked if it will be on his next album and he replied "Probably but I want to keep all my options open. Very early in the process. Enjoy the moment!"…I guess he's learned from the 'Always you' gate, ops!
The last track was one of Louis' favourites, especially to play live, the catchy upbeat 'Kill My Mind', to the notes of which audiences usually cheer, sing, and dance along. That's probably why he decided to involve fans in a project, asking for videos of them singing along, that were played on the screen behind Louis while he was performing. It was the best way to make us feel closer to him and to make him feel like we were actually there with him; when he turned to face the screen and sing to and with them, my heart melted a little bit more ❤️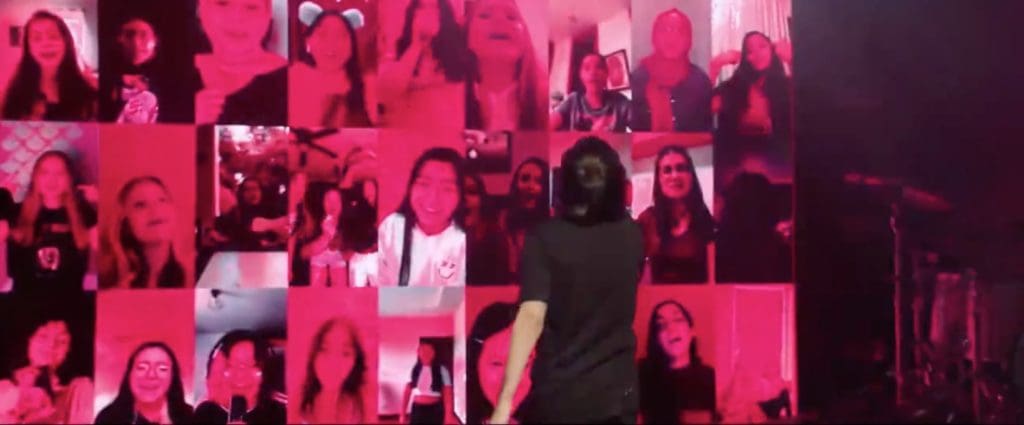 Everything was absolutely iconic. Louis looked and sounded amazing, from his flawless vocals you can tell how much he's worked to improve on his technique, especially since he went solo, despite all the times his beautiful unique voice was snubbed and never exploited to the fullest during the band years. His attitude and stage presence radiated confidence throughout the whole concert; he was so happy and excited, and that's how we want to always see him.
For a while, he felt like he "was recording music that I thought would get me on the radio. I felt like I had to make a certain sound of music, but then I had a moment where I sat and thought, I just need to make music that is true to myself." But, day by day, performance after performance, he is showing that he really found his way, his sound, his balance; he knows who Louis Tomlinson IS as a solo artist and never fails to let his talent speak and confirm it.
As usual, Tommo wasted no time to thank everyone and came, still clearly buzzing with excitement, online to chat with some lucky fans. He thanked his crew, his band, his team, his director Charlie Lightening, the string quartet, the promoter Veeps, and mostly his Louies, highlighting once again how important we are to him. "The power and magic comes from the people, you guys. Don't undermine your role in all of this.  Together with your support we're unstoppable!"
The biggest fucking thanks to all of you. None of this is possible without your support. Another big win for us today. Love to you all x

— Louis Tomlinson (@Louis_Tomlinson) December 12, 2020
The money raised for these incredibly important causes will go such a long way. WE did that!

— Louis Tomlinson (@Louis_Tomlinson) December 13, 2020
Without surprising anyone, Louies owned Twitter trends that were filled with hashtags and stuff related to Louis. We also risked – again – jail for sharing snippets of the show on social media and there was another #Louiesaregoingtojailparty… who's doing it like us?
copyright of a copyright of a copyright ….

— kimmy (@wallskimmy) December 13, 2020
"Louis Tomlinson Live from London" was the biggest male solo artist live stream of the year, topping all other male solo artists in 2020 globally. He has so far sold over 160,000 tickets worldwide raising million dollars that, just like all the profits made from new merch released for the occasion, will support five important causes Louis himself defined close to his heart: FareShare, a charity fighting hunger and food waste; Crew Nation, a charitable fund created to help support live music crews who were supposed to be working on shows planned for 2020; Bluebell Wood Children's Hospice, a charity that supports children and young adults with life-shortening and life-threatening conditions; Stagehand, a charity that provides grants to out-of-work technicians and production staff throughout this crisis. And, last but not least, Tomlinson's own touring crew that's been out of work since March.
This is truly incredible. No major label, no radio, yet here we are. The feeling of support I get from you all everytime I do something is unbelievable. Forever thankful! And they never see us coming!

— Louis Tomlinson (@Louis_Tomlinson) December 13, 2020
After the show Louis said on Instagram: "That was incredible. Thank you to everyone that watched. Can't wait to finally get back on the road".
And we couldn't relate more. So, as soon as possible, see y'all finally on tour…or in prison I guess!