It's not inconceivable that over the span of a decade someone will have several different iterations of style. If you are someone who has followed Harry Styles' career for years (or someone who makes stanning him more than just a hobby), you'll know that he's gone through many different phases fashion-wise.
We all go through fads and questionable fashion choices that we look back on with disdain. However, Harry's evolution seems less to do with the trends and more to do with his own acceptance of his truest self. He's lost the proverbial fucks given when it comes to doing what makes him happiest.
If you've been around a long time or you know a lot about his early days, then you'll remember the gut-wrenching interview where a teenage Harry tearfully admitted, "I've always wanted to be one of those people who didn't really care that much about what people thought of them. But I just don't think I am."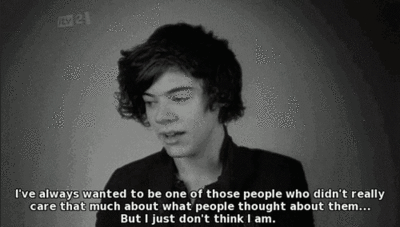 PRAISE BE that we are in 2020 and can officially say that Harry is now one of those people that doesn't really care. He has been working his way to this point for many years, but his transformation over the past two to three years has been breathtaking to witness. Harry himself has mentioned that during his first tour and the writing of his sophomore album, Fine Line, that he did some self-exploration and found acceptance through his fans. Rob Sheffield shared the below quote from Harry after his profile piece in Rolling Stone in 2019, and it makes my heart happy.

During his interview with Mary Louise Kelly for NPR before his Tiny Desk Concert, Harry was asked about his fashion choices that blur traditional gender lines and if he does it with a purpose. He replied, "For me, it's not like doing it to send a message. Part of being on the last tour, when people came to watch the show, I realized 'Oh, these people just want to see me be myself, and I'm telling them to be themselves.' And I just didn't want to be a hypocrite. I do it when I'm not working, so to me it doesn't feel like it's 'Oh, I'm sending a message with my nail polish.' I just put a lot less weight behind it, I think."
As someone that loves this man with my entire heart, it is so wonderful to see him embrace all of his quirks and creativity and show them to the world, not only in his music but also in his outward appearance. Let's all appreciate the flawless beauty that is Harry Styles at his most authentic: