Euro 2020 are about to kick off in a few hours – "only" one year late thanks to the pandemic – but honestly who cares about them when Louies came up with Walls UEFA League? Not us, that's for sure!
Get ready to support your favourite track team, because the Walls UEFA League is here! Tune in to Stationhead tomorrow for the pool reveals & more info! pic.twitter.com/7SCi01AHQV

— Team Louis News (@TeamLouisNews) June 8, 2021
As we all know, Louis Tomlinson is a big BIG almost-as-big-as-his-heart big fan of football, and he becomes even more when his home country is involved – if his recent tweets and stories on Instagram are of any indication. He even invited us to play Fantasy Football and join his league… and we did because we're that whipped, as we should.
So why not mixing business with pleasure and combining two of the things Louis cares about the most, music and football? Of course, we decided to treat ourselves, so we'll be focusing on his music only.
The Walls UEFA League will start this weekend, on Friday 11 June 00:00 UCT, and just like real European Championship will consist of many phases:
Group Phase from Friday 11 June to Sunday 13 June;
Semi-Finals on 18 June;
Finals on 20 June.
Mark the dates in your calendars so you'll be sure not to miss any!
https://twitter.com/LTxPromo/status/1402722862205636609
Competition is very easy: your favourite track will basically be your team, so all you need to do is support the one track that you love the most by streaming it as much as you can during match days in order to let it go through the next phase.
In the group phase, you can pick your favourite track from each group/pool, which makes it a bit easier, but in the semi-finals, and later in the finals, when there will be less songs and you'll have to choose your absolute fave and hope for the best, things will get harder and harder.
Group A of the #WallsUEFALeague is composed by 'Kill My Mind', 'Fearless' and 'Too Young'; Group B by 'Perfect Now', 'Defenceless', and 'Don't Let It Break Your Heart'; Group C by 'Only The Brave', 'Always You', and 'Two of Us'; Group D by 'Habit', 'Walls' and 'We Made It'! Which song from each group will score the most streaming after three match days wins and gets to semi-finals.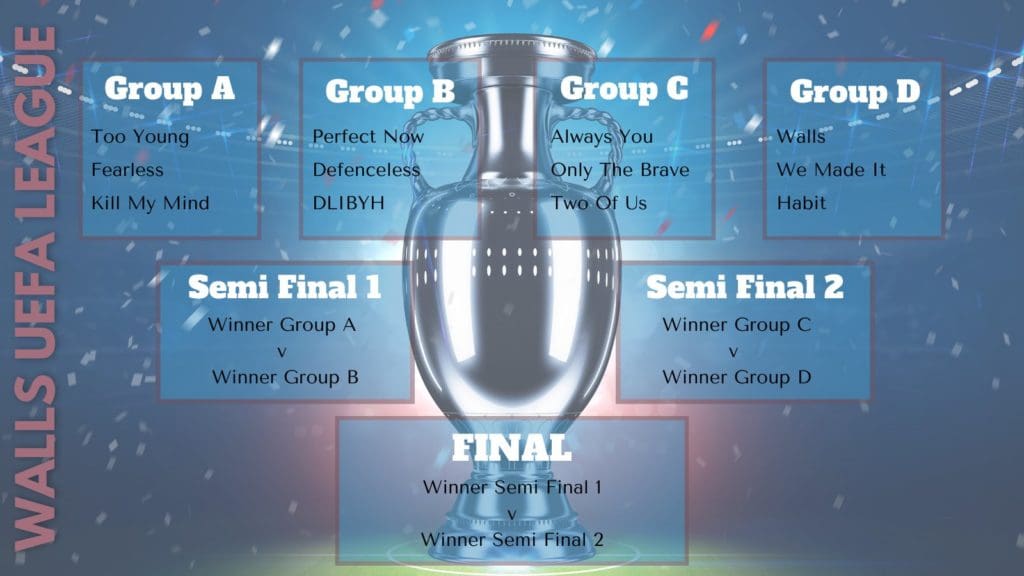 Also, you can place your bets on where you think the songs will end up ranking in this League. If you guess correctly, you'll have a chance of winning a Live From London crew shirt and pass…another reason to join!
To stay updated check the hashtag #WallsUEFALeague or any of the amazing Louis' update accounts – @TeamLouisNews, @LTxPromo, @LouisTeamFrance and so many more – run by Louies always ready to support him in the most creative ways ever.
Get ready to take the field stream after stream, join #WallsUEFALeague and make our Tommo proud!