These days when Harry Styles' Love On Tour was supposed to kick off, we should be getting content – Hontent, more technically – almost daily. We should already know what the setlist is, which songs H performed, which covers he picked, what outfits he wore, what kind of (questionable) jokes he told…. But life apparently had other plans, and it looks like we gotta wait a bit longer than expected before seeing him on stage again.
So, what better time to bring back some of the most famous moments his first solo tour gave us?
Ornella-gate
I'd start with the most iconic of them all, the infamous Ornella-gate that saw our poor Harold struggle to get an Italian fan's name at his show in Milan.
"What's your name? Odella? Otella? Nutella? All of you are saying the same thing! Which one is it????"
He got a bit frustrated but was so happy when he finally got it right that he got on his knees, how cute!
To be honest, he struggled to get a lot of his fans' names during the whole tour but what can we say, we find that endearing!
Pamplemousse
Speaking of, how endearing was Harry ranting about *high pitched voice* 'pamplemousse' in Paris only to show off his improved French?

Vodka straight?
Another moment that will go down in history is the 'gay vodka' banter: "No, I mean straight vodka, I'm not asking if you're straight. 'It's vodka.' 'Straight?' 'No, gay!'"

We're all a little bit gay
On that note, how could we forget Harry driving the crowd crazy saying "We're all a little bit gay, aren't we?" after reading a fan's sign? Yeah exactly, we could never.

It's not complicated
What about his thick accent showing up – which is sadly less and less frequent nowadays – when he quoted a fan saying "It's not complicated" after he took his time to explain to the arena how to sing all together 'All you need is love' in Manchester? I'm sure we can all hear this gif!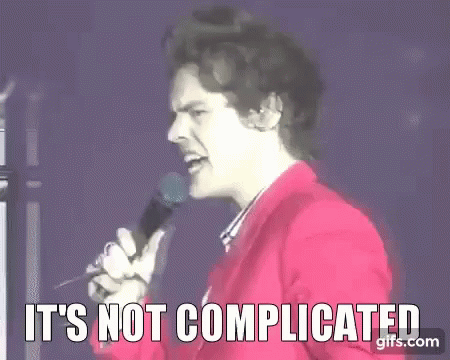 Mid-show snacks
I can't talk about iconicity without mentioning Styles comfortably eating a banana on stage in Glasgow after carrying it and an orange all the time in the sporran he was wearing with a matching kilt!

Take care of your nipples
A separate chapter must be dedicated to the St Paul show because it gave us so many epic moments, like Harry playing with red fluffy handcuffs (how wild was that?), him giving us One Direction flashbacks (not the first or last time, he loves attacking us) with his distinctive "This is a family show…or is it???" (it clearly isn't), the legendary, "Yes daddy I will," and his tips on how to take care of your nipples (especially when you have more than two).

Circus tricks
Remember when H was ahead of his time and made the whole arena sing the circus music while he juggled on stage, legitimizing our clown status? Legends only.

Childbearing dreams
Or when he let us know again how much he wished he could get pregnant?

A cat named Thea
Or when he thought it was a good idea to wish Happy Birthday to a fan telling her he once had a cat by the same name…that isn't among us anymore?

Vegan cake
Or when he caked Mabel on stage for her last show as his supporting act but made sure the pie was vegan as the thoughtful king he is? And, being scared she could actually get mad about the prank, he also sent her flowers and another cake backstage.

Echoing this one, I want to also focus on moments that stay iconic but for different reasons since Harry never fails to show his truly amazing colours.
Helping a fan come out
For example, when he helped a fan come out. He read a sign – out loud, only after asking for permission – saying, 'I am gonna come out to my parents because of you.' He asked for their mum's name and screamed, "Tina, she's gay!" just to tell them right after, "Tina says she loves you," and congratulate many times the lucky fan.

Manly vulnerability
Or when he comforted a 10-year-old boy who was crying saying, "Let me tell you one thing: crying is very manly. Being vulnerable is manly, Daniel!" Once again, ending toxic masculinity.

Songs we'll probably never hear again
I would also like to spare a thought for 'Medicine' and 'Anna' because we probably won't hear those masterpieces ever again, which breaks my heart, and for the memorable performance of 'Still the one' by Harry and Kacey Musgraves.

Arrogant son of a…
Finally, let me conclude with a bonus that it's not from his last tour but will hopefully be a lucky charm for Love On Tour: Harry wondering why the crowd sang the loudest some specific lyrics from 'To be so lonely'…well, well, well.


I am pretty sure I forgot something important, so feel free to share your favourite moments!
Stay safe, take care, and see you all on tour soon!