Instagram
Aston Merrygold is turning a year older today and to celebrate we've gathered up all of the JLS frontman's achievements over the last year.
Even though the last 12 months were daunting and the globe has been recovering from the pandemic, Aston proved that it wasn't going to stop him from being successful. He has achieved many things in the last year and we're going to take a look back at all of them.
Solo singles
Aston released four singles last year in only a few months, to the delight of his fans of course. He released 'Overboard' at the beginning of February, followed by 'Share a Coke' and 'Hundreds of Thousands'. After the love Aston received on these songs, he later released 'Emergency' in August, just before embarking on the next chapter of JLS. You can read our interview with Aston about the release of 'Emergency' here.
JLS album
2.0 has officially landed! 🔥 We had an incredible time making this album for you and are so excited for you to listen 🙌🏾 https://t.co/S6gV9uKGWY pic.twitter.com/UOgLDS1MqM

— JLS (@JLSOfficial) December 3, 2021
We couldn't not include the first JLS album to be released in eight years, all with original songs, in this list! In December, Aston alongside the JLS boys released their first album since reuniting, naming it 2.0 to emphasise the boyband's new chapter together. The album peaked at Number 3 on the midweek UK charts.
The Masked Singer
Aston is no stranger to reality TV, having starred on Stars In Their Eyes at just 14 and finding fame on The X Factor with JLS. Last year, he joined the lineup of The Masked Singer and came in third place as Robin. His fans were sure from day one that it was him, but he managed to keep the public guessing all the way till the final week. Aston is also going on the road later in the year with The Masked Singer Live and has even guest-starred on the show again this week.
JLS Tour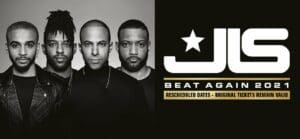 Aston has been on several solo tours around the UK but this was his first time back on the road with JLS in eight years. The Beat Again Tour was a huge success and saw Aston and his bandmates sell out arenas all across the UK. If you've ever seen Aston and/or JLS live let us know in the comments!
'Live From My Living Room'
I couldn't leave out these iconic live streams that Aston did during last year's winter lockdown last year. Aston made sure his fans didn't miss out on his live performances and he streamed live from his living room quite a few times, hence the name, singing his original songs and obviously a few JLS ones too. You can watch the streams back on his LFMLR Instagram account above.
We can't wait to see what the next year holds for Aston Merrygold if the last one is anything to go by. Happy Birthday Aston!