BTS Hoseok, or how you may know him as – J-Hope, is turning 27 (28 in Korea) this February 18th. The rapper is loved and cherished by ARMY for many reasons, but mainly for his cheerful and carefree personality, they describe him as a ray of sunshine. J-Hope always brings a smile to everyone's face when he uses his famous catchphrase "You're my hope, I'm your hope. I'm J-hope".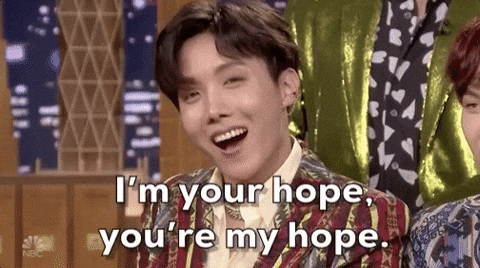 Besides being an amazing rapper he's also an extraordinary dancer and never fails to leave his fans astonished with his talent.
It's officially J-Hope Day in South Korea now and fans around the world have many amazing projects running and ready to celebrate BTS sunshine's birthday. Since the beginning of the month, "Hobiuary" – how ARMY like to call it – they've been focused on making this day even more special than it already is. The fanbase have and are still donating to many great causes from every part of the world.
In honor of Hoseok's 🐿 birthday we present:#ShineBrightWithHope 🌟💜🌞@TewwyWisdom promotes mental health in Tanzania by providing psychological services such as group sessions, 1on1 support & storytelling with the help of elderly women.

To donate➡️ https://t.co/Iqq740CzGb pic.twitter.com/6vCaIWLslO

— One in an ARMY⁷ Charity Project ✨💜 (@OneInAnARMY) February 13, 2021
#LoveNeedsHope fundraiser to celebrate J-Hope's birthday is still open, until February 17 via PayPal.

A project to help a cancer Hospital in Brazil @hospitaldeamor
In collaboration with @JhopeSwissArmy@bts_swiss_army

Contact @BTS_Swiss_Funds if you want to donate. #제이홉 https://t.co/7FcoJyXwaW

— J-Hope Team Europe (Rest) 🇨🇭🇮🇹🇵🇹🇪🇸🇵🇱🇬🇧 (@JHopeTeamEurope) February 13, 2021
ARMY also managed to display in different places videos and ads celebrating his birthday. Billboards, subway stations and important buildings will be displaying birthday messages for J-Hope's birthday. He'll be the first star to have a birthday project displaying at "The 1" in Times Square in New York.
✨𝐉-𝐇𝐨𝐩𝐞 𝟐𝟎𝟐𝟏 𝐁𝐢𝐫𝐭𝐡𝐝𝐚𝐲 𝐏𝐫𝐨𝐣𝐞𝐜𝐭✨

𝐏𝐚𝐫𝐭 12
● 𝑻𝒊𝒎𝒆𝒔 𝑺𝒒𝒖𝒂𝒓𝒆●
"𝗧𝗛𝗘 𝟭"#정호석 #제이홉 #JHOPE @BTS_twt pic.twitter.com/gZ4QgyD4dU

— J-Hope Bar (@Baidu_jhopebar) February 9, 2021
[ J-Hope Birthday Billboard Ad 🔥 ]

We are honored to announce that J-Hope will have a birthday Billboard Ad in Tunisia.💜

J-Hope is the only and first Korean artist to have a Billboard Ad in Tunisia.✨#JHOPE #제이홉 #JHopeBirthdayProjects2021 #방탄소년단 @BTS_twt pic.twitter.com/kTJmuaXt1A

— J-HOPE Tunisia 𝟕 🇹🇳 (@JHOPE_TN) February 13, 2021
🎂제이홉 생일 축하 전광판🎂#HappyJHOPEday #호석아생일축하해
우리의 희망 제이홉
태어나줘서 고마워💜

이 광고는 2월 15일부터 2월 21일까지 홍대역 맥스비전에서 만날 수 있습니다💕#호석생일ㅊㅋ #제이홉 #JHOPE #방탄소년단 #BTS #팬앤스타 pic.twitter.com/Qp8iWOPfl8

— 팬앤스타 (@thefactnews) February 15, 2021
Some other projects involve ARMY and their creativity. They are making birthday videos, birthday cards, writing themed stories and there's even a dance contest happening for J-Hope's big day. How awesome is that?
To celebrate our sunshine, #Jhope's birthday, we are hosting a dance contest!

Prize: BTS album of choice!

Start: 12AM KST 01/09
End: 12AM KST 02/18

Read the thread below for more details#JungHoseok @BTS_twt #HappyBirthdayJhope #DdaengLifeUniteProject pic.twitter.com/6QAIt9ot8H

— BTS 🤝 ARMY (@DdaengLifeUnite) January 8, 2021
We wish J-Hope the happiest of birthdays and for him to keep shining as bright as the sun.