How to host a Harry Styles garden party
A garden party is the perfect way to entertain while social distancing. Harry Styles will help you to be the best host.
In the northern hemisphere, it is the height of summer and a great time for a garden party. To make it your best garden party yet, follow the tips below to theme your party Harry Styles style.
Personalise your invites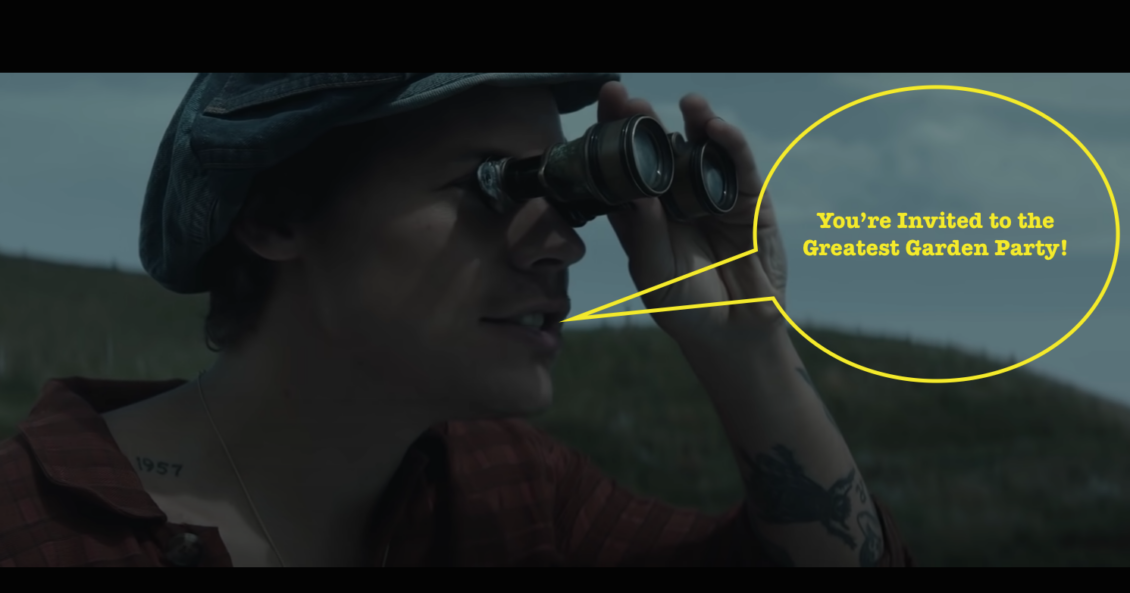 Actual invitations need to make a comeback, but they don't need to be fancy or take up much of your time. We know fans are very tech-savvy, so utilise your skills and show off by making your own! You could also Photoshop your favourite music video screenshot in about three seconds to create a personal touch to your invites.
The soundtrack is sorted
Even though Fine Line was released in December, it is full of summer songs to blast in the garden. "Golden" is guaranteed to set a fun tone (and is the perfect opening track for what really is a solid album). "To Be So Lonely" and "Canyon Moon" will get everyone grooving and relaxed enough to finally catch-up on what's been happening over these past few months. Throw in Harry's touring supporting artists to the playlist to create a really musically diverse playlist with enough material for all afternoon.
Make a really specific fruit salad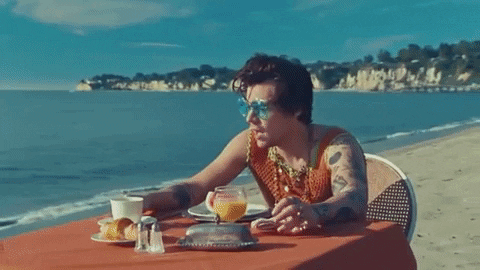 We've heard the rumours that Harry owns a watermelon farm somewhere in California, and Fine Line is full of fruit references. Create a really specific fruit salad to eat along to the tracks with. You will need kiwi, strawberries, watermelon, and cherries. It's an unusual combination but one that is sure to stand out.
Create a nail art station
https://www.instagram.com/tv/B_xB1WXjkib/?utm_source=ig_web_copy_link
Throw some bottles of nail polish onto a picnic blanket alongside some stencils, and you've got a soothing self-care activity that means you have no choice but to sit still and chat through. Follow Jenny Longworth's Instagram tutorial to recreate Harry's super cute, super yellow smiley face nail art.
Don't be embarrassed by your cardboard cutout
It's highly likely that you have, or have been gifted, a Harry Styles cardboard cutout over the years. He's probably been under the bed or folded into a cupboard for a long time, but now is the perfect time to bring him out for a bit of sun. Dress him up with some cool sunglasses, and set up a selfie-station in the corner. If you aren't into selfies, you could always set up the speakers behind him and it'll almost feel like we're on Love on Tour.
Bring out all the unusual merch you've collected
If you've been on Depop or Etsy anytime recently you'll see the incredible amount of (unofficial) Harry Styles merch out there. Prayer candles seem pretty normal now, but I was thrilled with a set of Harry Styles-themed Tarot Cards my sister got me for Christmas. They aren't right to bring out for every occasion, but a themed garden party is ideal! You could get bundles of stickers or badges to give out as a lasting reminder of a good party well-hosted.
A garden party is also a really good environment to practice social distancing in. You can give each other enough space but enjoy the ambiance of your favourite music and some fun activities. Everything is better when it is Harry Styles related, and a garden party is just another perfect example.