WB
A brand new Harry Potter exhibition is opening in London
The news comes just after the opening of the world's biggest Harry Potter store in New York.
Potterheads have been hit with some more exciting news this week, just as the brand new three-story Harry Potter store in New York opened its doors. It's been announced that there is going to be a new Harry Potter exhibition opening in London this summer.
It is going to be a photo exhibit, showcasing "memories captured during 10 years of filmmaking". The exhibition will take place in Covent Garden in London from 12th July onwards.
The photos are of never before seen behind-the-scenes pictures. It'll take fans on a journey of the films through just photographs, which sounds completely unique and exciting.
If you aren't already desperate to go, there is another exciting feature of the exhibition. It is set to also have the UK's first-ever Butterbeer bar. Again, the world's first Butterbeer bar has just opened in New York, and now UK fans will get a bar of their own too. You can have a taste of what the New York bar looks like below.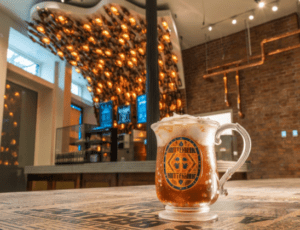 It's been described as "a must-visit for any Harry Potter fan". You can read more about it by checking out their website here.