Sera Milano on exploring terrorism in YA
"I've always found that, when the news feels bleak, the stories of survivors are what help me to hope again."
When people hear that my new book is a minute-by-minute account of a terror attack at a music festival, following the journeys of five teenagers as their focus shifts from enjoying the night to pure survival, one question tends to come up a lot:
Isn't it a bit of a hard subject for teenagers?
Well, yes, it is a bit of a hard subject. But, unfortunately, the real world can also feel overwhelmingly hard at times – for all of us. In the era of rolling news and regular headline updates pinging onto our phones, life can feel like a litany of horrors and tragedies, with terrorism a particularly rich seam in recent years. It's impossible to escape the news stories about it, and feels disrespectful to even try. Lives have been lost to terrorism in nightclubs, at concerts and on trains, in churches, parks, mosques, markets and even at a garlic festival.
With all these inescapable news stories, it could be very easy to feel anxious all the time. I know that I feel that natural spike of fear when I hear about another act of senseless violence, and turn on the news to see images of black clad police getting ready to set up a rescue.
If we only hear about these attacks through the headlines, then all we tend to learn about are the terrorists and their motives, the tally of the dead and the horrific damage dealt. But, in almost every case, there are many, many survivors of these attacks – most of whom no one ever hears about. These are the people who will live with what they lived through – whose lives may be changed, but won't be stopped. Each life full of bright possibilities for the future.
I've always found that, when the news feels bleak, the stories of survivors are what help me to hope again.
View this post on Instagram
We remember terror attacks for who carried them out and who was lost – what if we remember them for who survived, instead? One very famous survivor, Malala Yousafzai shared her story with the world and has brought hope and inspiration to millions. Think of all the stories we haven't heard yet.
In my book, This Can Never Not Be Real, it's no secret that the characters who narrate the story survive the night – it's all told in retrospective, as they share their accounts at an inquest. It's immediately clear, too, that this isn't a story about terrorists or terrorism – the motives of the killers don't matter: there can never be a good enough reason for what they do. But the character's motives for survival really do matter, whether it's for their family, the futures they dream of, or for each other.
Following the survivors turns what could be a bleak story into a declaration of strength and hope from ordinary people who have survived something extraordinary. It offers a new perspective on a hard subject.
And of course it's not too hard for teenagers. Teenagers live in the real world. And while there is a place for the escapism of comedies and romances on our bookshelves (I've written a couple myself!) there's also a place for harder truths. To paraphrase GK Chesterton: fairy tales don't teach us that dragons exist. They teach us that dragons can be defeated.
In this way, survivor stories show us that the worst of moments can be lived through – if not by all, then by many – and overcome.
It seems to me a particularly important time to tell stories about survival, when the whole world is finding its way through one shared crisis, holding each other's hands until we reach the other side. But there will be moments in all our lives when we have to survive something we never imagined we could.
That's why my book is dedicated to all of us:
For anyone learning how to survive.
Hold on.
Hold on.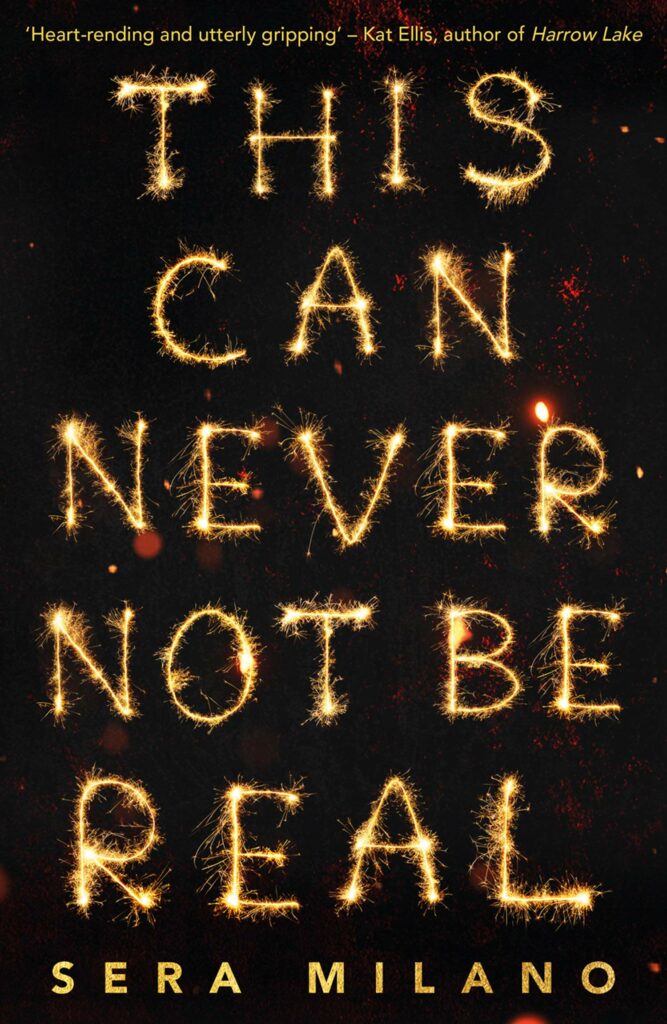 Get your copy of This Can Never Not Be Real by Sera Milano here.