Olivie Blake on going viral, TV adaptations and her hit sci-fi novel, The Atlas Six
"I think every single one of these characters would be horrified by my undressing of their perspectives, and rightly so."
If you've found yourself within the online book world at all in the past year, it's likely you've heard all about Olivie Blake's epic new sci-fi, The Atlas Six. After going viral on TikTok, The Atlas Six has been one of the most talked about releases of 2022 so far and rightly so (seriously, if dark academia, morally grey characters, magic and epic twists are your thing, this is your dream read).
To celebrate its release, we're incredibly excited to have had the chance to not only talk to Olivie all about The Atlas Six but to have three copies to give away.
---
Hi Olivie, we're beyond excited to have you on the site today to chat all about your sensational new novel, The Atlas Six but before we start, how would you describe this book in just three words?
Typical group project. Kidding! Maybe magic, academia, conflict. And thanks for having me! I'm excited to be here.
The Atlas Six has already received a hugely positive, worldwide response. What has the experience of your work going viral been like for you?
It's fairly impossible for me to wrap my mind around any of this. From an anthropological standpoint, it makes sense to me that the global experience of communal isolation would lead to an unprecedented industry revolution via social media—in this case the thriving communities of BookTok, BookTwt, and Bookstagram. It makes perfect sense that a book would find an avenue to explosive popularity as a result of that collective experience, especially given TikTok's compulsively consumable format. That it happens to be my book is the part I can't quite grasp! Luckily my son was born exactly as the book began going viral, so I've had many distractions from the philosophical question of how any of this could be real. It still strikes me as a very eccentric cosmic joke.
The Atlas Six has one of the most unique and intricate premises for a sci-fi I've read in a long time. Can you tell us a little about what inspired the story and its characters?
Years ago, I wrote a fairly derivative portal fantasy that bored even me—something much more Archetypal Magic Romp, with characters who fell in love and joined up to take down a Big Bad and save the world. As I was revisiting the draft, I realized there was a better book in there somewhere if I scrapped what I had, pushed some of the intriguing (but "unlikable") secondary characters to the forefront, and tossed out the more predictable storylines in favour of a more intimate, cloistered academic setting. I wrote this version of the book in 2019, when politics were… let's say complex, and I wanted to reflect that. I wanted morally grey characters who were functionally their own unreliable narrators, and I also wanted to play with tension, something more psychologically complex with hard emotional beats. I wanted academia, competition, pressure—something moody and cerebral, like The Secret History's brand of slipping away to interiority and scholarly conversation. I just needed sufficiently high stakes, and once the story's fundamental conceit hit me during a long car ride, I knew I had a much more interesting concept on my hands.
Each of the Atlas Six are brilliantly strong and unique in both their voice and character but is there one you see yourself in the most and what do you think their reaction would be to seeing themselves in a book?
I think every single one of these characters would be horrified by my undressing of their perspectives, and rightly so. I also think there is a bit of me in each of them. I often describe my characters as shades on a colour wheel—the existence of one necessitates a contrasting shade and a complementary one as well. Of course, people typically hate what they see of themselves in others, which lends the colour theory another layer of lightly sadistic fun.
View this post on Instagram
Science is an integral and fascinating part of the magic system of The Atlas Six. Is science something you're passionate about and did you find yourself having to do a lot of research to get it right?
My husband teaches high school physics, so I wouldn't call science a passion so much as a roommate. I do love theoretical physics and theories of quantum gravity, so I've read a fair amount on the subject. I don't understand the maths, per se, but I think any interest in the humanities bleeds invariably into physics. By nature, wondering about the origins of the universe can be deeply poetic and quite philosophical, which ultimately marries mythology and science. In my view, calling it magic isn't much of a stretch.
The news of a TV adaption for The Atlas Six was beyond exciting, I can only imagine how you must have felt? Despite being in its early days, is there anything you can share with us about it?
I am honoured and thrilled to be working with Tanya Seghatchian and John Woodward of Brightstar. The creative chemistry is truly, truly uncontainable. We're in the early stages of determining the vision for the show, but I am confident I have the right collaborators for translating the book to another art form. We're definitely prioritizing tension and sensuality in how the book plays out on screen. Not to mention capitalizing on the broody atmosphere of dark academia!
From its intricate world building and history to its compelling cast of characters and magic system, there's a lot of love about The Atlas Six but did you have a favourite part to explore whilst writing or any elements you found more challenging?
While this is far from my first book, it's my first time writing a series and also my first time receiving any significant attention while writing, so it's been interesting to witness reactions to what's on the page while also formulating the unwritten parts of the story. I've always been a reluctantly reformed pantser—I tend to let the story lead me as opposed to the other way around, but with a series that's far less doable. For this trilogy, I let the plot unfold book by book, but certain aspects of setting and character backstory were formulated early and consciously left off the page. Book I is intentionally very claustrophobic, with very little exposure to the outside world, because I wanted to get really microscopic with character motivation and morality—specifically a chameleonic form of morality that changes with the situation, rather than codified good or bad. In a story this character driven, the environment around the characters inevitably impacts the way their actions can be read. So, balancing what's to come with what I want the audience to see has been a very interesting (and challenging) bit of sleight of hand.
Finally, with book one ending on a major cliff-hanger, readers will undoubtedly be left craving more. Is there anything you can tell us about book two to keep us going until it's released?
A critical ingredient has been altered and the stakes have changed, which means alliances will shift. We also get to zoom out a bit to see more of the outside world, so as things within the Society begin to fit into the larger context, the characters will take on new, unexpected roles. Some for the better, some for the substantially worse. You know, sequel stuff!
Want to dive into The Atlas Six asap? Simply follow the instructions in the tweet below for your chance to WIN a copy: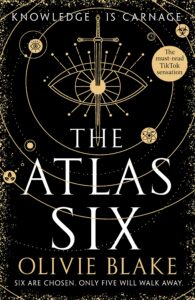 Get your copy of The Atlas Six by Olivie Blake here.
Terms and Conditions
1. No purchase necessary. A purchase will not increase your chances of winning.
2. This giveaway is open to residents of the United Kingdom only.
3. This giveaway opens Friday, March 18th at 15:00 and closes on Friday, 1st April at 21:00
4. Three (3) winners will be selected at random from all applicable entries. The prize consists of one (1) copy of The Atlas Six by Olivie Blake. Prize has no cash value and no alternative prize is available.
5. Winners will be contacted via Twitter direct message by @unitedbypop after the giveaway closes. Winners must provide United By Pop and Tor Books with their full name and mailing address to receive their prize. If winner fails to do so within 24 hours of being contacted, winner forfeits their prize and a new winner will be selected.
6. United By Pop is not responsible for prizes that are lost or damaged in the post. Prizes may take up to 90 days to arrive.