The UK's longest running and best-loved book awards for children and young people, The Yoto Carnegies, has two categories — the Carnegie Medal for Writing and the Carnegie Medal for Illustration. Last year, we had the honour of chatting with Katya Balen, who won both the Yoto Carnegie Medal (for Writing) and the Carnegie Shadowers' Choice for October, October. Today, the Yoto Carnegies announced their shortlists. Let's take a look at the titles together!
The 2023 Yoto Carnegie Medal for Writing shortlist is (alphabetical by author surname):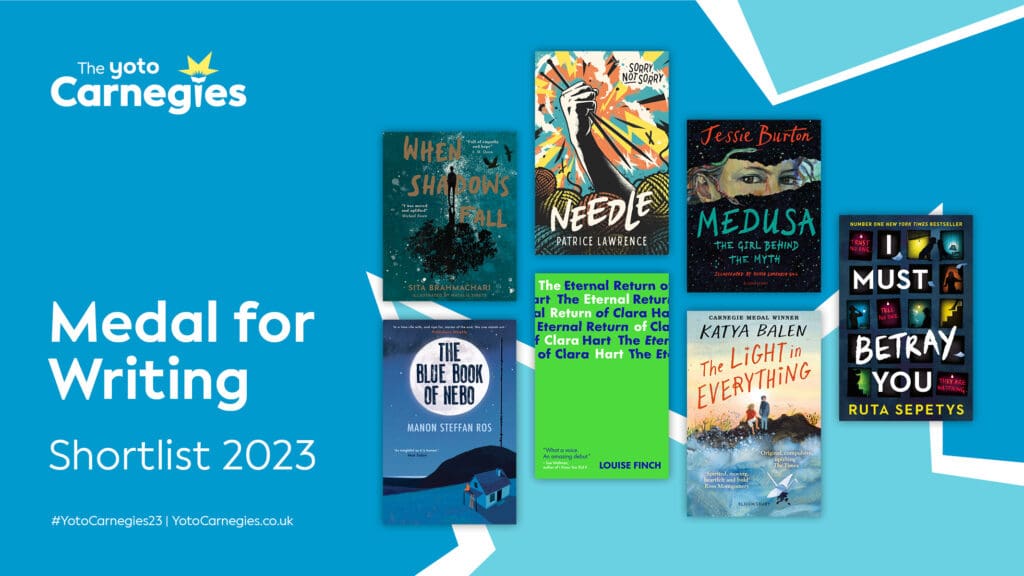 • The Light in Everything by Katya Balen (Bloomsbury Children's Books)
• When Shadows Fall by Sita Brahmachari, illustrated by Natalie Sirett (Little Tiger)
• Medusa by Jessie Burton, illustrated by Olivia Lomenech Gill (Bloomsbury Children's Books)
• The Eternal Return of Clara Hart by Louise Finch (Little Island)
• Needle by Patrice Lawrence (Barrington Stoke)
• I Must Betray You by Ruta Sepetys (Hodder Children's Books)
• The Blue Book of Nebo by Manon Steffan Ros (Firefly Press)
We are surprised and glad to see that the Medal for Writing has an all-female shortlist, featuring some titles we have loved here at United by Pop. In fact, we chatted with Katya Balen on The Light in Everything last year when the book was first published and Katya chatted about why being 'good enough' is important. We also recommended Medusa by Jessie Burton in our guide to Greek Myth retellings. You can also read this guest post written by Ruta Sepetys on why she wants to tell the story behind I Must Betray You.
The 2023 Yoto Carnegie Medal for Illustration shortlist is (alphabetical by illustrator surname):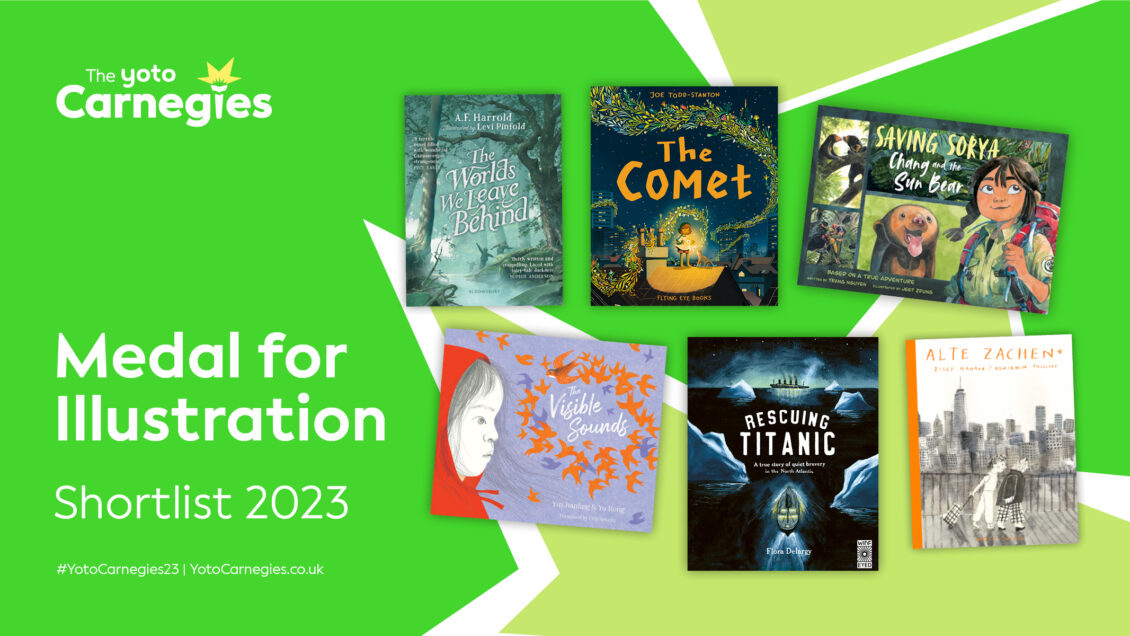 • Rescuing Titanic illustrated and written by Flora Delargy (Wide Eyed Editions)
• Alte Zachen: Old Things illustrated by Benjamin Phillips, written by Ziggy Hanaor (Cicada Books)
• The Worlds We Leave Behind illustrated by Levi Pinfold, written by A. F. Harrold (Bloomsbury Children's Books)
• The Visible Sounds illustrated by Yu Rong, written by Yin Jianling (UCLan Publishing)
• The Comet illustrated and written by Joe Todd-Stanton (Flying Eye Books)
• Saving Sorya: Chang and the Sun Bear illustrated by Jeet Zdung, written by Trang Nguyen (Kingfisher)
We haven't featured any titles from the Medal for Illustration shortlist before and we are excited to dive into these titles and chat to you all about them soon.