Maya Prasad on sisterhood, Taylor Swift and her YA debut, Drizzle, Dreams and Lovestruck things
"I had an opportunity to show that Indian Americans are not a monolith"
With the coziness of Gilmore Girls vibes and the sisterly bonds of Little Women, Maya Prasad's debut YA novel, Drizzle, Dreams and Lovestruck Things, is the perfect read for anyone looking for a romantic, heartfelt and warm story of sisters, love, family and self-discovery. To celebrate its release, we had the pleasure of chatting to Maya all about this gorgeous celebration of sisterhood.
---
Hi Maya! I'm so excited to get to talk to you today about your heart-warming debut YA novel, Drizzle, Dreams, and Lovestruck Things. For readers who may not know much about the book yet, how would you best describe it to them?
Hello, and thanks for having me on United by Pop! Drizzle, Dreams, and Lovestruck Things is the story of the four Singh sisters over four seasons as they navigate new passions, breathtaking kisses, and the bustle of their father's cozy cliffside inn. It takes place in the drizzly and dreamy Pacific Northwest, and is full of seasonal vibes and luscious food descriptions. It celebrates the love all around us and has been described as a "warm hug of a book."
Covering four seasons and four different girls, Drizzle, Dreams, and Lovestruck Things, was a gorgeously cosy and original read. Can you tell us a little about your inspirations behind the book and what led you to break it into four parts and perspectives?
Thank you! The inspiration came from several places, mainly:
• my own siblings (I'm also one of four)
• my current drizzly and dreamy home in the Pacific Northwest
• my visits to gorgeous Orcas Island in the San Juans
• and most of all, my desire to create a work of joyful representation.
By breaking the story into four parts told in four different perspectives, I had an opportunity to show that Indian Americans are not a monolith: Each sister has her own voice, her own dreams and goals, and her own relationship with her identity.
With their warm and distinct passions and personalities, I couldn't help but fall for each of the Singh sisters. Was there a particular sister whose point of view you enjoyed writing the most or one you found more challenging?
My favorite chapter to write was Nidhi's midnight adventure—I loved playing with the language to evoke the feeling of escape and beauty in the darkness.
Meanwhile, Avani's verse sections were definitely a challenge since I hadn't experimented with the medium much before. But I gave it a shot because I think poetry brings out the emotions of grief and loss in a way that feels visceral and resonant.
I have no doubt that all your readers will not only fall head over heels for each of the Singh sisters but also see themselves in one (or multiple) of them. Is there a sister you see the most of yourself in?
I honestly see a little bit of myself in each of them: Nidhi's restlessness even as she seeks to control everything around her; Avani's feelings of loss and insecurity; Sirisha's desire to express herself through her art; and Rani's dreams of finding a love that is larger than life. Truly, each of the Singh sisters holds a special place in my heart.
View this post on Instagram
The Songbird Inn might be one of the most welcoming and warm settings for a book I've read in a long time. If you were to find yourself with a key to a room there, what would be the first activity on your agenda and who would you want there with you?
First, I'd take the trail down to the little beach cove below the inn for a swim. Then, I'd have to dine in the Songbird's restaurant, preferably at a table by the bay window overlooking the sea at sunset. And of course, I'd try out Dad's famous lavender gulab jamun for dessert! Naturally, I'd want the loves of my life with me—my husband and kiddo!
As well as being all about books, we're also big music people here on United By Pop, so if you had to describe each of the Singh sisters in one song, which would you choose and why?
Let's do this! Since Taylor Swift released folklore during the pandemic, I've slowly been falling more and more under her spell. Her latest album is no exception, so here's a sister-song matchup exclusively from Midnights:
"Midnight Rain" not only evokes Nidhi's midnight adventure, also her struggle against complacency—and how that may mean leaving an old love behind.
"Snow on the Beach" brings to mind the unexpected snowstorm that befalls Orcas Island, sending Avani into a tizzy—and cross-country skiing straight into the arms of the boy she's actively been avoiding.
"Labyrinth" is about the terror of falling in love hard and fast, and it fits the way Sirisha feels about her intense new crush.
Rani hopes for that big epic love, but after a disappointing, un-kissed summer, she worries that those dreams are based on "Sweet Nothing".
Finally, are you currently working on anything new and if so, is there anything you can tell us about it?
Absolutely—I've been working on the sequel to Drizzle, Dreams, and Lovestruck Things! While the first book takes place over the course of a year, the second book takes place all in just one day. I enjoy experimenting with unique structures, so it was a lot of fun to take on the challenge of fitting big emotions and epiphanies over the course of one wild, windy day. It will release fall '23.
I also have an upcoming kids' STEM chapter book series to be published by Simon & Schuster/Aladdin in summer 2023. The first book is Sejal Sinha Battles Superstorms, where an Indian American girl uses sciences and her trusty cardboard box to fly into the eye of a hurricane to save her family's Diwali celebration.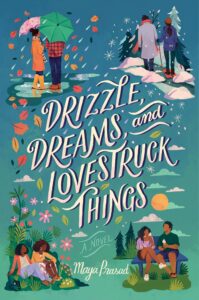 Get your copy of Drizzle, Dreams and Lovestruck Things by Maya Prasad here.