Lynette Noni on her gritty new YA fantasy, The Prison Healer
"She inspired me, reminding me of how little I know of the world outside of my own safe, comfortable bubble."
To celebrate the release of book one in her new YA dark fantasy trilogy, we caught up with author, Lynette Noni, to discuss all things writing inspirations, releasing a book during a pandemic and The Prison Healer.
---
Congratulations on the release of The Prison Healer, book one in your new YA fantasy trilogy! Can you tell us a little about your journey to getting here?
So I was originally a "slush-pile" author, with my very first manuscript having been picked up by an independent Australian publisher and released in 2015. That series — The Medoran Chronicles — went on to become a #1 bestselling series, as did my second series, the Whisper duology, which also won two of the most prestigious awards in Australia. The whirlwind adventure of the last few years has led to where I am today, with The Prison Healer about to release all around the globe. (So crazy!) To say all of this has been surreal is a complete understatement!
What three words would you use to describe The Prison Healer to entice a reader to pick up a copy?
Oooooh, this is tricky.
How about: Dark. Gritty. Desperate.
… Or maybe: Endure. Sacrifice. Survive.
(Is that cheating? I'd normally just use two words by telling people it's set inside a "death prison" and then let them go to town with their own imagination!)
View this post on Instagram
What was your biggest inspiration behind the story of The Prison Healer?
At the beginning of 2019 I met a young woman who had grown up in a war-torn impoverished country. When she was a teenager, her father shook hands with a member of an opposing religious faction, and because of that, her entire family was sent to prison — for five years.
The injustice of her tale remained with me long after our brief meeting, as did her survival mentality during the most horrific years of her life. She inspired me, reminding me of how little I know of the world outside of my own safe, comfortable bubble.
A few months later, I visited Fremantle Prison in Western Australia, which is now a heritage site and open for tours. This prison has an entire underground tunnelling network where the inmates were once forced to labour for hours on end, digging the passageways in order to supply water for the nearest township. I walked through those tunnels and, in some cases, paddled a canoe through the ones that are still partially submerged. It was an unforgettable experience, enough that when I left, a story began to take root in my mind: a story of injustice, of facing the odds time and time again and doing whatever was required to survive — at any cost.
And so, The Prison Healer was born.
How do you think The Prison Healer's protagonist, Kiva, would get on with Alex, the protagonist in The Medoran Chronicles?
I like to think they'd get on pretty well! They both have a survivor's mentality, if in different ways. Kiva would likely think Alex a bit naïve (but Kiva would probably think that about anyone who hadn't been abandoned for a decade in death prison — though she'd be too compassionate to hold that against them!). If it came to any kind of physical altercation, Alex would be the one fighting the battle, and Kiva would be the one patching everyone up afterwards. Kiva has a healer's heart; Alex has a warrior's soul.
Zalindov is a world readers are going to love being transported to. Is there an element of this world you most enjoyed creating?
There's something very exciting about creating a new world entirely from scratch, and I had the pleasure of doing that not once, but twice in this series. The first book is set entirely inside Zalindov prison, so while we get a hint of the outside world from the perspectives of others, we never actually "see" any of it. But the second book takes a much more expansive look at the kingdoms of Wenderall and the world outside of Zalindov. As the author, I loved being able to deep-dive into prison life, especially given how dark and, frankly, awful the prison setting is. But on the other hand, I also loved when the time came to explore the rest of Wenderall. So there's really no specific part that I loved most — because I genuinely loved all of it! World building is so much fun!
View this post on Instagram
What was it like realising The Prison Healer, a book featuring a mysterious plague, was going to be released during a global pandemic?
So, funny story: I'm friends with Jessica Townsend, the author of the Nevermoor series, and when COVID really started to become a problem in the world, I remember so clearly that we were walking on the beach and she looked at me and said, "There's a plague in my next book" (speaking about Hollowpox), and I looked at her and said, "There's a plague in mine, too." And we both kind of gave each other "eeek" expressions before acknowledging that there was nothing we could do about it. We, of course, hoped that COVID would be less of a problem by the time our respective release dates arrived, but, well… things didn't turn out as planned!
What do you think Kiva would think of the COVID world we've found ourselves in this past year and how do you think she'd be coping with it?
This is a great question. I think Kiva would be right there alongside all the incredible frontline workers, dressed head-to-toe in PPE and helping the sick in any way she could. Like so many of the doctors and nurses and medical staff who have had to deal with this awful virus every day since it began, I'm sure it would take its toll on her, both physically and mentally, but just like those courageous frontline workers, she would find the resilience and courage to keep on going, hoping and believing that better times will come again.
The wait for book two in the trilogy is going to be a painful (but undoubtably worthwhile) one. Can you give us any hints as to what we can expect from book two to tide us over until its release?
The good news is that you only have to wait 6 months for the sequel (The Gilded Cage) to hit shelves. The bad news is, the stakes are raised even higher in book 2, with more action, adventure, romance, and — you guessed it — plot twists. I don't think I've ever been more excited to release a book than I am for The Gilded Cage, and I absolutely can't wait for everyone to find out what happens next!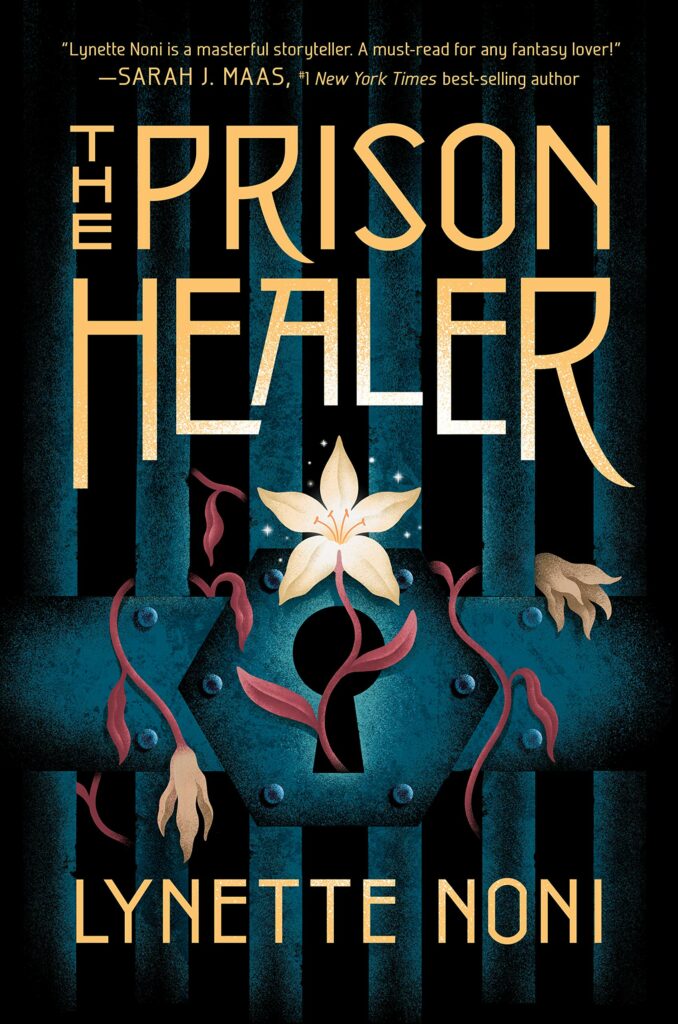 Get your copy of The Prison Healer by Lynette Noni here.